Pricing:
| Plan | Pricing |
| --- | --- |
| Basic | From $21.95 /report |
| Premium | From $31.95 /report |
| Background Monitoring | $7.95 /mo. |
Review:
Referred to on its website as "one of the best background check companies in the U.S.," BackgroundReport.com offers employers accurate and secure background checks. Utilizing bankruptcies, liens and judgments databases, BackgroundReport.com checks everything from court names and case numbers, to business credit reports and legal background checks.
Because BackgroundReport.com gives employers so much information, it is a reliable resource for screening new applicants. For a fee, employers can easily verify applicants' educational background and work history, which ultimately helps speed up the hiring process.
Pros:
BackgroundReport.com specializes in a wide range of background checks, including employee background checks, tenant checks, and legal background checks of companies.
BackgroundReport.com is more affordable than competitors such as GoodHire.
BackgroundReport.com promises quick and accurate checks that are made available online for employers' convenience.
Users can report a discrepancy and write a review of a report to ensure that open dialogue with BackgroundReport.com is maintained.
BackgroundReport.com's customer service department is available via email and telephone.
The platform also provides international background checks in 256 countries.
Creating an account on BackgroundReport.com is completely free.
Cons:
Security verification measures can make this program more difficult to set up than others.
For a more in-depth criminal check, BackgroundReport.com does recommend employers use a different service.
While all reports are online for employers' convenience, it will require that all employers log in to their accounts and view reports via the website.
The platform does not provide credit screening on individuals.
BackgroundReport.com is not FCRA compliant.
The platform caters more to individuals than employers.
Reputation:
There are a limited number of user reviews of BackgroundReport.com available online. However, we did find a few reviews on Trustpilot with an average rating of 2.4 out of 5 stars.
While two of the reviewers had a positive experience with the platform, stating that they enjoyed the fast and easy checks, other reviewers claimed the information was false and the turnaround time was delayed. Additionally, BackgroundReport.com has a trustscore of 67 out of 100 on Scamadvisor.
How to Perform a Check on BackgroundReport.com: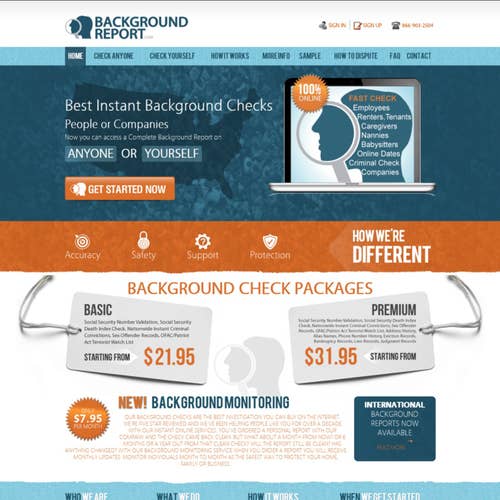 Four easy steps on how to perform a background check on BackgroundReport.com.
1.
Performing a background check on BackgroundReport.com.
1.1
Click on "GET STARTED NOW."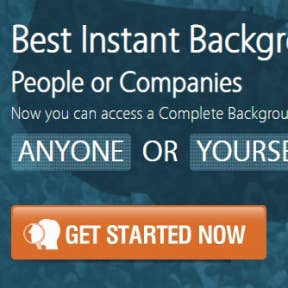 Navigate to BackgroundReport.com and click on the orange button that reads, "GET STARTED NOW."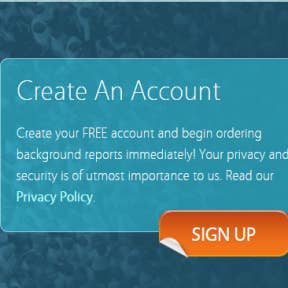 On the following page, you'll be prompted to either sign up or create an account with BackgroundReport.com. For new users, click on "SIGN UP" and complete the form. Once you've completed the short form, click on "Create Account."
After clicking on "Create Account," you will receive a verification email. Click on the link provided in the email to verify your account. This link should take you back to the sign in form where your details will be ready. Simply click on "SIGN IN" to proceed.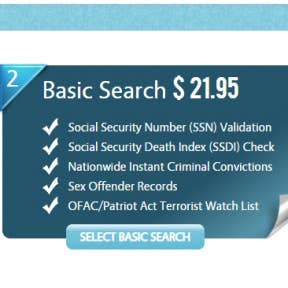 Once you've successfully logged in, you'll need to select the appropriate package. Select the package that suits your business's needs by clicking on "START BASIC SEARCH" or "START PREMIUM SEARCH."
For this example, we've selected the Basic plan.
1.4
Order your background check report.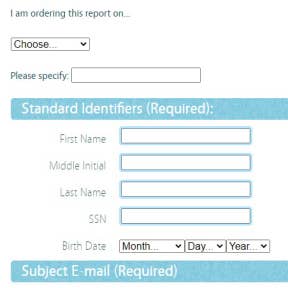 Now it's time to complete the background check order form. Start by choosing who you're ordering the check on. Under "I am ordering this report on," select "an employer" from the drop-down menu.
Following this step, you'll need to provide additional information about the employee. These include their full name and address, as well as their Social Security Number (SSN). Once you've completed the form and agreed to the Terms and Conditions, click on "Continue."
Once you've filled in the form and completed the payment, the employee in question will need to answer security questions. When this is complete, you'll receive the results of the background check.
BackgroundReport.com vs. GoodHire:
The primary difference between BackgroundReport.com and GoodHire are the two competitors' prices. GoodHire is the more costly option, with prices starting at $29.99 per report. However, unlike BackgroundReport.com, GoodHire offers more packages, a convenient mobile app, and the platform is FCRA complaint.
BackgroundReport.com vs. Sterling:
Between the two, Sterling is the more expensive option, despite the extent of their background searches being similar. Worth noting, however, is that Sterling offers a broader range of services. Among these is credit screening, which BackgroundReport.com does not conduct.
BackgroundReport.com vs. Crimcheck:
Between the two competitors, Crimcheck offers the best value. While Crimcheck's service is $17.05 more costly than BackgroundReport.com, the former's reports are more extensive, especially if employers want thorough criminal checks. Additionally, Crimcheck offers more plans than BackgroundReport.com, including drug screenings and executive checks.
Key Information
| | |
| --- | --- |
| Legal Name | BackgroundReport.com |
| Address | 4200 Meridian St., #208, Bellingham, WA 98226 |
| Email | |
| Telephone | |
| Website | |
FAQs:
What is BackgroundReport.com's price range?
BackgroundReport.com's pricing ranges from $21.95 to $31.95 per report.
Is there a BackgroundReport.com free trial?
There is no information on a BackgroundReport.com free trial.
What information does BackgroundReport.com require to perform a check?
BackgroundReport.com requires the full legal name of the person you want to check, along with their Social Security Number, current or previous address, and email address.
How quickly can I get results on BackgroundReport.com?
With BackgroundReport.com, you will generally receive your personal background check report within minutes after verification of identity.
Do BackgroundReport.com reports contain credit information?
No. BackgroundReport.com does not provide credit screening on individuals.
Are there any BackgroundReport.com alternatives?