Pricing:
| Plan | Pricing* |
| --- | --- |
| 1 Standard Ad | A$210.00 +GST |
| 1 Premium Listing | A$375.00 +GST |
| 10 Ads | A$1,900.00 +GST |
| 20 Ads | A$3,200.00 +GST |
| 50 Ads | A$6,500.00 +GST |
| 100 Ads | A$9,500.00 +GST |
| 1 Month Unlimited Ads | A$975.00 +GST |
| 12 Months Unlimited Ads | A$9,750.00 +GST |
*ICTCareer offers custom packages with plans that are more suitable to individual company needs. Send an email to advertise@careerspot.com.au to inquire. There are also discounts on multiple posts.
Review:
ICTCareer is a trusted job portal for top tech talent in Australia. It offers complete customization of job posts and advanced targeting features to narrow down your reach. However, a premium service comes at a price, as the job board's most affordable option for listing a vacancy is A$210.00 +GST.
Pros:
The company has a strong presence in Australia and has a great reputation with local businesses.
The website also serves as a great portal for industry news and events.
There is a wide range of plans to suit different hiring budgets, including custom plans.
Job posts have no word limits. Employers can make their posts as long and detailed as they wish.
Job posts can include up to six graphics or images.
Employers can create company templates for posting multiple jobs.
Listed jobs are advertised across all relevant sites in the CareerSpot family, increasing exposure.
Tech support is available 24/7 via email.
Listings go beyond a job portal. Employers can advertise using banner and display ads, as well as at conferences and events.
The ICTCareer team can format and post ads without any work on the employer's part, for an extra fee.
Cons:
There are no free job posting options.
General job posting sites tend to reach more people and list more tech roles than ICTCareer.
Reputation:
We were unable to find customer reviews of ICTCareer.
How to Post a Job on ICTCareer: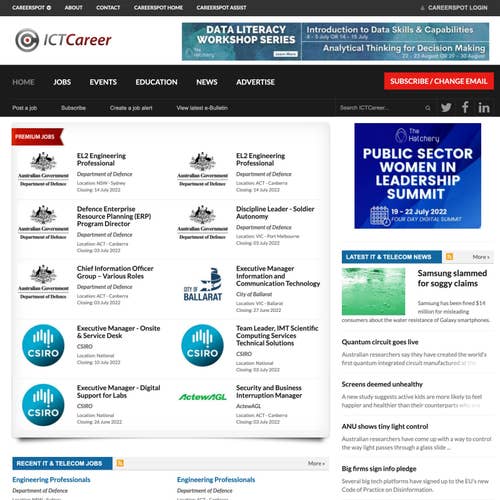 Ten easy steps for posting a job on ICTCareer.
1.
Posting a job on ICTCareer.
1.1
Navigate to the ICTCareer home page.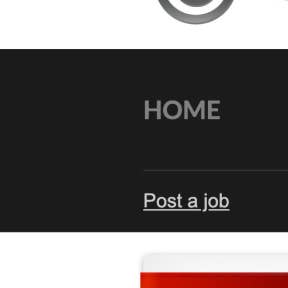 Go to ictcareer.com.au and click on the "Post a job" button.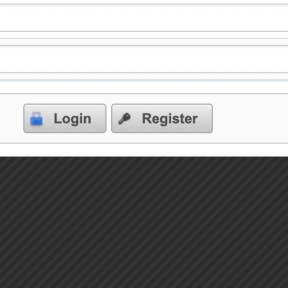 Click on the "Register" button or login with your details if you already have an account.
1.3
Fill in your details.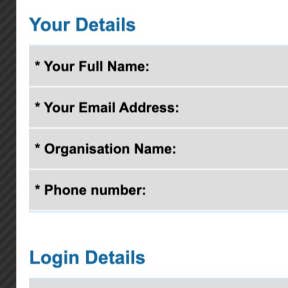 Add details such as your name and email address in the relevant fields and click on "Create an account," then click on the activation link in your email and wait to be redirected.
1.4
Select "Create your first Job Ad."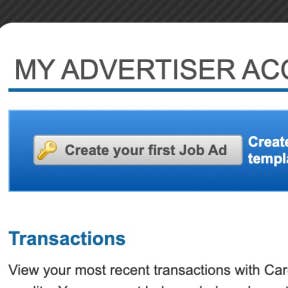 This will commence the creation process for your job ad.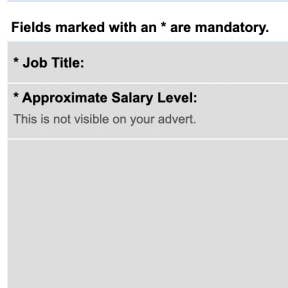 Add a job title, salary range, and body text describing the position. Click on the "Next: Ad Details" button in the bottom-right corner.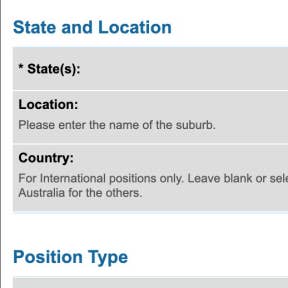 Add information such as the job location, position type, and more. Click on the "Next: Logos and Templates" button in the bottom-right corner.
1.7
Add a logo or template.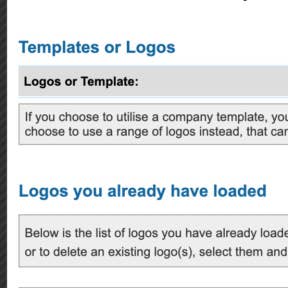 This section is for adding logos, graphics, office images, or more. Click on the "Next: Boards and Categories" button in the bottom-right corner.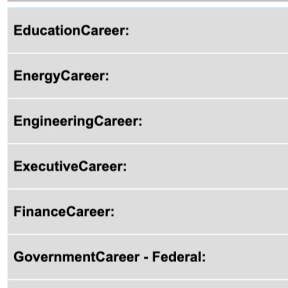 Choose an industry and subcategory that suits your job post. Click on the "Next: Confirm and Publish Your Ad" button in the bottom-right corner.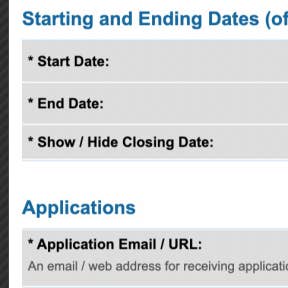 Confirm the details of your job post, including start and end dates, payment options, and agree to the terms and conditions.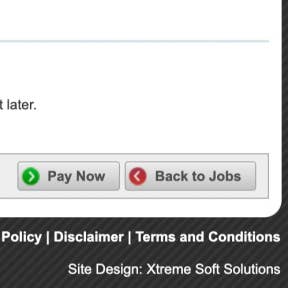 Add your payment details in the relevant fields and click on "Pay Now" to publish your job post. This concludes the job posting process.
ICTCareer vs. CareerOne:
CareerOne is a general job board that advertises IT roles, while ICTCareer specializes in tech talent, although CareerOne has a significantly larger pool of IT jobs currently listed. CareerOne also offers free postings and candidate tracking tools, while ICTCareer does not.
ICTCareer vs. SEEK:
SEEK has a variable pricing model that uses a range of factors to determine a job post price, making it potentially more affordable than ICTCareer's fixed starting price of A$210.00 +GST per post. SEEK has a resume database and applicant tracking — features lacking in ICTCareer. SEEK also lists more tech roles than its rival.
ICTCareer vs. Wellfound:
Wellfound has a dedicated job board for IT professionals, much like ICTCareer, and both portals cater to Australian talent. Wellfound has free posting options, while ICTCareer does not, but the key benefit of Wellfound is its vast pool of global talent. If you want to attract top tech talent from abroad, Wellfound is the way to go.
Key Information
| | |
| --- | --- |
| Legal Name | CareerSpot Pty Ltd. |
| Address | Unit 18, 347 Bay Rd., Cheltenham, Victoria 3192 |
| Email | |
| Telephone | |
| Website | |
FAQs:
What is ICTCareer?
ICTCareer is part of CareerSpot's recruitment family and specializes in connecting companies with Australia's best tech talent. It offers a job board that employers can use to target their audience and customize job posts to their liking.
What does it cost to post a job on ICTCareer?
What are some alternatives to ICTCareer?