Pricing:
All job posts on HealthTimes cost A$169.00 +GST per posting. Bulk discounts are available. Contact HealthTimes to learn more.
HealthTimes vs. CareerVitals:
While both HealthTimes and CareerVitals are excellent sources to hire qualified healthcare workers, the two competitors have very different target markets and pricing. HealthTimes is Australian-based and therefore charges A$169.00 +GST per post. CareerVitals, on the other hand, is based in the U.S. and charges only US$29.99 for a basic posting.
HealthTimes vs. Care Careers:
HealthTimes and Care Careers are both niche job boards dedicated to the Australian job market. However, compared to Care Careers, HealthTimes stands out as the more expensive option, costing US$89.00 more than Care Careers. In addition, unlike Care Careers, HealthTimes does not offer multiple plans, which may restrict some businesses.
HealthTimes vs. Adzuna:
The primary difference between HealthTimes and Adzuna boils down to their general purpose. While HealthTimes is a healthcare job board, Adzuna advertises different jobs in various fields, including healthcare. However, Adzuna is the costlier option with pricing starting at A$199.00 +GST per post.
How to Post a Job on HealthTimes: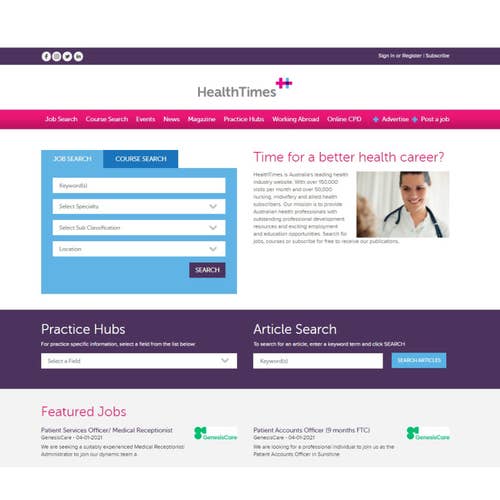 Three easy steps for posting a job on HealthTimes.
1.
Posting a job on HealthTimes.
1.1
Click on "Post a Job."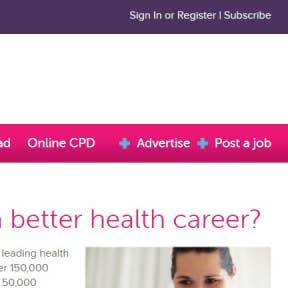 From the home page, click on "Post a Job" towards the top right.
1.2
Fill out all the details of your job post.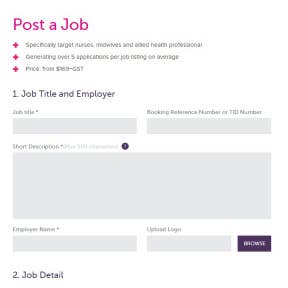 Enter all information related to your job posting and select the preferred method of payment.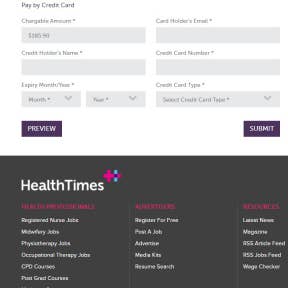 Once you have entered all the relevant information, hit the "Preview" button to view your posting, and click "Submit" when you are ready to post your job.
Key Information
| | |
| --- | --- |
| Legal Name | HealthTimes |
| Founding Date | Jan 01, 1995 |
| Address | PO Box 6744, Melbourne, VIC 3004 |
| Number of Employees | 14 |
| Email | |
| Telephone | |
| Website | |
FAQs:
How can I edit a HealthTimes job posting?
To edit your HealthTimes job postings, log into your account and click "Edit." You can make changes to any of your postings and then click "Save."
How can I delete a HealthTimes job posting?
You can delete a posting by selecting it from your list of jobs and clicking "delete."
How do I create a HealthTimes account?
You can create an account to manage HealthTimes job postings by selecting the "Register" option when you pay for your posting.
How many applications does one job listing generate?
On average, HealthTimes claims to generate 8 job applications per job posting.
When is a job posting free of charge?
If you post your job and don't fill it, HealthTimes will re-post it free of charge.
What are some HealthTimes alternatives?