Pricing:
| Plan | Pricing |
| --- | --- |
| Single Job Listing | A$210.00 +GST |
| Standard Listing: Events/Education Listing | A$350.00 +GST |
| Listing with Banners: Events/Education Listing | A$550.00 +GST |
| 10 Ads | A$1,900.00 +GST |
| 20 Ads | A$3,200.00 +GST |
| 50 Ads | A$6,500.00 +GST |
| 100 Ads | A$9,500.00 +GST |
| 6 Months Unlimited Ads | A$6,500.00 +GST* |
| 12 Months Unlimited Ads | A$9,750.00 +GST* |
| Custom Package | Contact for quote. |
Review:
EngineeringCareer is a CareerSpot site that features engineering-related job listings, events, news, and education programs. While the platform does not provide advanced hiring tools, such as AI-powered candidate matching or a resume bank, it offers a wide array of advertising options employers can use to promote their businesses and job openings.
Compared to EngineeringJobs.com.au another niche job site that targets the Australian engineering market, EngineeringCareer is the costlier option. However, it offers the advantage of being part of a larger network of niche sites within the CareerSpot suite, across which job postings can be shared at no additional cost.
Pros:
Employers have a choice of several job posting plans and display advertising options.
There is no word limit for job postings.
Employers can include up to six graphics per job ad.
Credit-based posting plans have no expiry date.
There is no additional charge for listing roles in multiple states and categories.
Job postings are active for six weeks and can be extended for an additional two weeks at no extra cost.
Jobs posted on EngineeringCareer can be posted on other relevant CareerSpot sites, such as EnergyCareer, at no extra charge.
Cons:
There is no free posting option or trial.
The platform does not feature a resume database or candidate matching tools.
Reputation:
We were unable to find any online reviews of EngineeringCareer. On Facebook, CareerSpot, which powers EningeeringCareer, has a rating of 5 out of 5 stars based on the opinion of two users.
How to Post a Job on EngineeringCareer: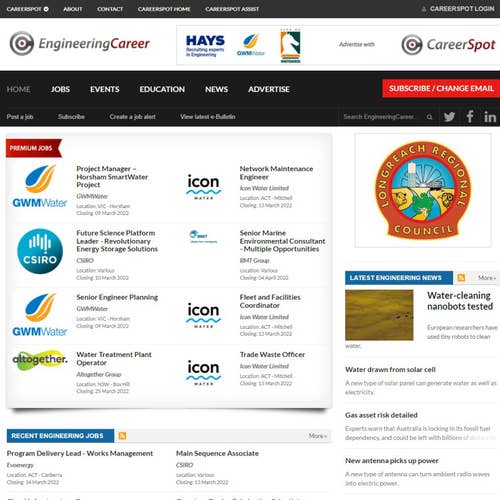 Four easy steps for posting a job on EngineeringCareer.
1.
Posting a Job on EngineeringCareer.
1.1
Click on "Post a job."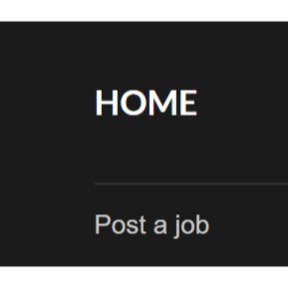 Navigate to the EngineeringCareer home page and click on "Post a job" below the "HOME" tab.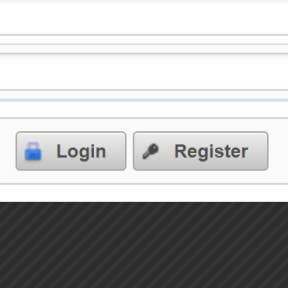 On the next page, click on the "Register" button, complete the online form, and select the "Create Account" button toward the bottom-right corner of the page.
Check your email inbox for an email from CareerSpot.
Click on the activation link in the CareerSpot email to complete your account registration.
Once your account has been activated, you will be redirected to the login page. Log in to your account.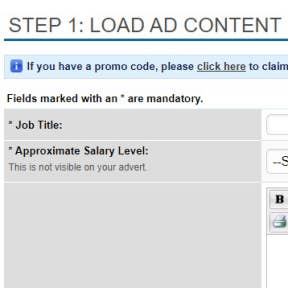 Click on the "Create your first Job Ad" button and follow the steps to create your job posting.
In the first step, add the name of the position you want to advertise, indicate a salary band, and enter the body of your job posting.
Click on "Next: Ad Details."
Enter details about the location of the job, the type of position, and salary.
Click on "Next: Logos and Templates."
Next, you can upload logo graphics or a company template.
Click on "Next: Boards and Categories."
Select relevant CareerSpot job boards and categories.
There are no additional costs for selecting multiple job boards and categories.
Click on "Next: Confirm and Publish Your Ad."
Enter the starting and closing date of your job ad, an application email or URL, select a payment option, and agree to the site's terms and conditions.
Click on "Confirm and Publish."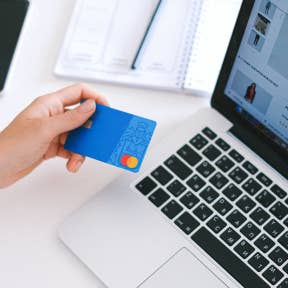 Payment can either be made immediately at the point of purchase or upon the receipt of an invoice. Invoices are issued on a 14-day payment cycle.
EngineeringCareer vs. EngineeringJobs.com.au:
EngineeringCareer and EngineeringJobs.com.au are both Australian job sites for engineering professionals. Between the two, EngineeringJobs.com.au is the more affordable option. While both offer a range of advertising solutions, only EngineeringJobs.com.au offers complimentary assistance with job ad writing.
EngineeringCareer vs. Young Engineers Australia:
Young Engineers Australia is a site for student and graduate engineers in Australia. While the platform features a free job board, posting services are only available to partners of GradAustralia and Engineers Australia members. EngineeringCareer, by comparison, is a paid job site that caters to engineering professionals at all career levels.
EngineeringCareer vs. SEEK:
As one of the most popular and highly trafficked general job boards in Australia, SEEK offers employers greater reach than EngineeringCareer. The advantage of EngineeringCareer over SEEK is that it is a niche job board that attracts a more defined audience of job seekers, which may make it easier to source suitable candidates faster.
Key Information
| | |
| --- | --- |
| Legal Name | CareerSpot Pty Ltd. |
| Address | Unit 18, 347 Bay Rd., Cheltenham, VIC 3192 |
| Number of Employees | 50 |
| Number of Customers | 150000 |
| Email | |
| Telephone | |
| Website | |