Pricing:
WorkInTexas does not provide pricing information. Contact the company directly for information about pricing.
Review:
WorkInTexas.com is a job board created by the Texas Workforce Commission. The board offers hiring features such as resume searching, job market trend information, and job post management.
Highlights:
Dedicated job board for Texans.
Search and view resumes directly.
Employers can view candidate market trends based on resumes on the system.
Jobs are managed from one platform that allows employers to post, edit, and manage job posts as well as track applicants.
The site provides information on if your company qualifies for local, state, or federal tax incentives.
Employers can create company profiles to enhance their job postings.
Shortcomings:
Employers need to log in to view features.
You will need to provide your EIN or Social Security number to register as an employer.
The site lacks advanced hiring features such as candidate matching and sharing posts to other relevant job boards.
Reputation:
We were unable to find any reviews for WorkInTexas.com at this time.
How to Post a Job on WorkInTexas.com: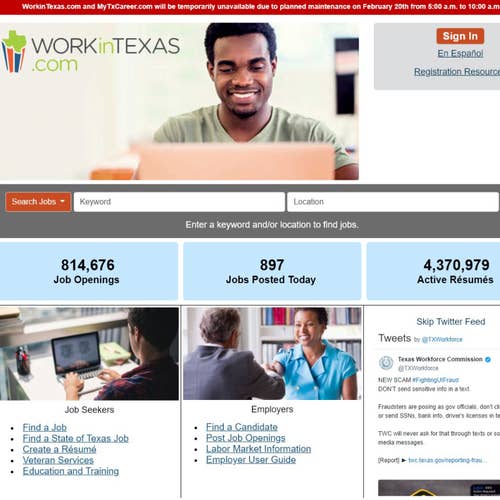 Easy steps for posting a job on WorkInTexas.com
1.
Posting a job on WorkInTexas.com
1.1
Log on to the home page.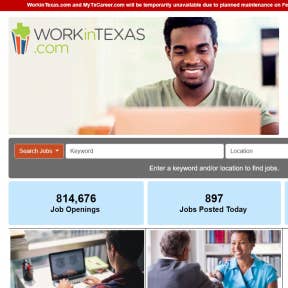 Navigate to the WorkInTexas homepage.
1.2
Click on "Post Job Openings".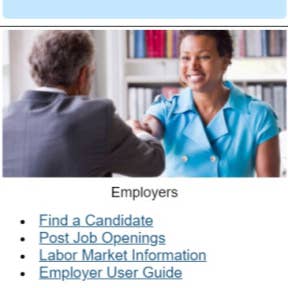 Move the cursor to the section marked "Employers", and click on the link to "Post Job Openings".
1.3
Select a representative type.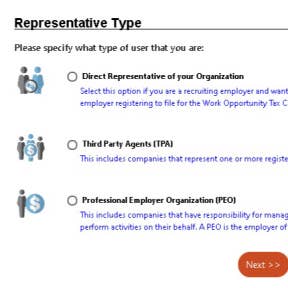 Scroll down the page and click on "Employers". Then choose from the options provided to select your company representation.
1.4
Create a user account or sign in.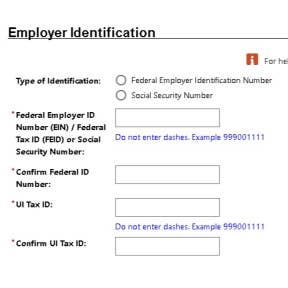 Sign in or regiser for a new employer account. Note that you will need your EIN or social security number to complete the registration process.
1.5
Create your job post.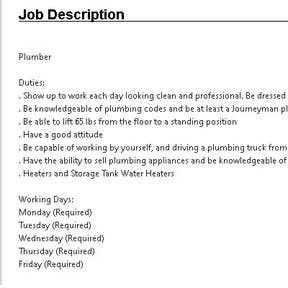 From your employer page, click "post a job" Fill in your job the required information. Review and post.
WorkInTexas.com vs. HireUTexas:
HireUTexas is a career portal for students and alumi at the University of Texas. No pricing information is provided, but the site offers invitations to job fairs, the ability to post to campus-wide or college-specific job boards, and the option to book virtual interviews. In contrast, WorkInTexas is a more general job board with a broader audience.
WorkInTexas.com vs. HIREDTexas:
HIREDTexas is a non-profit organization that aims to help Texans find employments. It is not clear if employers are required to pay for posting jobs. One benefit of using this website is post distribution to Facebook and/or LinkedIn. Unfortunately, no other benefits are apparent. Because of this, WorkInTexas may be a more effective job board.
WorkInTexas.com vs. CareerBuilder:
While WorkInTexas.com is a job board dedicated to Texans, CareerBuilder is a general, international job posting site. This means that job vacancies will receive more exposure from a wider candidate pool than WorkInTexas.com. However, employers looking to employ Texans exclusively may benefit more from posting on WorkInTexas.com.
Key Information
| | |
| --- | --- |
| Legal Name | Geographic Solutions, Inc. |
| Founding Date | Jan 01, 1998 |
| Website | |
FAQs:
What does it cost to post a job on WorkInTexas?
How do I create an account on WorkInTexas?
Navigate to www.workintexas.com and scroll down to 'Employers.' Select 'Post Job Openings' and scroll down to 'Option 2 - Create a User Account.' Click on 'Employers and Agents' and agree to the employer use agreement. Fill in the personal and company information required.
How do I delete a job post on WorkInTexas?
Use the 'Manage Jobs' tab to edit or delete job posts.
What types of jobs can I advertise on WorkInTexas?
WorkInTexas is a general job board, so employers can post any variety of jobs on the site.
What are some alternatives to WorkInTexas?