What does it mean to give two weeks' notice?
When you give two weeks' notice, you are essentially quitting your job and informing your employer that you will be leaving the company on a specific date. Once you have handed your letter to your department manager or the HR representative, your company may choose to make your position available to coworkers or external candidates.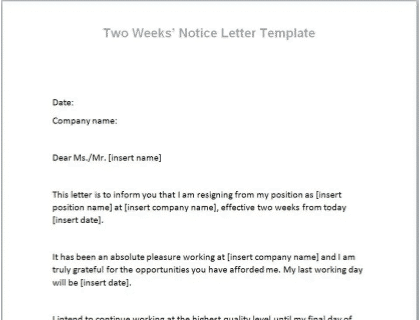 Two Weeks' Notice Letter Template Download:
Download this two weeks' notice letter template in MS Word format and start using it straight away.
Download Now
Two Weeks' Notice Letter Example:
Date:
Company name:
Dear Ms./Mr. [insert name]
This letter is to inform you that I am resigning from my position as [insert position name] at [insert company name], effective two weeks from today [insert date].
It has been an absolute pleasure working at [insert company name] and I am truly grateful for the opportunities you have afforded me. My last working day will be [insert date].
I intend to continue working at the highest quality level until my final day of employment. If there is anything you would like me to do to facilitate a smooth transition during this time, please let me know.
Sincerely,
[Your name]
[Signature for hard copy]
How to Write a Two Weeks' Notice Letter: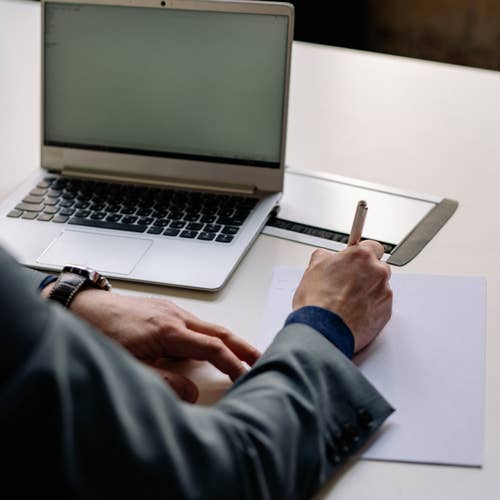 Five easy steps for writing a professional two weeks' notice letter.
1.
Writing a two week's notice letter.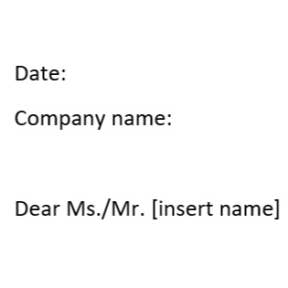 Start by including the date. your company details, and the name of the person you are addressing the letter to.
1.2
Announce your resignation.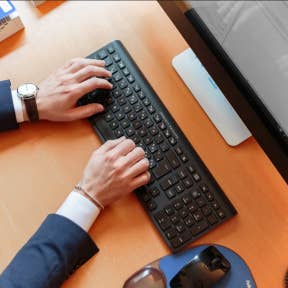 In the opening paragraph, get straight to the point of the letter. State that you are informing your employer of your intention to resign from your job in two weeks' time. Include the date of your last working day with the company.
1.3
Express your gratitude.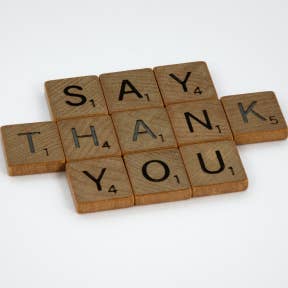 In the second paragraph, write a short statement of gratitude for the opportunity, time, and commitment the company has given to you. You may also want to include a brief explanation of your resignation, i.e., the reason for your decision.
1.4
Briefly mention the next steps.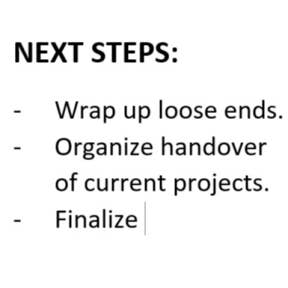 In a short closing paragraph, let your employer know that you intend to perform your duties to the highest standards until your final day of work, and offer your help, should they require any, to assist during the transition period.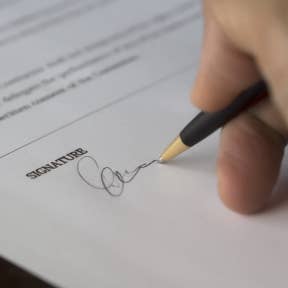 End the letter with a formal closing, such as "sincerely," and sign your name.
When should you give notice?
You should only give notice at your current position when you have signed your offer letter with your new employer. Even if you have received verbal confirmation that you have the job, anything can happen and you may find yourself unemployed because you acted too soon.
Reasons to Give Two Weeks' Notice:
If you are leaving your current job to pursue a career elsewhere, you will want to leave on the best terms possible. The most effective way to leave a job on good terms is to provide your employer with two weeks' notice and perform your duties to the best of your ability during your notice period.
If you fail to give your employer sufficient notice, they may not have time to find a replacement or train someone in the role. This may result in a departmental slowdown and ultimately affect company performance. The company may then decide not to provide you with a reference letter or favorable recommendation for future employment opportunities.
What if your employer provides a counteroffer?
It often happens that an employer will provide a counteroffer when an employee wants to quit. It is important to remember that your company has spent a lot of time and money investing in your skills and experience. If you are important to the company, they will want to try and keep you on board.
A counteroffer is delivered based on your reasons for leaving. If you want to leave because you are looking to earn more or work at a higher level, you may be offered a raise in salary or the opportunity to move to a different department. In such cases, it is worth considering the advantages of staying versus leaving.
If you are leaving for personal reasons, clashes with management, or because your work will be closer to home, a counteroffer would be less favorable. In either case, it is considered a professional courtesy to consider your current employer's offer before making your final decision.
The Dangers of Leaving Your Job Without Notice:
There are no federal or state laws that require you to provide two weeks' notice before quitting. However, some companies include a notice period in their employment contracts. Failure to give notice may result in you forfeiting unused vacation days and other company benefits. Always read your employment contract before you resign.
Not giving notice can also leave a negative impression on a company that you may need for a reference or for future employment. The value of a positive reference from a former employer is not to be underestimated when seeking new employment. While you might have a job lined up, for now, you should always plan for the future.
FAQs:
What is a two weeks' notice letter?
A two weeks' notice letter is a formal resignation letter informing your employer of your intention to resign two weeks from the date indicated in the letter.
What is considered two weeks notice?
14 normal days or 10 business days.
Why is it important to write a two weeks' notice letter?
By giving two weeks' notice, you are providing the company with enough time to find a suitable replacement or train another staff member to take on your responsibilities.
What should be included in a two weeks' notice letter?
Your company details and the name of the person you are addressing the letter to.
Your intention to give notice and the date which you will be leaving.
A short statement of gratitude.
Your next steps.
Your name and signature.
Can you resign without giving notice?
Yes, there are no federal or state laws requiring employees to give two weeks' notice.
Can you use vaction time for two weeks' notice?
This depends on your employment contract. In some cases, you may be able to use vacation days as your notice period and leave immediately. However, this is not recommended as the point of giving notice is to provide your employer with enough time to find your replacement.
When is it ok not to give two weeks' notice?
If staying at your job jeopardizes your health or safety.
If you are being emotionally abused at work.
If you are asked to do something unethical.
If your new employer wants you to start straight away or risk losing the opportunity.