Pricing:
| Plan* | Monthly Subscription |
| --- | --- |
| Reverse Phone Lookup | $4.99 |
| People Search | $28.05 |
| Reverse Email Lookup | $29.73 |
*TruthFinder subscribers are automatically charged the monthly subscription fee until the service is canceled.
Review:
Established in 2015, TruthFinder was created to help people learn more about the people in their lives. Today their services include people searches, reverse email, reverse phone number, and dark web scans. While TruthFinder reports are comprehensive, they cannot be purchased individually with users made to sign up for monthly subscriptions.
Pros:
TruthFinder offers background searches, reverse email lookups, and reverse phone number lookups.
Conducting a background search is quick and easy.
Reports include possible relatives, social media profiles, employment history, and more.
There is an option to conduct a Dark Web scan.
TruthFinder offers a mobile app for Android and iOS.
Cons:
Truthfinder does not offer a free trial.
Users must sign up for a monthly subscription to access their report.
Subscribers are automatically charged every month until they cancel their subscriptions.
Reputation:
On SiteJabber, TruthFinder has a 3.3 out of 5-star rating based on the opinions of over 500 people. Reviews were mostly mixed with some customers unhappy with the subscription price, while others were very happy with the results and the customer service.
On Trustpilot, Truthfinder has a 2.5 out of 5-star rating based on the opinion of over 1,000 people. Many of the latest reviews rated the service poorly, citing outdated information and false advertising of free reports.
How to Conduct a Background Check on TruthFinder: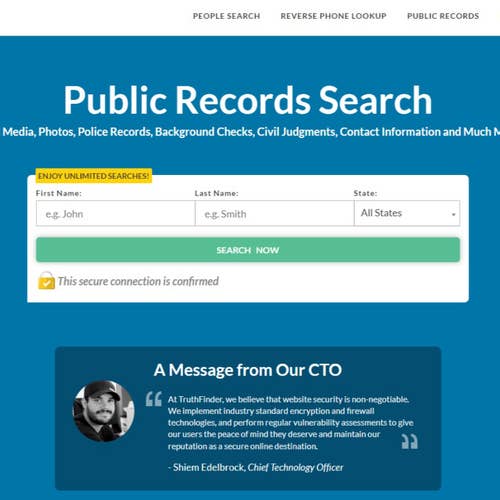 Five easy steps for conducting a background check on TruthFinder:
1.
Conducting a background check on TruthFinder.
1.1
Click on the "BACKGROUND CHECK" button.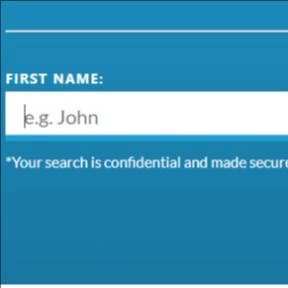 Navigate to the TruthFinder home page and click on the "BACKGROUND CHECK" button in the top menu.
In the search bar, enter the name of the person you want to look up as well as the city and state they live in.
Click on the green "SEARCH" button.
Follow the prompts to fill in as much information about the person as possible.
If you don't know the required information, click on the "I DON'T KNOW" button.
1.2
Select a report to view.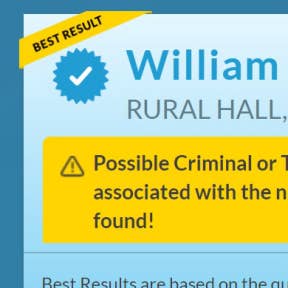 The software will narrow down the search and provide you with a selection of the best possible matches. Click on the "OPEN REPORT" button to proceed.
The software will continue to create a report. Follow the prompts by selecting the information you want.
1.3
Click on the "I AGREE" button.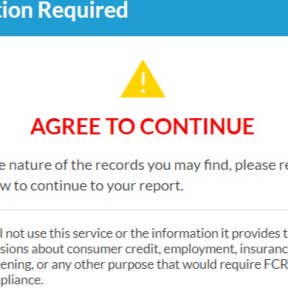 A warning will come up prompting you to agree that you will not use the service for anything that requires FCRA compliance.
Check the box, then click on the "I AGREE" button to continue.
On the next page, enter your birth year, then click on the "SUBMIT AGE" button.
1.4
Fill in your name and email address.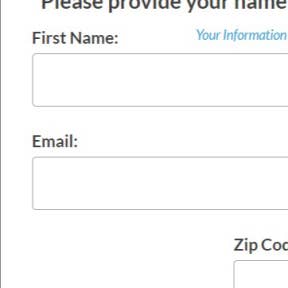 In the blocks provided, fill in your name, email address, and zip code. Then click on the green "CONTINUE TO REPORT" button.
1.5
Select the package you want.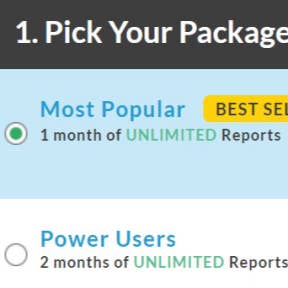 Select the background check package you want by clicking on the button next to the package.
Scroll down and select whether you want to pay by credit card or PayPal.
Enter your payment details, then click on the "CHECKOUT" button.
Once your payment has been approved, you will be able to access your report.
TruthFinder vs. BeenVerified:
BeenVerified and TruthFinder offer similar products, although BeenVerified also offers unclaimed money and property searches. Both platforms charge a monthly subscription fee for background check reports, with BeenVerified charging $26.89 per month, while TruthFinder charges $28.05. TruthFinder also charges separate fees for reverse email searches.
TruthFinder vs. Intelius:
Like TruthFinder, Intelius provides background check services, reverse phone number lookups, and public record searches. Both platforms charge a monthly subscription fee to access and download reports. Intelius is slightly more affordable for background searches charging $24.86 per month compared to $28.05 per month on TruthFinder.
TruthFinder vs. Instant Checkmate:
Instant Checkmate and TruthFinder are owned by the same parent company but provide slightly different products. Both offer background check services, charging users a monthly subscription fee for access to reports. TruthFinder is the more affordable of the two, charging $28.05 per month compared to $35.12 per month on Instant Checkmate.
Key Information
| | |
| --- | --- |
| Legal Name | TRUTHFINDER LLC |
| Founding Date | Jan 01, 2015 |
| Address | 2534 State St., Ste. 473, San Diego, CA 92101 |
| Email | |
| Telephone | |
| Website | |
FAQs:
Is there a charge for TruthFinder?
Yes, TruthFinder charges a subscription fee of between $4.99 per month and $29.73 per month, depending on the package you choose. Be aware that TruthFinder will continue to automatically charge you unless you cancel the service.
How do I get rid of TruthFinder?
Call 1 (800) 699-8081 or go to your membership settings on your account profile.
Does TruthFinder notify the person you look up?
Your TruthFinder search history is always private, so the person in question will never know that you searched for their report.
Is it legal to use TruthFinder?
Yes. However, if you are running a background check for employment purposes, make sure you comply with the Fair Credit Reporting Act. Failing to comply with the act can lead to substantial fines. TruthFinder is not a consumer reporting agency. This means you cannot use the information to make decisions about consumer credit, employees, insurance, tenant screening, or other purposes that would require FCRA compliance.
Is TruthFinder free?
There is no free version or TruthFinder free trial. TruthFinder needs to pay money to public records offices to access their files, so they charge users for every search.
Can you trust TruthFinder?
Many people wonder, "Is TruthFinder safe?" or, "Is TruthFinder a scam?" TruthFinder Inc. is a registered U.S. company but there are many complaints online. These complaints mostly focus on being subscribed to automatic billing plans that they were not aware of, difficulty in canceling the automatic billing, and difficulty in having information removed or corrected.
What is the price range for using TruthFinder?
The cost of using TruthFinder depends on your needs and the package you choose. Pricing starts at $4.99 per month for reverse phone number lookups and goes up to $29.73 per month for reverse email lookups.
Is there a TruthFinder app?
Yes. You can download the TruthFinder app on your iOS or Android phone and run a TruthFinder background check right from your phone.
Is there a TruthFinder free alternative?
Yes, Better Future offers free background check services. However, the records and databases that Better Future has access to may be more limited than TruthFinder.
What is the TruthFinder phone number?
You can contact the TruthFinder team by calling 1 (800) 699-8081.
Will TruthFinder give me a virus?
No, the most recent scan we did on the TruthFinder website found no unsafe content.
What are some TruthFinder alternatives?