Fill your vacant positions with help from our list of the best 10 job portals in Texas. Texas has a combination of local sites that target the Texas job market and world-renowned job sites that do well in this market.
Special Offer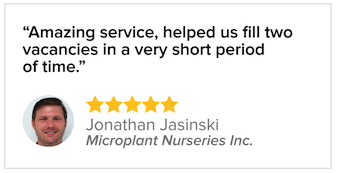 Post Jobs for FREE
Completely free trial, no card required.
Reach over 150 million candidates.
Top 10 Texas Job Posting Sites:
| Our Rank | Job Board Name | Posting Options |
| --- | --- | --- |
| 1. | | Free and paid options. |
| 2. | | Free and paid options. |
| 3. | | Free job postings. |
| 4. | | Free job postings. |
| 5. | | Free job postings. |
| 6. | | Paid, starting at $179.00. |
| 7. | | Free job postings. |
| 8. | | Paid, starting at $130.00. |
| 9. | | Paid, starting at $150.00. |
| 10 | | Paid, starting at $7.00. |
FAQs for Texas Job Postings:
What are good sites for job postings Houston area businesses should try?
You can post a job in Houston on a few local job boards, including HoustonJobs.com and AIAHouston. You might also try Houston's local craigslist page, and then look to sites like Indeed, Glassdoor, and Monster.
Are there any free job posting sites Houston offers?
HiredTexas.
WorkinTexas.com.
Indeed.
Google for Jobs.
Twitter.
Facebook.
I'm having trouble filling job postings in Fort Worth Texas. Any suggestions?
If you're already posting to a number of local, national, and niche sites, and still aren't having any luck, you may want to take a look at your job posting itself. The hiring market is generally pretty competitive these days. If you want to compete, write job posts that work hard to attract your ideal candidate.
Check out this article on job posting templates for more advice.
What are some good sites for making Austin job postings?
There are a few local sites, including AustinJobs.com and Austin.jobs. Be sure to check out the Austin jobs subreddit and the local craigslist page too.
Finally, it's always worth it to post to big, free job boards like Indeed, and to format jobs on your site so they're picked up by Google for Jobs for job postings in Austin TX. Be sure to mention the many reasons someone might be interested in relocating to Austin for the job.
My Waco job postings get lots of low-quality applicants. Any tips?
Start by sending each applicant an email asking them to answer 5 questions. The questions should take at least 20 minutes to answer, and require the level of job knowledge you seek to be answered well.
Low-quality candidates won't bother responding at all. The answers you receive will be easy to compare, and you'll be able to tell who put in time and effort to answer the questions right away. These are the motivated candidates you want to focus on in your hiring process.
Where should I post jobs in San Antonio?
It really depends on the job and your goal with job postings in San Antonio. Check to see if there are niche boards for the specific industry you're in. Often times there will be a local association for a profession that offers job posting.
Then have a look a San Antonio job boards like SanAntonioJobs.com. If it doesn't work for your budget, you may want to hold off until you've tried free sites like Indeed and Google for Jobs. You may also want to try the local craigslist page.
Any tips for better results from my New Braunfels job postings?
New Braunfels doesn't appear to have any local job boards, but you might try posting to job boards in nearby cities like San Antonio.
You'll also want to check out larger boards like Indeed, Glassdoor, and Google for Jobs. Consider posting to social media as well. Finally, be sure your job posting is selling potential applicants on what makes the job a good choice for them.
What are some free job posting sites Dallas Texas offers?
DallasJobLink.com.
UTDallas.
LaunchDFW.
Indeed.
Glassdoor.
Google for Jobs.
Texas Employment Statistics:
| | |
| --- | --- |
| Unemployment Rate | 3.7% |
| Annual Mean Wage | $48,700 |
| Median Hourly Wage | $17.39 |
| Minimum Wage | $7.25/hour |
| Tip Credit Allowed | Yes. |