Pricing:
| Plan* | Pricing |
| --- | --- |
| Job Posting | C$149.00 |
| Brand your Posting | C$174.00 |
| Keyword Sponsored | C$188.00 |
| Boost your Job to the Top of Browse and Search Results | C$198.00 |
| Auto-refresh | C$198.00 |
| Social Media | C$198.00 |
| Stand Out in Search Results and Prioritize your Listing in Email Alerts | C$199.00 |
| Premium Posting Package | C$199.00 |
| Boost your Job to the Top of All Searches | C$224.00 |
| Premium Social Job Posting | C$249.00 |
| 3-Pack Premium Posting Package | C$499.00 |
| 5-Pack Premium Postings Package | C$699.00 |
*LocalWork.ca offers a wide variety of print job posting options that will advertise listings in over 200 newspapers distributed throughout Canada. Pricing varies from C$27.00 to C$350.00, depending on the region.
Review:
LocalWork.ca is a general job board that focuses on advertising local job opportunities in various Canadian cities, including Mississauga, Toronto, and Ottawa. The platform's parent companies, Metroland Media and Black Press Media, allow the site to reach a large print and digital audience of job seekers across the country.
LocalWork.ca features an assortment of well-priced packages and a simple job posting process. Their recruitment services include promoted listings, employer branding opportunities, social media visibility, and email advertising.
Highlights:
LocalWork.ca posts jobs on their website and in more than 200 newspapers throughout Canada.
Employers can advertise positions in general industries, such as finance, healthcare, retail, construction, hospitality, and marketing, among others.
The platform offers bulk job posting packages for large-scale hiring.
Employers can add their logo to job posts for increased exposure.
The "Premium" package allows listings to stand out and appear above standard jobs in the browse and search results of the site.
Employers can add their company profile to the site's "Featured Employers" page.
Jobs are sent to candidates via daily or weekly email alerts.
Employers can purchase resumes from the site to connect with candidates.
The platform features a dashboard from which employers can track candidates and manage their listings.
The site offers a straightforward job posting process.
Shortcomings:
LocalWork.ca does not offer a free job posting option.
The platform is not available in French.
Employers have to create an account to view the site's print job posting packages' pricing.
Listings are not shared to other job boards.
Reputation:
We were unable to find any online reviews of LocalWork.ca.
How to Post a Job on LocalWork.ca: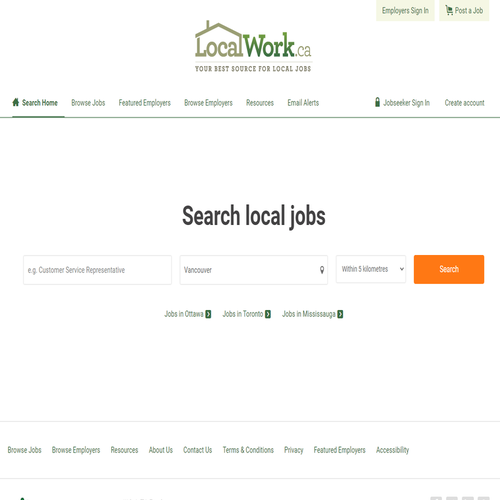 Six easy steps for posting a job on LocalWork.ca.
1.
Posting a job on LocalWork.ca.
1.1
Go to LocalWork.ca's home page.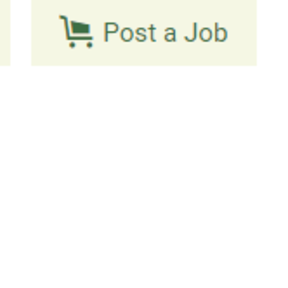 On the home page, find and select "Post a Job" in the top-right corner.
1.2
Register as an employer.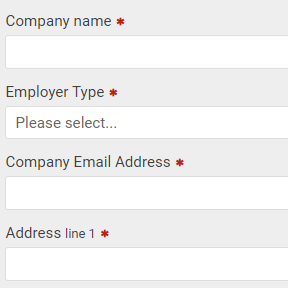 In the top-right corner of the page, select "Create an account." Fill out the online registration form, and once you're done, click on "Create an account."
1.3
Start the job posting process.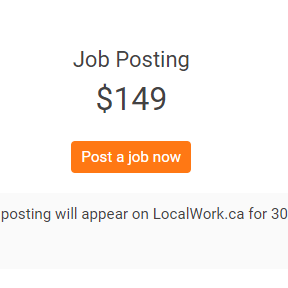 On the next page, select "Post a job" in the menu bar. Then, choose your preferred job posting package and click on "Post a job now" or "Buy now," depending on your selection.
1.4
Enter your listing's details.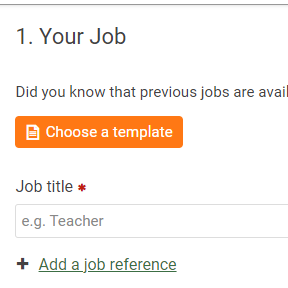 You'll be asked to create your job post in five steps. First, add your listing's title, job reference, and location to the online form. Once you're done, select "Next."
You also have the option to use a template from one of your previous job posts to auto-fill the online form.
Add the job description and summary. Then, click on "Next."
Enter the listing's salary range, location, and your company logo. To brand your posting in the search results, tick the applicable box. This action will add an extra C$25.00 to your order. Once you're done, click on "Next."
Select the applicable job categories, including the sector, function, and type. Then, click on "Next."
Select your preferred application method and the listing's publishing date. Once you're done, click on "Next."
Select any upgrades you'd like to add to your post. Then, click on "Save and Continue."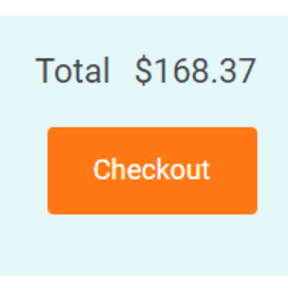 Ensure that your order is correct and add a discount code to the applicable box if you have one. Then, click on "Checkout."
1.6
Review and finalize your order.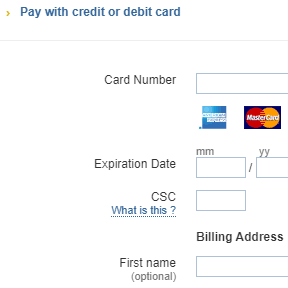 To pay for your job post, click on "Pay online." Then, select "Continue to Payment" and add your billing information to the online form. Once you're done, click on "Pay Now."
Once your payment has been processed, your job post will go live on LocalWork.ca. If you chose an additional print job posting package, your job will be added to the next edition of the newspaper.
LocalWork.ca vs. LocalJobShop.ca:
Similar to LocalWork.ca, LocalJobShop.ca is a Canadian job board that advertises vacancies in areas such as Toronto and Mississauga. While LocalWork.ca charges C$149.00 for a single listing, LocalJobShop.ca is a free job posting service. LocalWork.ca, however, offers region-specific print job posting packages for increased exposure.
LocalWork.ca vs. TorontoJobs.ca:
TorontoJobs.ca is a job posting site that caters to the Greater Toronto Area. While there is some audience overlap, LocalWork.ca has a wider reach across Canada and advertises positions in Alberta, Ottawa, and British Columbia, among others. Both platforms offer resume searches, but LocalWork.ca also features candidate management tools.
LocalWork.ca vs. Job Bank:
Job Bank is the Canadian government's official job board that posts jobs in all industries. Comparatively, LocalWork.ca is a job board that advertises print and digital ads in certain cities areas of Canada, which might be the better option for targeted hiring. LocalWork.ca offers social media exposure and promoted listings, which Job Bank lacks.
Key Information
| | |
| --- | --- |
| Legal Name | Metroland Media Group Ltd. |
| Address | 44 Frid St., Hamilton, ON L8N 3G3 |
| Email | |
| Telephone | |
| Website | |