Pricing:
Posting jobs on the ReliefWeb job board is a free service for the humanitarian community. You should be aware that any job opportunities posted on ReliefWeb must be relevant to sectors of humanitarian response.
Review:
ReliefWeb is a digital hub for information and resources relating to the humanitarian sector, including a job portal that organizations in Australia should consider using for its global, targeted reach, passionate candidate base, and cost-effectiveness.
Some of Australia's most respected humanitarian organizations use the job board for hiring. These include Human Rights Watch Australia, Palladium, and CUFA. However, the platform is missing a resume database and applicant tracking features and is not as well-established in the local jobs market.
Highlights:
ReliefWeb offers its services for free.
Users can post jobs and training opportunities.
Posts can be edited or deleted at any time.
The job board used by well-known and established organizations such as Human Rights Watch and CUFA.
ReliefWeb has a larger international reach than Pro Bono and EthicalJobs.com.au.
The platform has quite a large following on LinkedIn, Facebook, and Twitter.
Shortcomings:
ReliefWeb is limited to jobs that are relevant to humanitarian response sectors and that do not require any form of payment on the applicants' side.
For local hires, Pro Bono and EthicalJobs.com.au are better options because they are more established in the jobs market.
The platform does not offer access to a resume database.
ReliefWeb has no applicant tracking system features.
Reputation:
We were unable to find reviews of ReliefWeb, however, the platform has a significant presence across social media channels. ReliefWeb has almost 22,000 followers on LinkedIn, 102,500 followers on Facebook, and almost 114,000 followers on Twitter.
How to Post a Job on ReliefWeb: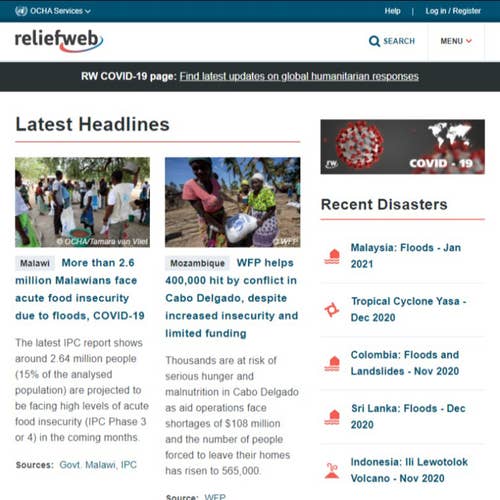 Four easy steps for posting a job on ReliefWeb.
1.
Posting a job on ReliefWeb.
1.1
Click "Log in/Register" on the home page.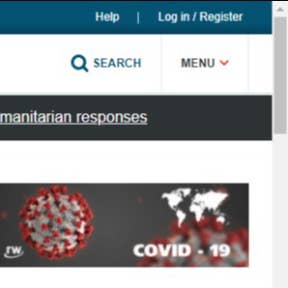 You will find this in the top-right corner of the ReliefWeb home page.
If registering an account, simply enter a username and your email address and click "Sign up for ReliefWeb."
Open the email sent to you by ReliefWeb.
Follow the link in the email.
1.2
Click on "My Account" to view your dashboard.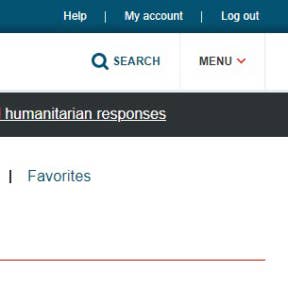 Go to the top right-hand corner of the page and click "My Account."
1.3
Click on "Post a job vacancy."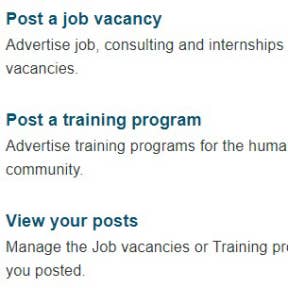 You'll see this on the right side of your dashboard.
1.4
Fill in the submission form.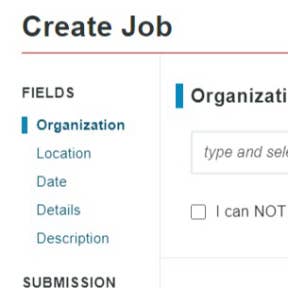 The job vacancy form requires information on your organization, as well as your job location, dates, details, and description. Once you have completed the form, you can preview your job ad, save a draft, or simply click "Submit" to post your job for free.
ReliefWeb vs. Indeed:
ReliefWeb is both free and targeted at professionals who are passionate about humanitarian organizations, so there is a clear advantage to using it over Indeed. However, Indeed offers the advantages of a greater reach, resume search functions, and more. Indeed is used by Human Rights Watch and CUFA.
ReliefWeb vs. EthicalJobs.com.au:
EthicalJobs.com.au is more expensive than ReliefWeb but is the better option for reaching job seekers looking for philanthropic and environmental opportunities. ReliefWeb is free and more global — there were few vacancies based in Australia listed, last we checked. It won't hurt to use both of these options.
ReliefWeb vs. Pro Bono:
Pro Bono offers great features and uses social media to reach more people. It is more expensive than ReliefWeb but is a good alternative for hiring locally. ReliefWeb is great for reaching a global audience and it is free. The two job boards should complement each other well.
Key Information
| | |
| --- | --- |
| Legal Name | ReliefWeb |
| Founding Date | Jan 01, 1996 |
| Address | United Nations Secretariat, New York, NY 10017 |
| Number of Employees | 25 |
| Number of Customers | 10781662 |
| Email | |
| Telephone | |
| Website | |