Pricing:
JOBSTERS does not disclose pricing on their site. Employers will be contacted by an agent once they try to reach out to candidates they're interested in.
Review:
Headquartered in Singapore, JOBSTERS is an international online marketplace for employers and job seekers in Hong Kong, the Philippines, the United Arab Emirates, South Africa, and Australia, among others. The site targets individual cities and provides employers with a means of advertising part-time, casual, or temp work near to where they live and work.
The site has a simple signup process for job seekers and requires employers to fill out a form before they can reach out to candidates and start the hiring process. It also has chat functionality, a simple dashboard to manage applications and postings, and recruitment tips which are shared on their Facebook and Twitter pages.
Highlights:
JOBSTERS provides an account dashboard for employers to check on listings and manage applications.
The site has jobs in locations throughout Australia and covers Sydney, Brisbane, Adelaide, Perth, and Melbourne.
The platform offers a candidate search database, which can be used by employers to find candidates.
The site is easy to navigate.
Shortcomings:
The site doesn't provide much information on the company and how to use the platform.
JOBSTERS doesn't have offices in Australia.
Most positions and candidates seem to be located outside of Australia.
Reputation:
We were unable to find any online reviews of JOBSTERS.
How to Find Employees on JOBSTERS: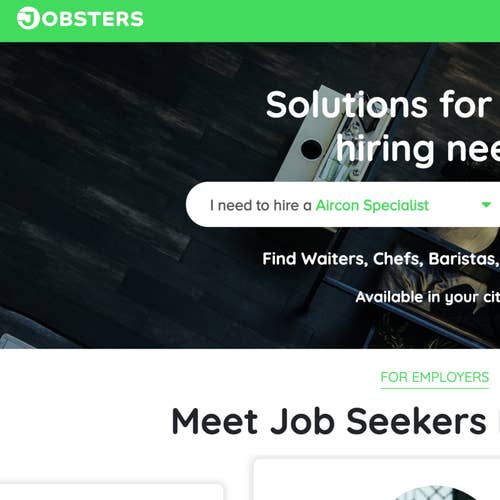 Seven easy steps for finding employees on JOBSTERS.
1.
Finding employees on JOBSTERS.
1.1
Navigate to the JOBSTERS home page.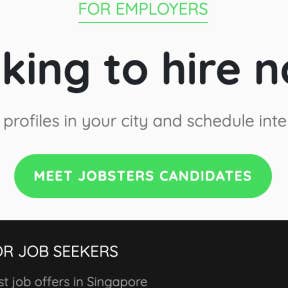 On the JOBSTERS home page, scroll to the bottom and click on the green "MEET JOBSTERS CANDIDATES" button. You'll find this under the "FOR EMPLOYERS" section.
1.2
Search for suitable candidates using filters.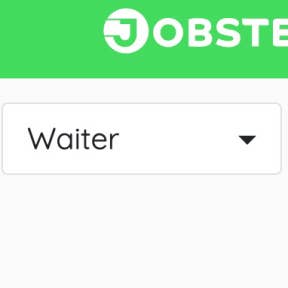 At the top of your page, you'll find five dropdown menus with various options to filter by. Select the position you are hiring for, as well as the preferred city, gender, sign up date, and experience level, then click the green search button towards the top-right. A list of candidates that match your criteria will appear onscreen.
1.3
Browse through available candidates.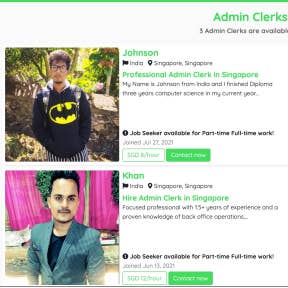 Scroll through the photos and bios of potential employees, and click on those you'd like to learn more about.
1.4
Select "CHAT NOW" once you've found your ideal candidate.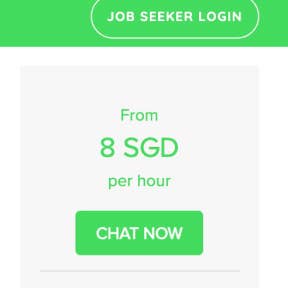 You'll find the "CHAT NOW" button on the right of your job seeker's profile, slightly towards the top of the page. Click on it once you have chosen your preferred candidate.
1.5
Fill out an enquiry form.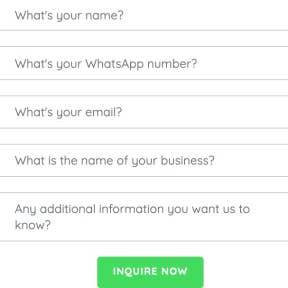 Provide your name, WhatsApp number, email, business name, and any additional information you'd like JOBSTERS to know. When you are done, click "INQUIRE NOW."
1.6
Set your preferences.
Select either "Part-Time" or "Full-Time" depending on your hiring requirements.
1.7
Chat with your chosen candidate.
You will now be able to chat with your chosen candidate to discuss the vacancy you'd like to fill. You will receive an email from JOBSTERS containing a link to a chat portal you can use. A member of the JOBSTERS team will get in touch with further details.
JOBSTERS vs. SEEK:
SEEK is the most popular job posting site in Australia. Unlike SEEK, JOBSTERS does not allow employers to post jobs, but they can browse candidate profiles and reach out to potential employees via the site. SEEK has a larger local talent pool than JOBSTERS that has a database comprising mainly candidates from India, Singapore, and Indonesia.
JOBSTERS vs. Jora:
Jora is a high-traffic site that offers up to ten free postings per month. By comparison, JOBSTERS does not offer job postings and only has around 300 job profiles listed on the site, none of which are Australian. Jora has a good reputation and has helped many employers find hires fast, while very little is known about JOBSTERS.
JOBSTERS vs. jobactive:
jobactive is a local job board run by the Australian government that offers free job postings. The difference between these two sites is that JOBSTERS does not allow for job postings and only covers six Australian cities, while jobactive accepts postings from across the country. jobactive is the better option if you're hiring local candidates.
Key Information
| | |
| --- | --- |
| Legal Name | JOBSTERS Pte Ltd |
| Founding Date | Jan 01, 2020 |
| Number of Employees | 5 |
| Email | |
| Telephone | |
| Website | |
FAQs:
What is JOBSTERS?
JOBSTERS is a job board that lets employers find and hire candidates in their local area or city. The site covers five cities in Australia and has its headquarters in Singapore.
What does it cost to post a job on JOBSTERS?
JOBSTERS doesn't charge any fees to post an opportunity to their job board.
How do I create an account on JOBSTERS?
Navigate to the JOBSTERS home page.
Select "EMPLOYER LOGIN" in the top-right corner.
Then, click on "Sign up as an Employer."
Fill out the registration form and select "CREATE ACCOUNT."
How do I delete a job post on JOBSTERS?
Log in to your account.
Select the briefcase icon next to "DASHBOARD."
Look for the job you would like to remove under "My Job Offers."
Select "Delete" on the right-hand side of the page.
What are some alternatives to JOBSTERS?