A timesheet template is a simple table that employers and employees can use to keep track of hours worked. This can be useful for payroll and tracking overtime.
Special Offer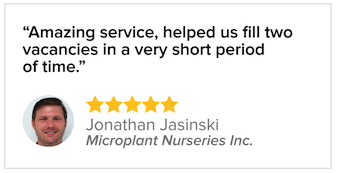 Post Jobs for FREE
Completely free trial, no card required.
Reach over 150 million candidates.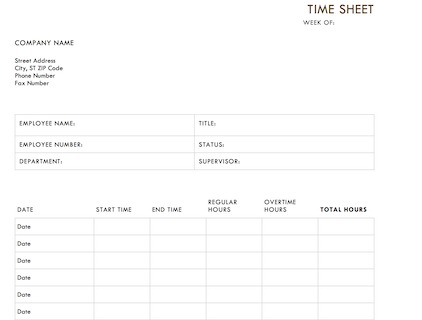 Timesheet Template Download - PDF
Download a printable, editable timesheet template form in PDF format. Need it in Word or Excel? Scroll down.
That should help you start using timesheets to track employee hours right away, and help you simplify payroll, keep it more organized, and more trustworthy. Still have some questions? We've got answers to the most frequently asked questions about timesheets below.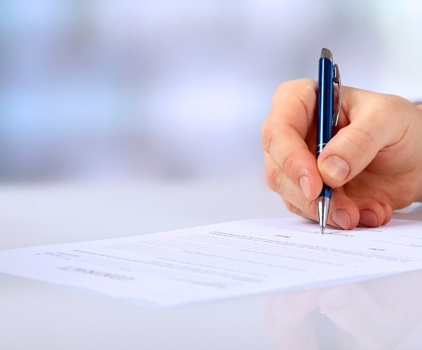 When Should You Use a Timesheet Template?
If you don't use some form of payroll software or other digital time management for your workforce, a timesheet will be very useful for you. It is often easier for a small business with few employees to use a template.
You're also welcome to edit our form to help you create one that suits the needs of your company. Below we've got the essential information you'll need to do it.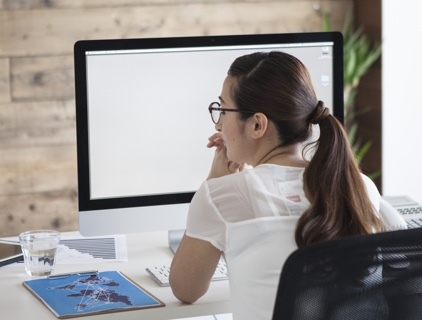 What Should Your Timesheet Template Contain?
It should have an area for employee name, ID number, and position. It should have a table with a row for each day of the week, and columns for the date, start time, end time, regular hours, and overtime hours. Finally, it should have a place for the employee and supervisor to sign.
Tip: If you are working with an independent contractor, and are paying them for completing the project, rather than by the hour, you're best off not asking them to fill out a timesheet, as it could make it appear that they're an employee, rather than a contractor.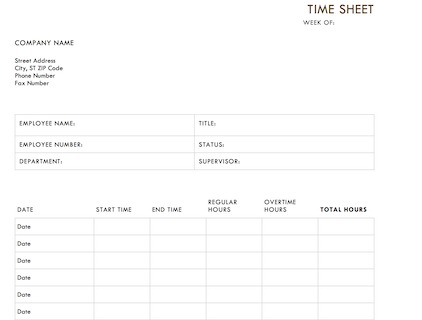 Timesheet Template Download - Word
Download a printable, editable timesheet template form in Word format.
Need an Excel version of this timesheet? A lot of people find this format for timesheets handy. We've got that for you as well.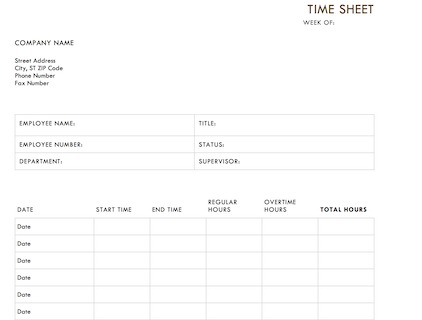 Timesheet Template Download - Excel
Download a printable, editable timesheet template form in Excel format.
Timesheet FAQs:
Are there any legal issues to consider when I use a time sheet template?
Not really, other than what we mentioned about using contractor timesheets.
Is it ok to let employees fill out their time sheet form digitally?
This should be just fine, and these days people should be able to fill one out via smartphone. This can be useful for employees who don't work at a fixed job site. While it's possible for them to open a timesheet in Excel on their phone, it may be simpler to send it via Google Sheets. Time sheets in Excel won't be editable unless employees have the Excel app, whereas anyone can use Sheets free.
Is using time sheets free a good idea?
Time sheet forms are pretty simple, so there's no reason a free time sheet should lack the quality of a purchased one. Beyond free time sheets, you may want to look at payroll software with time tracking as a paid solution that offers more features.
Can I edit your timesheet PDF?
Yes, you can edit any of our free timesheets, but for PDFs you'd need editing software. You may be better off using our Word or Excel time sheet download, then saving it as a PDF.