A java developer cover letter should be used to present yourself as a highly capable programmer for the company. Use your cover letter to expand on the points made in your resume, including things like testing and deploying code, building web frameworks, multithreading and synchronization, and more.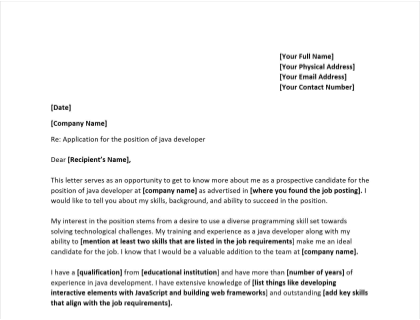 Java Developer Cover Letter - Free Template
Apply for your next java developer job with this free cover letter template.
Java Developer Cover Letter Example:
[Full Name]
[Physical Address]
[Email Address]
[Contact Number]
[Date]
[Company Name]
Re: Application for the position of java developer
Dear [Recipient's Name],
This letter serves as an opportunity to get to know more about me as a prospective candidate for the position of java developer at [company name] as advertised in [where you found the job posting]. I would like to tell you about my skills, background, and ability to succeed in the position.
My interest in the position stems from a desire to use a diverse programming skill set towards solving technological challenges. My training and experience as a java developer, along with my ability to [mention at least two skills that are listed in the job requirements] make me an ideal candidate for the job. I know that I would be a valuable addition to the team at [company name].
I have a [qualification] from [educational institution] and have more than [number of years] of experience in java development. I have extensive knowledge of [list things like developing interactive elements with JavaScript and building web frameworks] and outstanding [add key skills that align with the job requirements].
In my most recent role at [previous employer], I achieved [describe an accomplishment and strengthen it with a percentage, if possible], which improved [mention the effect this accomplishment had on the company in question].
I am eager to take on a new challenge and I see this as the perfect opportunity to contribute and grow. I am excited to be applying to [company] and for the opportunity to [describe how your skills and expertise would benefit the company]. I truly admire [mention notable milestones or characteristics you appreciate about the company] and would feel privileged to a member of the team at [company name].
Please find attached my resume and [mention any other documents that were requested, if applicable]. Feel free to contact me directly should you require anything further.
Thank you for your time and consideration. I look forward to hearing from you.
Sincerely,
[Your full name]
How to Write a Java Developer Cover Letter:
1. Address your letter.
Address the recruiter or hiring manager directly by using "Mr." or "Ms." and their last name, or simply use their full name.
2. Start with a brief introduction.
In the first paragraph, state the reason for your letter and your motivations for applying for the role. Add a top-line introduction of yourself and make your case for the position by citing specific skills and expertise that match the requirements in the job posting, or have a look at java developer job descriptions for inspiration.
3. Outline your experience and skills.
Offer some insight into your training, experience, and skills to give the hiring manager or recruiter a better idea of your abilities. Mention things like your your proficiency with SQL, AngularJS, Unix and other languages, version control, MVC Frameworks, and more.
4. Showcase your achievements.
Describe your achievements or notable projects that illustrate your expertise along with the value you brought to your previous company. This might include adding new features and functions to applications that boosted user engagement, developing custom features as per client requirements, developing interactive user interfaces with JavaScript, using Hibernate and Spring for application layering, and more.
5. Share your enthusiasm and admiration for the company.
Mention the specific things you admire about the company and describe the value you would bring. Reinforce that you would be a perfect fit for them by mentioning desirable character traits, such as being a detail-oriented problem-solver with excellent interpersonal skills. Let them know that you are eager and excited to join their team.
6. End with a call to action.
Refer the reader to your attached resume and any additional documents that may have been requested. You may also want to refer them to your online portfolio that showcases a range of java development projects. Encourage the reader to contact you should they need anything else. Following this, offer your thanks for their time and consideration.
7. Sign off.
Sign off with an appropriate closing, such as "sincerely" and your full name. If you are sending a hard copy of the letter, leave a space for your handwritten signature above the typed name.
What employers look for in a Java Developer cover letter:
A well-written letter that succinctly argues your position as a highly skilled programmer.
An expansion of the notable achievements listed in your resume.
A walk-through of some java development challenges you've faced and how you overcame them.
Why you identified this company as the right fit for you.
Knowledge about your industry and its major players.
A passion for technology and interest in keeping up with trends.
Your attitude towards teamwork and collaboration.
FAQs:
What do you write in a cover letter for a java developer?
How long should a java developer cover letter be?
A java developer cover letter should not be longer than one page. It should be a brief statement that sums yourself up as a prospective employee and ideal fit for the advertised position.
What characteristics stand out in a great java developer cover letter?
A passion for technology.
A knack for solving technical challenges.
A detail-oriented mindset.
Good communication skills.
An understanding of the company and clear motivations for joining.