How to Hire Financial Advisors:
A step-by-step guide to finding top-quality financial advisors for your business. Includes a full hiring process that will help you find and hire the best financial advisors fast.
1.
Write the perfect financial advisor job description.
1.1
Highlight the benefits of the position.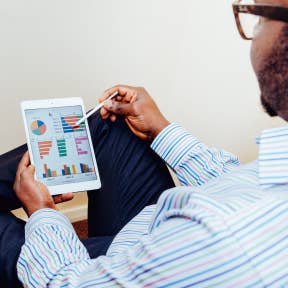 In a financial advisor's market, where the number of vacancies far exceeds the number of financial advisors, attracting the best ones to your company is no easy task. In order to position your firm as a desirable location for top-tier financial advisors, the job description you advertise needs to accomplish a number of things.
These include:
Offering a lucrative pay structure that combines a base salary and commission.
Being flexible with the requisite experience needed. Emphasize a hiring approach that values potential and mentorship over professional experience.
Selling candidates on your position in the market. Holding a strong position in a niche market can entice financial advisors to join you.
Emphasizing your marketing program that financial advisors can tap into to maximize their leads and sales.
Advertising your team. Having a diverse team that includes in-house lawyers, insurance specialists, or any valuable resource your financial advisor can tap into will strengthen your position.
Considering the possibility of offering equity ownership. Top-tier, seasoned financial advisors might be swayed by the prospect of more power in a firm and more long-term financial gain. Reserve this offer only for the high-caliber candidates.
Granting older financial advisors the assurance that their clients will be taken care of should they retire at the company. This is a nice, personal touch.
The hiring process for a financial advisor can take between three and six months, but a rigorous process that requires effort on the part of the candidate is found to be the greatest predictor of success.
1.2
Appeal to millennials.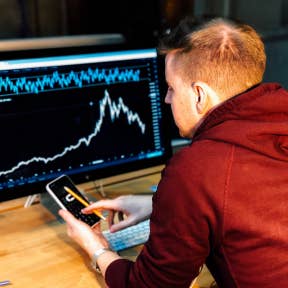 35% of financial advisors are projected to retire within the next ten years. Millennials will account for a major part of the next cohort of financial advisors, signaling a slight change in the way financial firms recruit new hires.
Use the following hiring principles to appeal to millennial financial advisors:
Update your technology to ensure your financial advisors are working with the best financial tools. Millennials will see fintech as central in their working lives, so you'll get the best out of them by offering them the latest tools to work with.
Offer strong mentorship in their first year and continued training thereafter. Pair young advisors with older advisors to trade experience with new ideas.
Cater to their ambition by emphasizing career advancement opportunities. Give them more responsibility and autonomy over time. The prospect of upward job mobility can determine how long a new financial advisor stays with your firm.
Include greater flexibility in their work schedules and cultivate a more interactive working environment.
Be socially conscious and clear about your values and company culture.
Don't overemphasize short-term goals like bringing in new clients and assets when joining the firm.
1.3
Use a financial advisor job description template to make it easier.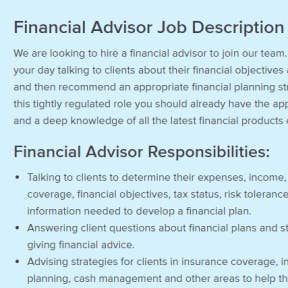 A financial advisor job description template will provide much of the boilerplate information you'll need, such as responsibilities and qualifications, making your task a bit easier.
2.1
Post your job to general sites, such as Indeed.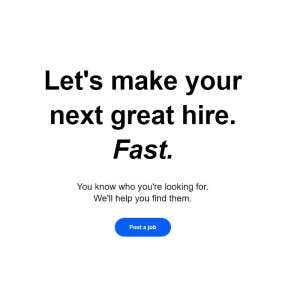 Begin by posting your job to free, high-traffic sites like Indeed. These are great places to start because they get plenty of traffic and they're free.
2.2
Make sure your job ad is recognized by Google.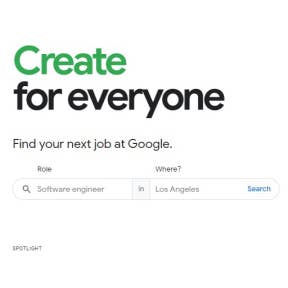 You'll also want to make sure your website is picked up by Google for Jobs, as this will help your posting show up in Google's search results. You can get it picked up by Google by having someone properly format it on your website, or by using a service (such as Betterteam) that creates a properly formatted jobs page for you automatically.
2.3
Target dedicated job boards for financial advisors.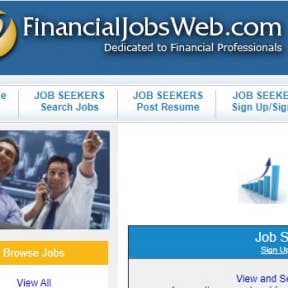 Your next step is to target dedicated job boards for financial advisors. This will narrow your search to candidates who look at specialized job boards. Use a job posting site for financial specialists to advertise vacancies and recruit a financial advisor.
2.4
Partner with colleges to hire finance students.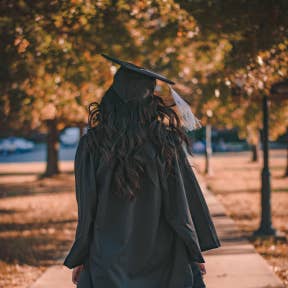 If you're thinking about hiring new talent fresh out of college, your best bet is to form partnerships with leading business schools and colleges.
Start by targeting business schools in your state or nationwide.
Contact each school's campus career service office and inquire about forming a partnership.
Ask about attending campus job fairs and consider sponsoring activities and fairs.
Create strong bonds with leading business schools by funding student societies like finance and investment clubs and fraternities.
Speak to the campus career service office about the process of creating a financial advisory internship with their school.
Connect with finance professors and teaching staff and build strong relationships with them. They're your best source of identifying promising students.
2.5
Develop an internship program.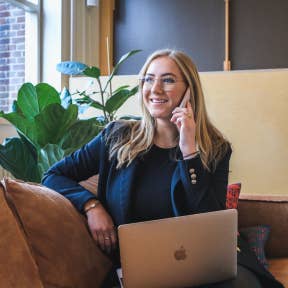 Internships are the best way of hand-picking the top students to supervise and train as prospective financial advisors of your firm.
Create an internship as part of finance students' degree program.
Meet the legal requirements for internships in your state, such as minimum wage and workers' compensation. The rules differ by state.
Speak to your partner college to determine whether your internship can count towards a college credit. This will further incentivize students to seek an internship.
Promote your internship at campus job fairs.
Interview and select students you feel have potential.
Treat their internship as you would any employment. Give them a proper onboarding, allocate resources to them, and make them feel attended to.
Ensure that the internship is well-structured and emphasize the educational benefits. Provide clear learning objectives and goals, as well as assignments and daily responsibilities. These can include researching investments, updating financial plans, reviewing client notes, and more.
Agree on a length of time that corresponds to a semester. Summer internships are also an option.
Market your interns as testimonial figures who speak about the benefits of a financial advisory internship with you.
Ask your interns to refer you to other students at their college whom they rate highly.
Offer your interns the chance of full employment pending the success of their internship.
4.1
Conduct phone interviews.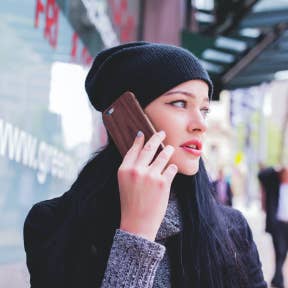 In-person interviews take up a lot of time for everyone involved. You can schedule short phone interviews and quickly learn which candidates are the best to continue investing your time in.
During these interviews, review the screening questions to see if their answers are consistent, check that their expectations for salary and benefits line up with yours, and find out why they no longer are at their previous job.
Example questions:
What brought you to the field of financial consulting?
Why did you leave your last financial advisor job?
What do you expect for salary and benefits?
When would you be able to start?
What made you interested in this job?
Use this step as an opportunity to identify red flags. If they left their previous job because of issues that you know will be present at the position you're offering, for example, lack of a higher salary or access to better marketing resources, the candidate won't be a good fit.
For candidates that meet your standards at this point, be sure to review the highlights of taking the job, and see if there are any other questions they have. Remember to keep selling the job, as they may be entertaining other offers.
It might be useful to try and determine why a candidate wants to work as a financial advisor. Witnessing the consequences of bad personal finance from a young age is often a compelling reason for becoming a financial advisor and is a good indicator that the candidate is committed to giving sound financial advice.
It also minimizes the chances of them losing interest in the job and quitting prematurely. Perhaps they saw their parents make bad financial decisions as children, instilling in them a sense of duty that exceeds the scope of their job. These are often signs of quality candidates.
4.2
Conduct in-person interviews.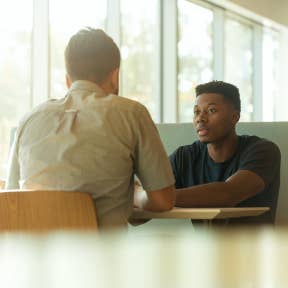 At this point, you've got most of what you need to know if a candidate is the right fit for your firm, but an in-person interview will give you insight into to how you'd work with them, their client-facing and communication skills, and how they'll fit in with the rest of your staff.
Example questions:
A client wants to start a retirement fund. How would you advise them?
How would you distil complex financial terms to a client who was unfamiliar with the financial world?
How would you persuade a client who was apprehensive about starting an investment portfolio?
A client wants to start a college fund for his children. How would you advise him?
More importantly, it's a chance to continue selling them the job. Introduce them to co-workers, show them around, review the reasons they want to take the job, and reiterate the benefits you offer. Have a look at our financial advisor interview questions for useful questions to ask.
Your questions should gauge their strategy for closing clients, determine their character under pressure, and give them an opportunity to demonstrate their knowledge of financial markets and products.
5.
Hire a new financial advisor.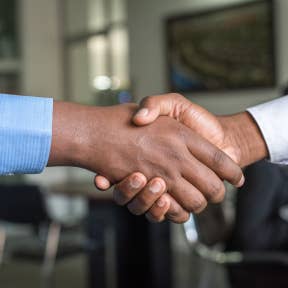 You've figured out how to source a financial advisor that fits your firm, so you'll want to make them an offer fairly quickly to take them off the job market before another company finds them. This is often best done in an informal call first, followed by an offer letter or email that provides the job description, salary, and benefits information.
5.2
Onboard your new financial advisor.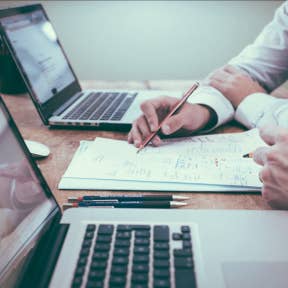 Onboarding is a key final step in the hiring process that is not to be overlooked. Make a good first impression and get the new hire up and running fast by having a detailed and organized onboarding process.
FAQs:
Where do financial advisors look for jobs?
Is it difficult to hire financial advisors?
Yes. Finding financial advisors that blend financial expertise and good salesmanship is hard, but not impossible. Start your search on specialized job boards and filter out your candidate pool as you go.
What skills do financial advisors need?
Diligence and attention to detail.
Proactive approach to dealing with clients.
Good salesmanship and persuasive communication.
The ability to distill complex information for a non-technical audience.
A strategic mindset and good problem-solving skills.
Excellent interpersonal skills.
Excellent verbal communication.
Grit and resilience.
How can I find a good financial advisor?