Pricing:
Certified RGD members can post an unlimited number of jobs or projects on the RGD site for free, while provisional RGD and affiliate members receive two free postings annually. Nonmembers pay C$250.00 per posting.
Review:
RGD allows employers to connect with a large network of registered graphic designers and students in the creative sector of Canada. The platform allows employers to post jobs directly on the site or to request a formal proposal from designers if they wish to recruit a designer temporarily for specific projects.
Highlights:
The website has an average of 1,000 unique visits per day.
The site provides access to a network of thousands of job seekers per month.
Job postings also appear in RGD's bi-weekly e-newsletter with more than 24,000 subscribers.
Organizations looking to hire a graphic designer for a communications project can submit their proposal to be added to the site.
Employers have free unlimited job posts.
Both employers and job seekers are expected to adhere to a code of ethics and quality standards.
All job seeker members hold a qualification in graphic design.
The site hosts a gallery where employers can view the designs of potential employees.
Job posts are shared on RGD's LinkedIn page with approximately 12,000 followers.
The platform is available in English and French.
Shortcomings:
Employers must become members to post a free job listing.
Job postings are not immediately visible, and it is unclear how long it takes for the post to appear.
Reputation:
RGD received a 4 out of 5-star rating on their Facebook page based on the opinion of four people.
How to Post a Job on RGD: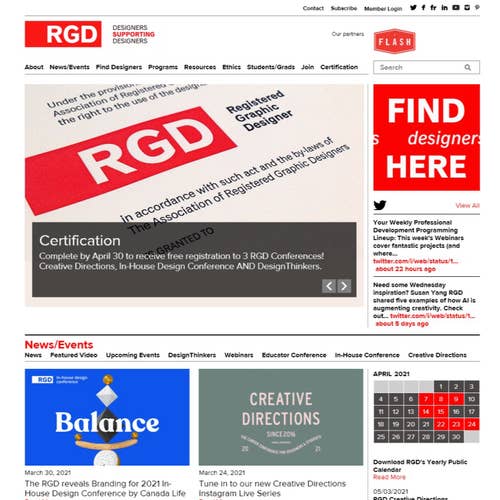 Three easy steps to post a job on RGD.
1.1
Click "Find Designers."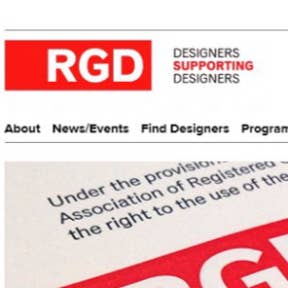 Navigate to the home page and click "Find Designers" in the menu bar.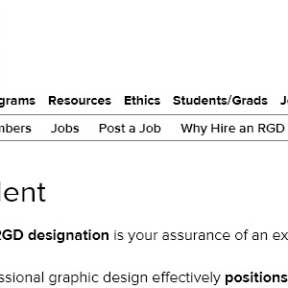 At the center-top of the page, click "Post a Job."
1.3
Complete the job posting form.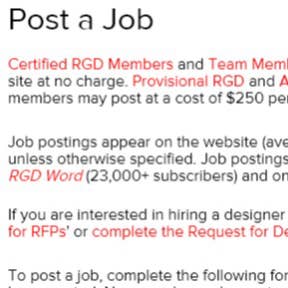 Read the instructions and complete the online job posting form. Submit it for approval. Members will receive a notification when the post goes live, and nonmembers will receive a payment notice before the post is activated.
How to Post a Project on RGD:
Employers or organizations interested in submitting a project or hiring a graphic designer from the site should fill out the online form. Designers will then be able to respond and send quotations or proposals to employers.
RGD vs. Graphic Designers of Canada:
Like RGD, Graphic Designers of Canada (GDC) connects employers with job seekers in the graphic design industry in Canada. Both organizations charge C$250.00 for nonmembers to post a vacancy, while members can post jobs for free. While posts are active for 30 days on RGD, GDC's are visible for six months.
RGD vs. 99designs:
While RGD is aimed at improving the value of design work in Canada, 99designs is an Australian-based creative marketplace that has expanded its recruitment services to Canada. 99designs attracts more than 100,000 site visits per month, compared to the 30,000 per month of RGD. 99designs is also only for freelancers.
RGD vs. DesignHill:
Both DesignHill and RGD offer employers the opportunity to post specific design projects. Designers can then respond and send quotations and proposals to potential employers. While DesignHill has a global reach, RGD is a Canadian-based recruiter.
Key Information
| | |
| --- | --- |
| Legal Name | The Association of Registered Graphic Designers |
| Founding Date | Jan. 01, 1996 |
| Address | Toronto, Ontario CA |
| Email | |
| Telephone | |
| Website | |
News & Activity:
FAQs:
What does it cost to post a job on RGD?
How do I create an account on RGD?
You do not need an account to post a job on RGD.
How do I delete a job post on RGD?
What are some alternatives to RGD?