Video editors are creative professionals who are experts in post-production editing tools. When creating a video editor cover letter, be sure to emphasize your editing and technical skills, qualifications, and your knowledge of popular video editing software.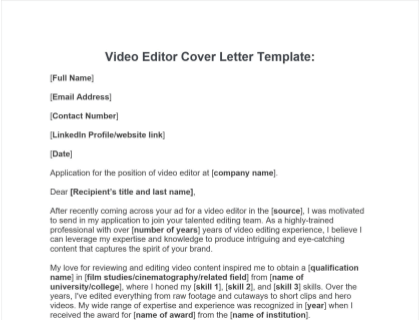 Video Editor Cover Letter - Free Template
Download our video editor cover letter in MS Word format.
Video Editor Cover Letter Example:
[Full Name]
[Email Address]
[Contact Number]
[LinkedIn Profile/Website Link]
[Date]
Application for the position of video editor at [company name].
Dear [Recipient's title and last name],
After recently coming across your ad for a video editor in the [source], I was motivated to send in my application to join your talented editing team. As a highly trained professional with over [number of years] years of video editing experience, I believe I can leverage my expertise and knowledge to produce intriguing and eye-catching content that captures the spirit of your brand.
My love for reviewing and editing video content inspired me to obtain a [qualification name] in [film studies/cinematography/related fields] from [name of university/college], where I honed my [skill 1], [skill 2], and [skill 3] skills. Over the years, I've edited everything from raw footage and cutaways to short clips and hero videos. My wide range of expertise and experience was recognized in [year] when I received the award for [name of award] from the [name of institution].
In my previous position as a video editor at [name of company], I was responsible for reviewing raw material, collaborating with directors and production teams, trimming footage and inserting dialog, and ensuring all video elements met the guidelines stipulated in the brief. The experience taught me the value of teamwork and led me to become an expert in [editing software 1], [editing software 2], and [editing software 3].
I would be thrilled to demonstrate my skills and knowledge of editing best practices at your company. I am confident that I can be a valuable addition to your team. Thank you for considering my application and I look forward to discussing the position of video editor further.
Please find my resume attached, along with subsequent documentation. Feel free to contact me at [email address] or [telephone number].
Sincerely,
[Your Name]
How to Write a Video Editor Cover Letter:
1. Address your cover letter to the hiring manager/recruiter.
Your cover letter should start with your relevant contact details, followed by an official greeting addressed directly to the hiring manager or recruiter. This will immediately add a professional touch, showing the recipient that you've done your research. When addressing the recipient, include their preferred title and full name.
2. State where you learned about the position.
The opening statement is a concise and compelling paragraph that should state where you found out about the job posting and why you think you're the best-suited candidate. Clearly state your interest in the position along with at least two valid reasons as to why you personify the job requirements of a video editor.
3. Include your qualifications and competencies.
Your cover letter's body should focus on your qualifications and video editing skills to support your opening statement. A video editor should have a Bachelor's degree in film studies, cinematography, or similar fields, and possess excellent organizational, multitasking, and creative skills. This is also a magnificent opportunity to add information on any awards or recognition you've received.
4. Write about your job experience.
Following your qualifications and skills, you can easily lead into your professional experience as a video editor. Here, you want to highlight the type of tasks you've become accustomed to, as well as the editing software you've mastered throughout your editing career. Popular video editing software includes Adobe After Effects, Final Cut Pro X, and Lightworks.
5. Add a call to action and professional sign-off.
End your cover letter off with a brief paragraph that reemphasizes your interest in the position. This should show the recruiter you're eager to start working and would love to discuss the position further. After including your contact information and directions to any relevant attachments, sign off with a professional "Sincerely" and your full name.
FAQs:
How do I write a video editor cover letter?
What skills do I need to become a video editor?
Outstanding time management skills and attention to detail.
Excellent technical and communication skills.
Extensive knowledge of various editing software.
How do I become a video editor without any formal qualifications?
If you do not have a qualification related to video editing, you'll want to pay special attention to your experience and skills by highlighting the tasks you worked on. Fortunately, there are a host of online and short courses available that focus on learning editing software. It's recommended that you complete at least two short courses on editing software.