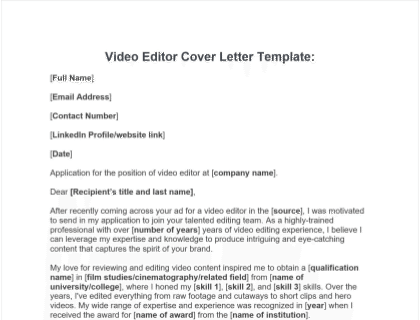 Video Editor — Free Cover Letter Template
Download our free video editor cover letter template in MS Word format.
Download Now
Video Editor Cover Letter Example:
[Full name]
[Physical address]
[Email address]
[Contact number]
[LinkedIn profile/website link]
[Date]
Re: Application for the position of video editor at [company name].
Dear [recipient's title and last name],
After recently coming across your ad for a video editor in the [source], I was motivated to send in my application to join your talented editing team. As a highly trained professional with over [number of years] years of video editing experience, I believe I can leverage my expertise and knowledge to produce intriguing and eye-catching content that captures the spirit of your brand.
My love for reviewing and editing video content inspired me to obtain a [qualification name] in [film studies / cinematography / related fields] from [name of university/college], where I honed my [skill 1], [skill 2], and [skill 3] skills. Over the years, I've edited everything from raw footage and cutaways to short clips and hero videos. My wide range of expertise and experience was recognized in [year] when I received the award for [name of award] from the [name of institution].
In my previous position as a video editor at [name of company], I was responsible for reviewing raw material, collaborating with directors and production teams, trimming footage and inserting dialog, and ensuring all video elements met the guidelines stipulated in the brief. The experience taught me the value of teamwork and led me to become an expert in [editing software 1], [editing software 2], and [editing software 3].
As an experienced video editor, I am impressed with [mention notable characteristics you appreciate about the company]. I feel that my skills and knowledge of video editing will make me the ideal candidate and I am confident that I can be a valuable addition to your team. Please find my resume attached.
Thank you for taking the time to consider my application. Feel free to contact me if you have any further questions. I look forward to hearing from you.
Sincerely,
[Your full name]
How to Write a Video Editor Cover Letter: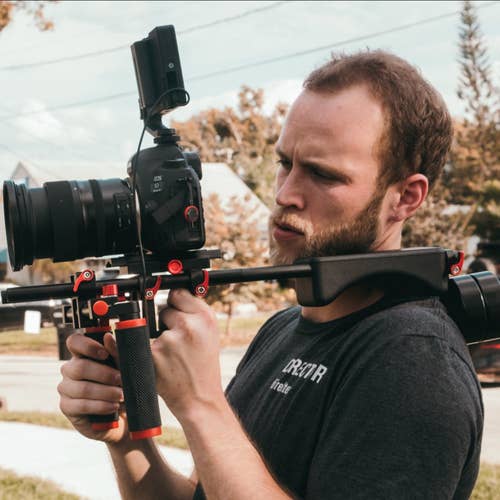 A step-by-step guide to writing the perfect video editor cover letter.
1.1
Address the hiring manager directly.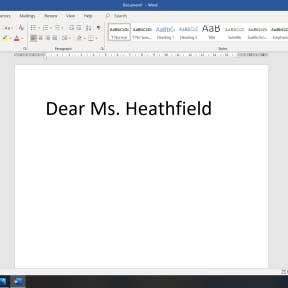 Address your letter directly to the hiring manager, recruiter, employee, or whoever the person is that put out the job posting.
1.2
Avoid generic greetings.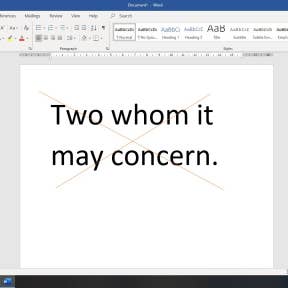 If a contact name is supplied or if it is possible to find out a name, avoid using a general greeting such as "To whom it may concern" or "Dear Sir/Madam." Use the relevant title before the person's last name — for example, "Ms. Jenkins" or "Mr. Garcia."
2.
Start with an introductory paragraph.
2.1
Keep your introduction brief.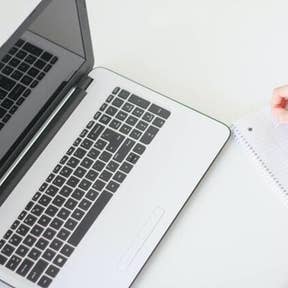 In no more than three sentences, tell the person why you are writing and what position you are applying for.
2.2
Mention that you meet the stated job requirements.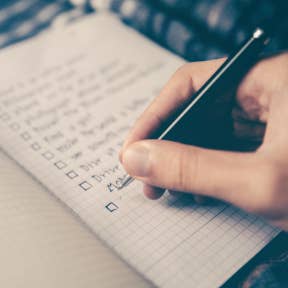 Your writing should reflect the exact job title and you should briefly highlight key job advertisement requirements that you meet, for example, that you have two years' experience as a video editor.
2.3
Indicate that feel you are the best fit for the job.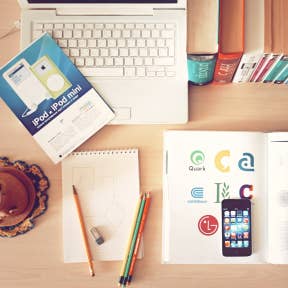 Use one sentence to mention that you feel you are a great candidate for the video editor position.
3.
Showcase your qualifications and skills.
3.1
Briefly highlight your qualifications.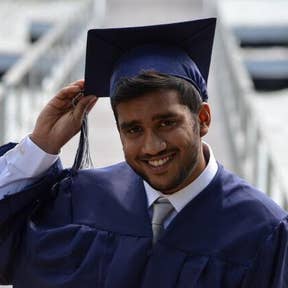 Back your introduction up with tangible evidence. Carefully read the job advertisement and directly address all the stated requirements. Write a few sentences on your qualifications and training as a video editor and where you studied.
For a video editor position, employers usually look for at least a bachelor's degree, preferably related to film studies, video production, cinematography, videography, or a relevant creative art form. Don't neglect to mention any formal training in popular video editing software such as Adobe After Effects, Final Cut Pro X, and Lightworks, if relevant.
3.2
Align your core skills to those mentioned in the job ad.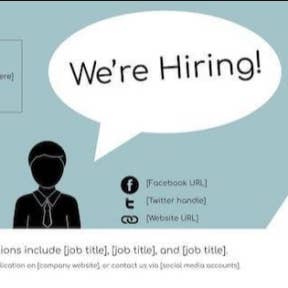 Match prominently featured duties and responsibilities mentioned in the job ad with key competencies from your resume. For example, if the job ad mentions editing animation videos, point out the extent of your proficiency in that regard.
Offer some insight into other relevant skills to give the hiring manager or recruiter a better idea of your abilities. This might include skills related to editing raw video material, collaborating with directors and production teams, trimming footage, syncing dialog, editing animation effects, and more.
4.
Outline your work experience.
4.1
Highlight your years of experience.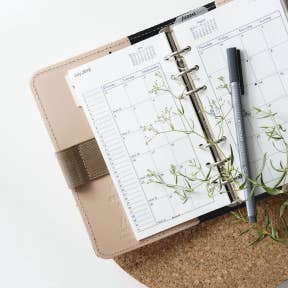 Mention how many years you've worked as a video editor. Briefly go through your work history, naming only the most relevant positions you've held. Keep this to a single sentence as you will be discussing your exact duties and work experience next.
4.2
Talk about your most recent job.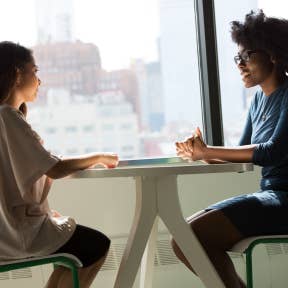 In a few sentences, discuss your most recent role. Revisit the job description to ensure that you align your responsibilities with the key skills they require.
4.3
Showcase major accomplishments in your previous role.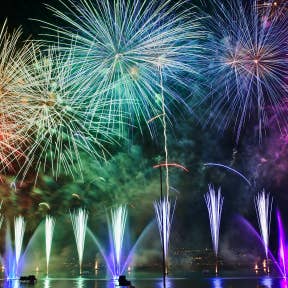 Highlight your biggest achievements in your previous job, for example, determining post-production workflows and standards, successfully using linear and computerized video editing software to visualize scripts and sequencing scenes, etc. Don't neglect to provide details of the video productions you've worked on.
4.4
Add metrics to your job achievement descriptions.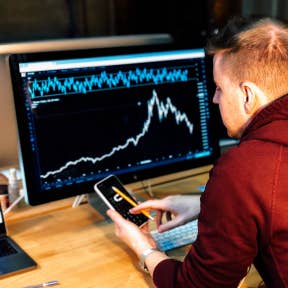 If possible, include metrics to emphasize the impact of your contributions on the projects assigned to you, for example, re-sequencing short film scenes to maximize audience engagement, leading to 27 percent more likes and comments, etc. The more specific you are, the better.
5.
Celebrate the organization and end with a call to action.
5.1
Share a few things you know about the company.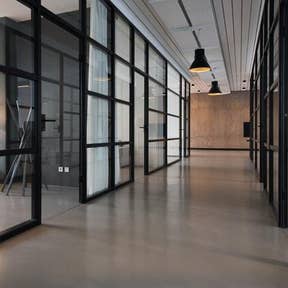 Point out two or three specific things that show your enthusiasm and admiration for the organization, for example, their accomplishments, productions, reputation, innovative approach, or positive employee feedback.
Reinforce that you would be a perfect fit for the job by adding desirable character traits, such as being a detail-oriented problem-solver with creative flair and exceptional communication skills. Mention that you are eager to join their video production team.
5.2
Explain the reasons why you want to work there.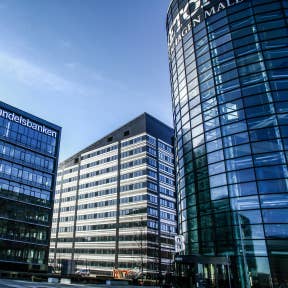 Discuss why being a video editor at their company or studio appeals to you. This would typically include referring to their specialty and how you envisage adding creative value and technical expertise to their video productions.
5.3
End with a call to action.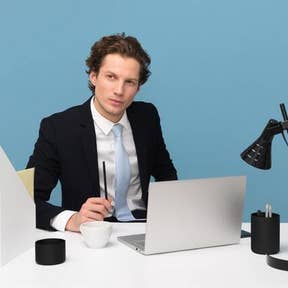 Refer the reader to your attached resume and any additional documents that may have been requested. Invite them to look at an online portfolio, your LinkedIn profile, websites, or video links that showcase your talent.
Encourage them to contact you via phone or email should they need additional information. Say that you look forward to hearing from them. Don't neglect to thank the reader for their time and consideration. End your letter by adding "sincerely" or an acceptable synonym and sign off with your full name.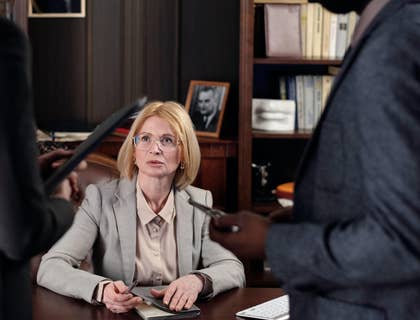 Similar Cover Letter:
FAQs:
How do I write a video editor cover letter?
What skills do I need to become a video editor?
Outstanding time management skills and attention to detail.
Excellent technical and communication skills.
Extensive knowledge of various editing software.
How do I become a video editor without any formal qualifications?
If you do not have a qualification related to video editing, you'll want to pay special attention to your experience and skills by highlighting the tasks you worked on. Fortunately, there are a host of online and short courses available that focus on learning editing software. It's recommended that you complete at least two short courses on editing software.
How long should a video editor cover letter be?
Your cover letter should preferably be no longer than one page. It should detail your qualifications, experience, achievements, and the reasons why you would be ideal for the position.