Technical Writer Cover Letter Template
Start applying for technical writer jobs today with our easily customizable cover letter template in MS Word format.
Download Now
Technical Writer Cover Letter Template:
[Full Name]
[Email Address]
[Contact Number]
[LinkedIn Profile/Website Link]
[Date]
[Company Name]
Experienced and passionate writer applying for the Technical Writer position.
Dear [insert hiring manager's title and last name or their first name],
I found your advertisement for the technical writer position [in/on insert location of job ad] and am very interested in applying. My experience in technical writing and ability to [insert #1 skill] and [insert #2 skill] make me the perfect candidate for the job. I know my skill set and industry knowledge will be invaluable to [insert name of the company/organization].
I have several years of industry experience writing [list examples of your work, e.g. product manuals]. In my role as [insert position], I achieved [insert accomplishment(s) and strengthen it with a number, if possible], which improved [mention the effect this accomplishment had on the organization or company in question].
During my career, I have become proficient in [insert relevant technical writing software] that has helped me create clear, user-friendly documents. Learning to use these programs has given me a great opportunity to become a person of many talents, which motivates me to apply my writing skills to [insert company's main technical writing subjects].
I have attached my resume and [mention any other documents that were requested, if applicable]. Here are also some links to my best writing pieces:
[Insert links].
I'd appreciate the opportunity to meet with you in person and discuss how I can bring my expertise to [insert company name]. I'll follow up in the next three days to see how we can move forward on my application.
Thank you for your time and consideration.
Sincerely,
[Insert full name]
How to Write a Technical Writer Cover Letter: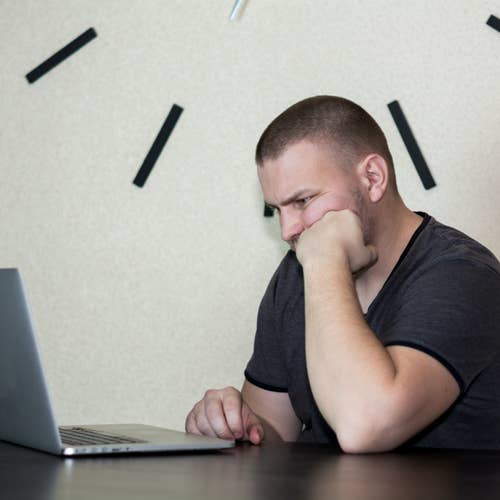 When writing a cover letter for a technical writer, remember to lay out the best argument for your hiring. Your prospective employer will want to see your personal information, skills and qualifications, and a reference to your resume.
1.
Make the case for your hiring.
1.1
Address your letter and briefly introduce yourself.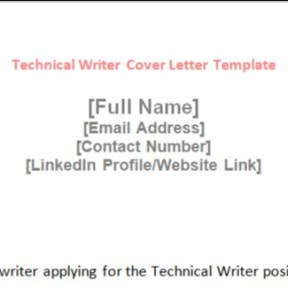 Start your letter by addressing the contact person or hiring manager. Use their full name or "Mr." or "Ms." followed by their last name. Briefly state the position you're applying for, how you heard about the job opening, and your interest in applying.
1.2
Outline your skills and qualifications.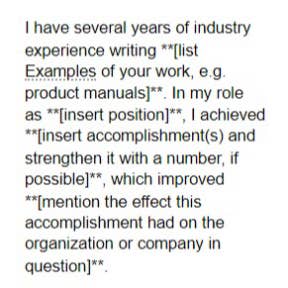 You should use your cover letter to expand on the most relevant skills and qualifications, stated in your resume, that best suit the technical writer position. Mention the type of technical content you have written, your technical skills, any writing software you are proficient in, and any other qualifications that the company would find helpful. If possible, also include links to your best pieces of writing.
If you have just recently graduated and have no technical writing work experience, detail your courses, activities, projects, and major skills and knowledge you have gained through your education. You should also specify your major.
2.1
Add a call to action.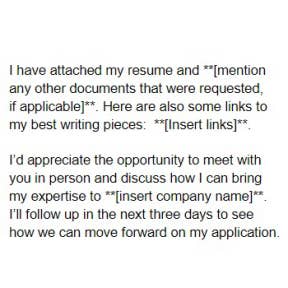 Close your letter by drawing the hiring manager's attention to your attached resume and portfolio of writing projects, if you have one. Invite the hiring manager to contact you and mention that you will follow-up on your application.
2.2
Sign off with an appropriate salutation.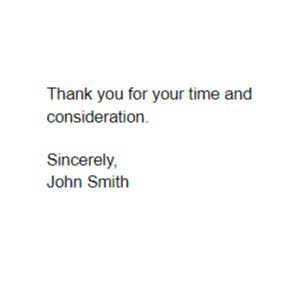 Complete your letter by thanking the hiring manager for their time. Use an appropriate closing, such as "sincerely," and add your full name.
Similar Cover Letters:
FAQs:
How do I write a technical writer cover letter?
How do I write a technical writer cover letter if I have no experience?
Follow our template for a technical writer cover letter. However, instead of detailing your qualification, provide a brief outline of your education, including your major and any appropriate courses, activities, and projects you took part in. Also mention the major skills and knowledge you gained through your education.
What skills should I include in a technical writer cover letter?
Technical writing and editing.
Project management.
Software programs such as Microsoft Sharepoint or Visio.
Teamwork and collaboration.
Journalism.
Proposal writing.