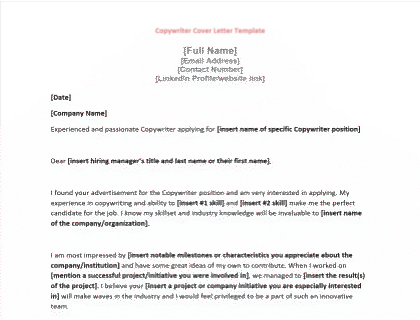 Copywriter Cover Letter Template
Start applying for copywriter jobs today with our targeted cover letter template in MS Word format.
Download Now
Copywriter Cover Letter Template:
[Full Name]
[Email Address]
[Contact Number]
[LinkedIn Profile/website link]
[Date]
[Company Name]
Experienced and passionate Copywriter applying for [insert name of specific Copywriter position]
Dear [insert hiring manager's title and last name or their first name],
I found your advertisement for the Copywriter position and am very interested in applying. My experience in copywriting and ability to [insert #1 skill] and [insert #2 skill] make me the perfect candidate for the job. I know my skillset and industry knowledge will be invaluable to [insert name of the company/organization].
I am most impressed by [insert notable milestones or characteristics you appreciate about the company/institution] and have some great ideas of my own to contribute. When I worked on [mention a successful project/initiative you were involved in], we managed to [insert the result(s) of the project]. I believe your [insert a project or company initiative you are especially interested in] will make waves in the industry and I would feel privileged to be a part of such an innovative team.
In my role as a Copywriter, I achieved [insert accomplishment(s) and strengthen it with a percentage, if possible], which improved [mention the effect this accomplishment had on the organization or company in question]. Most recently, I attended [insert relevant workshops/courses/training you've completed] that helped me sharpen my [insert key skills or valuable attributes].
I have attached my resume and [mention any other documents or work samples that were requested, if applicable]. If you like my ideas, I have many more I'd like to discuss with you.
Sincerely,
[Insert full name]
How to Write a Copywriter Cover Letter: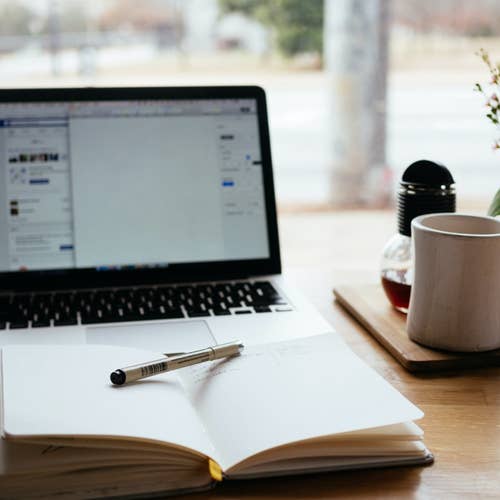 A complete guide that highlights the steps you need to take to build a professional copywriter cover letter.
1.
Address your cover letter to a specific person.
1.1
Address your cover letter to the hiring manager.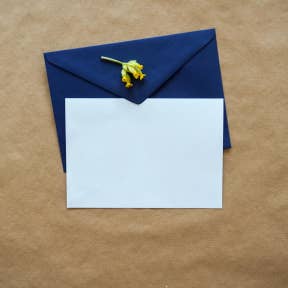 Research the company you are applying to and find the name of the hiring manager. Address your cover letter directly to that person using either their title and last name or the first name.
2.
Start with a great hook.
2.1
Discuss the position you're applying for.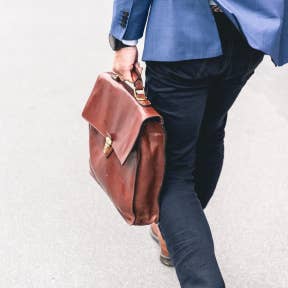 Briefly describe what position you are applying for and where you saw the job advertisement. Then, sell yourself with a great hook that will catch the recruiter's attention and show them why you would be an asset to the company.
3.
Show off your knowledge of the company.
3.1
Mention recently released items or news about the company.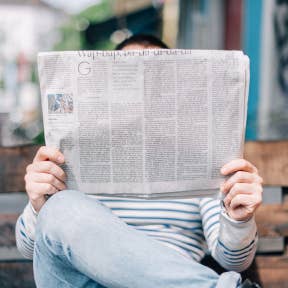 With the research you have done on the company, mention some recent products, projects, news, or characteristics that you liked or were impressed with. This shows the company that you are interested in working for them, especially if you can relate your work history to the news or characteristics you've mentioned.
4.1
Exhibit your skills and back them up with quantifiable data.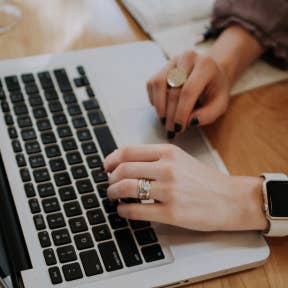 Use examples from your resume to show the recruiter why you're the best candidate for the position. While you should mention particular technical skills that were noted in the job advertisement, you should also demonstrate your soft skills, such as teamwork, communication, and implementing feedback to improve your work.
Cite the results of your work as much as possible and include quantifiable data where possible. When it comes to technical skills, web and mobile experience and design skills are very much in demand for copywriters. If you have any skills or experience in these areas, be sure to highlight them in your cover letter.
Remember not to copy and paste from your resume but rather use your cover letter to expand on the skills and experience noted in your resume.
5.
End with a call to action.
5.1
Grab the recruiters attention.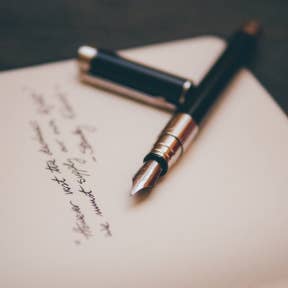 End your cover letter by drawing the recruiter's attention to your attached resume and work samples (if requested) and invite them to contact you. Sign off your letter with an appropriate salutation, such as "sincerely," and your full name.
6.
Edit your cover letter.
6.1
Carefully comb through your cover letter for any errors.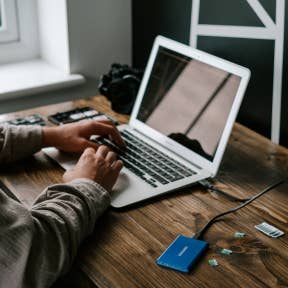 As a copywriter, you will not only be showing off your skills with examples from your work history but also with your writing style in your cover letter. It is essential that you write clean, concise copy with no spelling or grammar mistakes.
Before sending off your application, go over your cover letter, fix any errors, and make sure your sentences are to the point. This will probably be the most important step in writing your copywriter cover letter. Many recruiters will simply throw out your application if you have made basic errors, like spelling mistakes, in your writing.
Show that you can understand and follow guidelines by tailoring your writing to the specific copywriter position you are applying for. This will showcase your ability to target your audience and sell your personal brand.
Similar Cover Letters:
FAQs:
How do you write a copywriter cover letter?
What information should be included in a copywriter cover letter?
Past work experience with measurable results.
Relevant technical and soft skills.
Research on the company.
What skills should I put in a copywriter cover letter?
A copywriter cover letter should include technical skills, such as SEO editing, web design, UX, excel, HTML, CSS, keyword research, target audience analysis, content strategy, image optimization, Photoshop, typography, and print design. You should also include soft skills such as creativity, taking criticism, research, time management, critical thinking, and teamwork.