Social media managers are responsible for planning and creating content for social media platforms. A cover letter for this position should include information about your experience and training in social media, as well as why the company you are applying to appeals to you.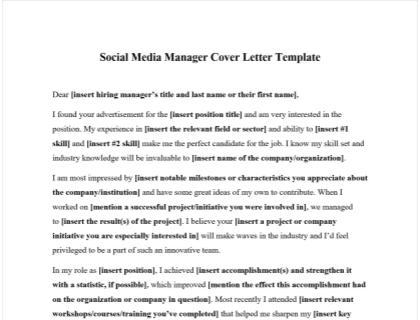 Social Media Manager Cover Letter Template
Download our free social media manager cover letter template in MS Word format.
Social Media Manager Cover Letter Template:
Dear [hiring manager's title and last name, or their first name],
I found your advertisement for the Social Media Manager vacancy and am very interested in the position. My experience in [relevant field like Media or Journalism] and ability to [#1 skill] and [#2 skill] make me the perfect candidate for the job. I know my skill set and industry knowledge will be invaluable to [name of the company/organization].
I am most impressed by [notable milestones or characteristics you appreciate about the company/institution] and have some great ideas of my own to contribute. When I worked on [mention a successful project/initiative you were involved in], we managed to [describe the result(s) of the project]. I believe your [project or company initiative you are especially interested in] will make waves in the industry and I'd feel privileged to be a part of such an innovative team.
In my role as [position], I achieved [describe accomplishment(s) and strengthen it with a statistic, if possible], which improved [mention the effect this accomplishment had on the organization or company in question]. Most recently I attended [relevant workshops/courses/training you've completed] that helped me sharpen my [key skills or valuable attributes].
I have attached my resume and [mention any other documents that were requested, if applicable]. If you like my ideas, I have many more I'd like to discuss with you.
Sincerely,
[Full name]
How to Write a Social Media Manager Cover Letter:
1. Address the hiring manager by name.
This shows initiative and a genuine interest in the role. As a social media manager, it also shows your research abilities.
2. Describe your relevant skills and experience.
Pay close attention to the job description and mention skills that tie into what the company is looking for, like time management, writing, and planning skills.
3. Talk about projects that the company is involved in.
Showing interest in specific projects that the company is working on shows a genuine interest in working for them. Try to find out if the company represents a brand you support or have been following. Try to present specific ideas for how you could contribute to their campaigns.
4. Describe your own accomplishments.
Talk about projects you have worked on and supply statistics to support your results. For example, mention that you have increased a client's following by 25% in three months, or that you have grown their following to 1 million followers.
5. Mention workshops or courses you have completed.
Describe courses that you may have taken to become proficient with Photoshop, or a workshop on social media engagement.
6. Attach a portfolio of your work.
In addition to your resume or CV, it would be wise to attach your portfolio to demonstrate your skills and experience.
Similar Cover Letters:
FAQs:
What should an entry level social media cover letter look like?
Address the hiring manager by name.
State the job title clearly and express your interest.
Mention your experience and skills that qualify you for the role.
Talk about what impresses you about the company.
Mention specific projects that the company is involved with that you are interested in.
Describe your previous or current roles and what you achieved in these positions.
Talk about relevant training you have recently completed and how this has prepared you for the available role.
End off the letter by mentioning any supplementary documents you have attached.
What should a social media specialist cover letter include?
A social media specialist cover letter should include details about your experience, skills, and motivation for wanting to work for the company. Try to describe how you have added value in your former roles.
How do I write a cover letter for a social media manager role?
We have outlined how to write a social media cover letter by starting with naming the hiring manager by name, listing relevant skills and experience, and explaining why you want to work at the company.