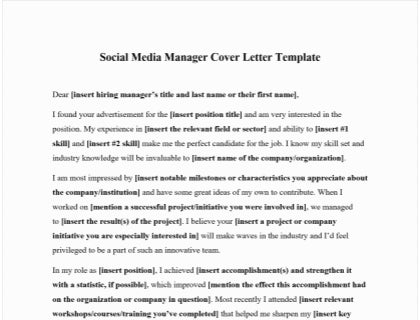 Social Media Manager Cover Letter Template:
Download our free social media manager cover letter template in MS Word format.
Download Now
Social Media Manager Cover Letter Template:
Dear [hiring manager's title and last name, or their first name],
I found your advertisement for the Social Media Manager vacancy and am very interested in the position. My experience in [relevant field like Media or Journalism] and ability to [#1 skill] and [#2 skill] make me the perfect candidate for the job. I know my skillset and industry knowledge will be invaluable to [name of the company/organization].
I am most impressed by [notable milestones or characteristics you appreciate about the company/institution] and have some great ideas of my own to contribute. When I worked on [mention a successful project/initiative you were involved in], we managed to [describe the result(s) of the project]. I believe your [project or company initiative you are especially interested in] will make waves in the industry and I'd feel privileged to be a part of such an innovative team.
In my role as [position], I achieved [describe accomplishment(s) and strengthen it with a statistic, if possible], which improved [mention the effect this accomplishment had on the organization or company in question]. Most recently I attended [**relevant workshops/courses/training you've completed] that helped me sharpen my [key skills or valuable attributes].**
I have attached my resume and [mention any other documents that were requested, if applicable]. If you like my ideas, I have many more I'd like to discuss with you.
Sincerely,
[Full name]
How to Write a Social Media Manager Cover Letter: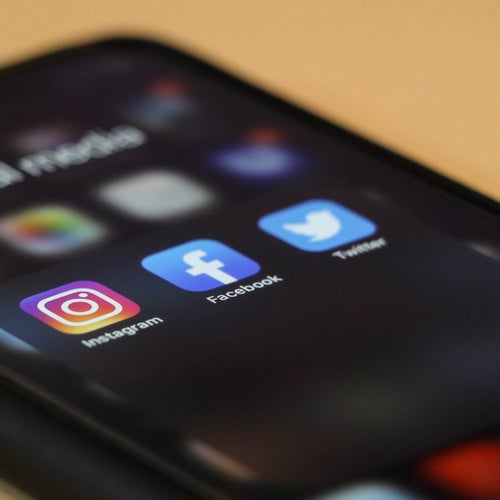 Our complete guide with informative steps on how to write a professional social media manager cover letter.