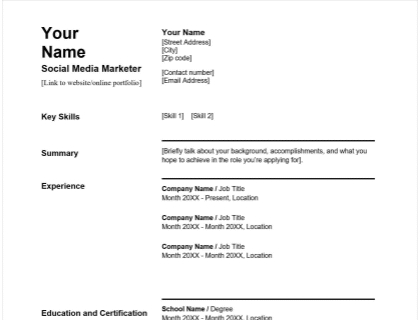 Social Media Marketer Resume Free Template:
Download this social media marketer resume template in Microsoft Word format.
Download Now
Social Media Marketer Resume Example:
Your Name
Social Media Marketer
[Link to website/online portfolio]
[Street Address] [City] [Zip code]
[Contact number] [Email Address]
Key Skills:
Summary:
[Briefly talk about your background, skills, and qualifications.]
Experience:
Company Name / Job Title Month 20XX - Present, Location
Company Name / Job Title Month 20XX - Month 20XX, Location
Company Name / Job Title Month 20XX - Month 20XX, Location
Education:
School Name / Degree Month 20XX - Month 20XX, Location
School Name / Degree Month 20XX - Month 20XX, Location
Certifications:
[Certification 1]

[Certification 2]
Notable Achievements:
[Achievement 1]

[Achievement 2]
Awards:
How to Write a Social Media Marketer Resume: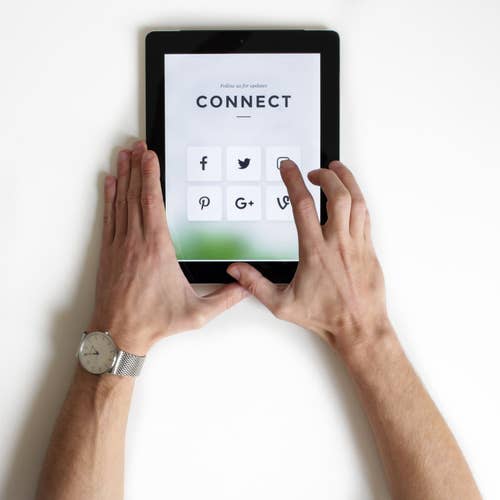 Our complete guide with informative steps on how to create a professional social media marketer resume.
Proficiency with a range of social media management tools such as Hootsuite, HubSpot, Sprout Social, and more.
Proficiency with software such as Google Analytics and Google AdWords.
An eye for good content and a history of editorial strategy.
Excellent verbal and written communication.
A history of engaging with customers on social media.
An emphasis on organization and time management.
Evidence of working as part of a team and with different departments.
A relevant degree in Marketing or a related field. Certification in digital marketing and Google AdWords will benefit you.
A link to a website or online portfolio of work that showcases some of your client projects.
FAQs:
What should I put on my resume for a social media marketer?
What skills are needed for social media marketing?
Proficiency with a social media management tool such as Hootsuite, Sprout Social, or Buffer.
Strong analytics background and experience with Google Analytics.
Google AdWords.
Content marketing.
SEO.
Community management and engagement.
Excellent written and verbal communication.
Good interpersonal skills and team-working ability.
Project management.
What are the roles and responsibilities of a social media marketer?
Developing content strategies.
Creating monthly progress reports on social media activity.
Engaging with communities in a timely manner.
Participating in budgeting, planing, and strategy.
Ensuring brand consistency across different platforms.
Work on increasing page visits, conversions, engagement, followers, and shares.
Creating copy, graphics, and different multimedia for social sharing.