Sales Representatives are charismatic professionals who promote and sell products or services to customers. A top-notch Sales Representative resume should highlight your sales and marketing skills, your ability to create trust with customers, and your willingness to travel when required.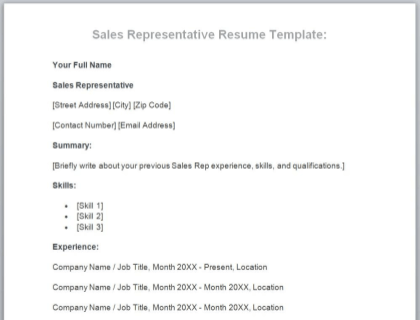 Sales Representative Free Template Download
Download this Sales Representative resume template in Microsoft Word format and start using it straight away.
Download
Instant download. No email required.
Sales Representative Resume Example:
Your Name
Sales Representative
[Link to website/online portfolio]
[Street Address]
[City]
[Zip code]
[Contact number]
[Email Address]
Key Skills:
Summary:
[Briefly talk about your background, skills, and qualifications.]
Experience:
Company Name / Job Title
Month 20XX - Present, Location
Company Name / Job Title
Month 20XX - Month 20XX, Location
Company Name / Job Title
Month 20XX - Month 20XX, Location
Education:
School Name / Degree
Month 20XX - Month 20XX, Location
School Name / Degree
Month 20XX - Month 20XX, Location
Certifications:
[Certification 1]
[Certification 2]
Notable Achievements:
[Achievement 1]
[Achievement 2]
Awards:
How to Write a Sales Representative Resume:
1. Start with your personal details.
Your resume should include your current contact information with your full name, telephone number, email, and physical address. If you have a LinkedIn page or professional website, you can also add in the links to this section.
2. Write a brief summary.
Write a short introduction paragraph describing your professional background, your main accomplishments in sales, and what you aim to achieve in your career.
3. List your sales and marketing skills.
Sales Representatives typically rely on soft skills along with their product knowledge to convince customers to purchase a product or service. In this section, list relevant soft skills that will make you a successful Sales Rep such as time-management, interpersonal skills, communication, problem-solving, persuasion, and reliability. You can also include mastery of sales and marketing software and communication tools.
4. Add your professional experience.
In reverse chronological order, list your previous work experience by date and place. Describe what you did in each role in bullet format. It is important to only include experience that pertains to the job you are applying for.
5. Add your education.
Under the education section, list your highest degree first along with the college or university name and the dates you attended school. If you are still studying, write "in progress" followed by the date you expect to complete your degree or diploma.
6. Add your certifications.
List any relevant certifications you may need to perform your work. Examples include Certified Professional Sales Person (CPSP), Certified Sales Leadership Professional (CSLP), or similar.
7. Describe your notable achievements.
In this section, you should describe any notable achievements in your career. It is always best to include numerical data to support your achievements. For example, you could say you closed a deal with a major supplier that increased sales revenue by 30% over a 12-month period.
8. List your awards.
If you have won any sales or marketing awards in your career, you should list them here. You can also include any other related awards that would be beneficial in sales.
Related Resources:
FAQs:
What should be included in a Sales Representative resume?
What are the skills needed to be a Sales Representative?
Communication skills.
Interpersonal skills.
Persuasion.
Time-management.
Adaptability.
Active listening.
How long should a Sales Representative resume be?
The length of a Sales Representative resume should ideally be 1-2 pages. Even if you have plenty of experience and achievements, it is best to keep your resume under 2 pages.