A Property Manager's resume should outline your experience and expertise, as well as your personal details. A job as a Property Manager typically entails managing residential, industrial, or commercial property rentals. Employers generally prefer Certified Property Managers with related experience.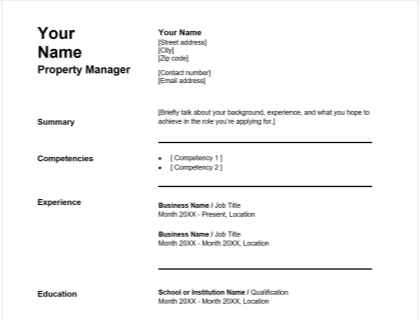 Property Manager Resume - Free Template
Download this property manager resume template in Microsoft Word format.
Property Manager Resume Example:
Your Name
Property Manager
[Street address]
[City]
[Zip code]
[Contact number]
[Email address]
Summary:
[Briefly describe your background, expertise, and qualifications.]
Competencies:
[Competency 1]

[Competency 2]
Experience:
Company Name / Job Title Month 20XX - Present, Location
Company Name / Job Title Month 20XX - Month 20XX, Location
Company Name / Job Title Month 20XX - Month 20XX, Location
Education:
School Name / Qualification Month 20XX - Month 20XX, Location
School Name / Qualification Month 20XX - Month 20XX, Location
Certificates:
[Certificate 1]

[Certificate 2]
Achievements:
[Notable career achievement description 1]

[Notable career achievement description 2]
Awards:
[Certificate of Merit]

[Certificate of Excellence]
How to Write a Property Manager Resume:
1. Add your contact information.
Start your resume by listing your full name, job title, and contact information. Your contact information should include your cellphone number, email address, and physical address.
2. Write a summary.
Write a short paragraph describing your experience and accomplishments. Also briefly elaborate on why this background made you apply for the job and how it aligns with your career path.
3. List your competencies.
Immediately after the summary, list all of your competencies in a block layout. It's important to showcase your strengths near the top of the page to draw the screener's attention. Make a bulleted list that includes skills like negotiating leases, preparing financial reports, and maintaining and securing premises.
4. Add your professional experience.
In reverse chronological order, list recent jobs that are most relevant to the one you are applying to by employer, date, and location. Describe what you did in each role concisely in bullet format.
5. Add your education.
Under the education heading, list your highest degree first under your college/university name and the dates you attended school. Qualifications relevant to the role include a Bachelor's Degree in Property Management, Real Estate, Business Administration, Project Management, or similar. If you're currently a student, write "in progress" followed by the date you expect to complete your qualification.
6. Add any professional certifications.
List any professional certifications that you've obtained during your career. Should you be a Certified Property Manager (CPM), be sure to mention it here.
7. Describe your notable achievements.
List your finest accomplishments throughout your career. Examples can include increasing Net Operating Income by successfully managing lease income and expenses, meeting lease obligations by responding to tenant concerns in a timely manner, exceeding occupancy targets, and more.
8. List your awards.
Be sure to include any awards of achievement or merit at the bottom of your resume.
FAQs:
What are some skills employers look for in a property manager resume?
Advertising and filling vacancies.
Negotiating contracts and enforcing occupancy policies.
Maintaining and securing premises.
Preparing annual budgets and reports.
Resolving tenant complaints.
What should be included in a property manager resume?
What qualifications do property managers need?
Many employers prefer a Bachelor's Degree. The most compatible fields of study are Business Administration, Finance, and Real Estate. Relevant coursework in Real Estate Management or Administration can help. Alternatively, consider vocational training.
Becoming a Certified Property Manager (CPM) would be hugely advantageous. It is a legally recognized certificate that is issued by the Institute of Real Estate Management (IREM).