Finding plumbers can be made easier by having a strict list of requirements and asking candidates to provide references as evidence of their experience and the quality of their work. Employers also feel that plumbers need to have excellent communication skills because of how much they interact with clients.
Special Offer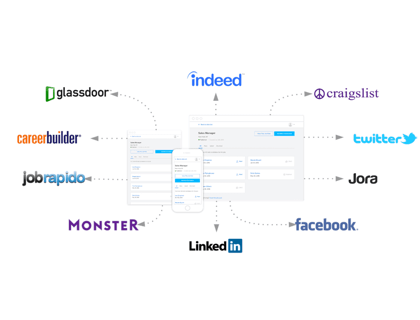 Post Jobs for FREE
Completely free trial, no card required.
Reach over 150 million candidates.
How to Hire a Plumber:
1. Create a job post.
Because a plumber's duties vary according to each job, your job post should list several common duties that the candidate can expect to face. When you hire a plumber, a concern is whether they have adequate experience with a variety of tasks.
Most states require plumbers to have certification, so list which certifications are needed in your state and ask for verification of the candidate's qualifications. When you recruit a plumber, it is important to make sure that they have also attended a trade school or completed an apprenticeship.
Plumbers often work on construction sites, and their safety can be compromised in these environments. One way to make finding plumbers easier is to offer insurance coverage for on-site accidents as this provides a form of financial security in the event of an injury.
Emergency call-outs at inconvenient times can be disruptive for most plumbers. Your job post will stand out if you promise to pay overtime for late-night calls, or indicate that there are dedicated plumbers for those calls and the candidates will not be expected to work late.
Handling payment from clients can be stressful for plumbers because clients may not pay on time or claim not to have the payment ready after a job has been completed. It will give candidates peace of mind if you make it clear that payments will be processed through an online portal or managed by an administrator.
While plumbers need to be certified in your state, many candidates will want further training to advance their careers and become familiar with different areas of the trade. Make it clear if your company offers financial support for training, or if there is a mentorship program that introduces candidates to new areas of plumbing.
2. Post your job.
You should post your job advertisement to job boards like Indeed because they have a large audience and they are free, making finding a plumber easier. You can also post vacancies on your company's career page, but be sure to format it so that it conforms to the Google for Jobs format.
3. Screen your applicants.
When you begin to receive applications, you can filter through candidates by sending them screening questions via email. These questions should reveal if the candidate meets your basic requirements for the position so that you only continue the hiring process with qualified applicants.
To find a good plumber you should also ask for a list of references from former clients or the candidate's former employer(s). This is the best way to learn which candidates have less experience, as they will not be able to provide references.
Example questions:
Do you have valid certification to work in this state?
How long have you worked as a plumber?
Did you complete an apprenticeship or attend a trade school?
Can you provide a list of references?
4. Conduct a phone interview.
A phone interview allows you to learn more about candidates without spending too much time arranging to meet in person. This interview should find out if the candidate has good motivations for wanting to work at your company, if their salary expectations meet what you are offering, and if they have adequate experience in the field.
Example questions:
What are your salary expectations?
What are your hours of availability?
Have you completed any additional training?
Has your experience in plumbing been as an independent contractor or working for a company?
Did you complete an apprenticeship or attend a trade school?
Have you ever been involved in a workplace accident? Who was responsible?
Pay attention to if any of the candidate's answers indicate that they are unsuitable for the position, and remove them from the list of applicants you consider for the role. You need to recruit a plumber that fits your company well and will perform tasks at a high standard.
5. Ask the applicants to perform a job.
To see if the candidate can perform well, you should see them work. It would be best to set up a controlled environment so as not to risk your reputation by sending the candidate to a client's home. For example, you could create plumbing problems at your office and check that the candidate addresses all of them in a logical and meticulous way.
Have an experienced plumber supervise this test to ensure that the candidate is safe. The plumber can also advise if the candidate has addressed all issues adequately. As an additional test, you could ask candidates to assess a hypothetical plumbing problem and estimate what the job will cost. This shows if the applicant has a realistic understanding of what parts cost and how to value their time.
6. Conduct an in-person interview.
Following the test job, hold an in-person interview to seek clarification on any answers from your phone interview, or to ask the candidate's motivation for performing certain actions during the test. This is also an opportunity for the candidate to ask questions about the role.
Example questions:
How do you deal with impatient and irritable clients?
What code violations have you encountered and what did you do about it?
How do you go about troubleshooting a problem? (Pay attention to if this matches what you observed in the test scenario.)
If there is a candidate that you like, you should ask which aspects of the job appeal most to them, and explain these elements in more detail so that they remain interested in the position.
7. Make an offer.
Once you have decided on a candidate, you should make them a formal job offer before they are recruited by another company. Give the candidate a call to let them know that they have been successful, and send an email with the job description, salary, benefits, and start date.
FAQs:
What makes a good plumber?
Excellent communication skills.
A professional demeanor.
Experience in the plumbing industry.
A good understanding of the cost of parts.
Excellent knowledge of safety protocols.
What should you look for when hiring a plumber?
You should hire a plumber with good references to make sure that they have a track record of excellent service. You should also look for a plumber with excellent communication skills, as they will need to explain costs and procedures to clients.
What are key questions to ask a plumber?
Do you have valid certification to work in this state?
What are your salary expectations?
Did you complete an apprenticeship or attend a trade school?
How do you go about troubleshooting a problem?
How do you deal with impatient and irritable clients?