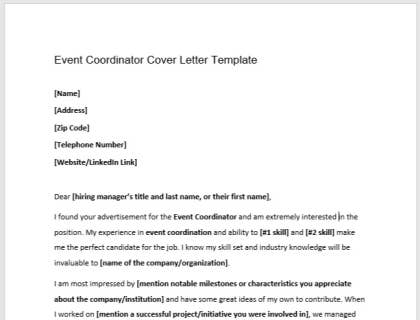 Event Coordinator Cover Letter — Free Template
Download our free event coordinator cover letter template in MS Word format.
Download Now
Event Coordinator Cover Letter Example:
[Name]
[Address]
[Zip Code]
[Telephone Number]
[Website/LinkedIn Link]
Dear [hiring manager's title and last name, or their first name],
I found your advertisement for the Event Coordinator and am very interested in the position. My experience in event coordination and ability to [#1 skill] and [#2 skill] make me the perfect candidate for the job. I know my skill set and industry knowledge will be invaluable to [name of the company/organization].
I am most impressed by [mention notable milestones or characteristics you appreciate about the company/institution] and have some great ideas of my own to contribute. When I worked on [mention a successful project/initiative you were involved in], we managed to [describe the result(s) of the project]. I believe your [talk about a project or company initiative you are especially interested in] will make waves in the industry and I'd feel privileged to be a part of such an innovative team.
In my role as [former or current position], I achieved [describe accomplishment(s) and strengthen it with a statistic, if possible], which improved [mention the effect this accomplishment had on the organization or company in question]. Most recently I attended [name relevant workshops/courses/training you've completed] that helped me sharpen my [list key skills or valuable attributes].
I have attached my resume and [mention any other documents that were requested, if applicable]. If you like my ideas, I have many more I'd like to discuss with you.
Sincerely,
[Full name]
How to Write an Event Coordinator Cover Letter: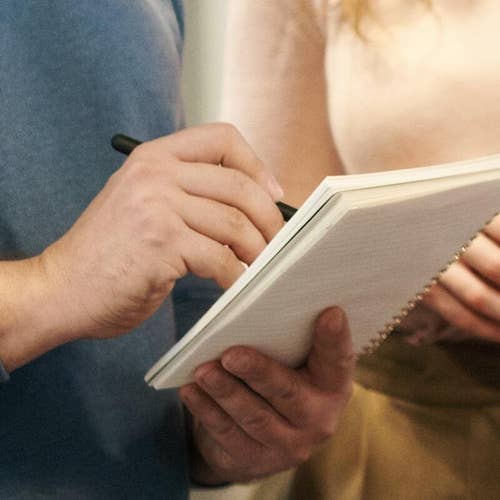 A step-by-step guide to writing an event coordinator cover letter.
1.1
Address the hiring manager by name.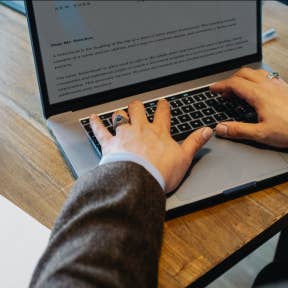 Research who the hiring manager or recruiter is and address them by name. This shows effort and initiative. If you cannot find a name, simply address the letter as "Dear hiring manager."
2.
Start with a brief introduction.
2.1
State the reason for your letter.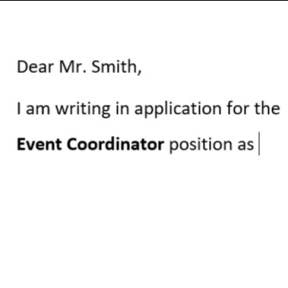 In a concise paragraph, tell the reader what the letter is about, where you heard about the job vacancy, and that you are a great fit for the position.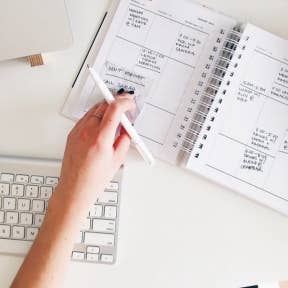 Look over the job description and highlight the skills and expertise you have that match what the role requires. For an event coordinator, this will likely be time management and planning skills.
3.
Talk about the company.
3.1
Describe why you want to work for the company.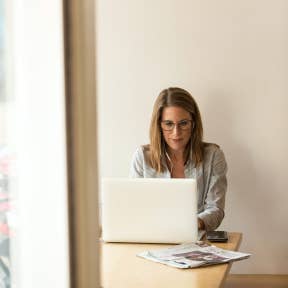 Do some research into the company and find out which projects they are working on. Explain why you are interested in working for them by referencing these projects. They may, for example, be the lead event coordinators for a large yearly event that you have ideas for.
4.
Outline your experience and skills.
4.1
Describe your previous position.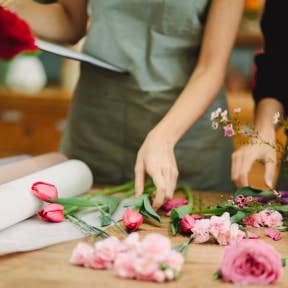 Talk about your former or current role and describe your achievements. Use metrics to demonstrate the results of your work.
4.2
Mention continuing skills development.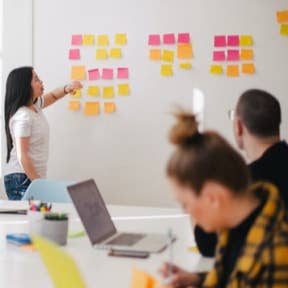 Describe workshops or courses that you have completed which make you more knowledgeable about your field, like a course on new planning software.
5.
End with a call to action.
5.1
Refer the reader to attached documents.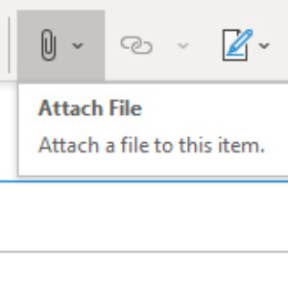 If the job description requests additional documents, such as your CV, resume, or references from clients, make sure that the hiring manager knows to look out for them and invite them to contact you should they have any questions.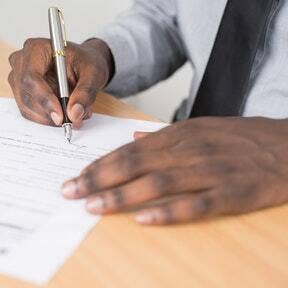 Sign off with an appropriate closing, such as "sincerely" and your full name. If you are sending a hard copy of the letter, leave a space for your handwritten signature above the typed name.
More Cover Letter Examples:
FAQs:
What should I include in an event coordinator cover letter?
An event coordinator cover letter should include some motivation for why you believe you are qualified for the role. Mention specific skills and experience you have that are relevant. You should also explain why you want to work for that particular company.
How do I write an event coordinator cover letter?
What does an event coordinator cover letter look like?