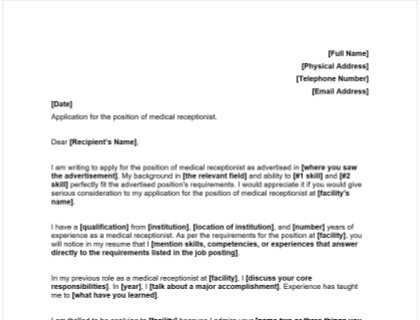 Medical Receptionist Cover Letter Template:
Download our free medical receptionist cover letter template in MS Word format.
Download Now
Medical Receptionist Cover Letter Sample:
[Full Name]
[Physical Address]
[Telephone Number]
[Email Address]
[Date]
Application for the position of medical receptionist.
Dear [recipient's title and last name],
I am writing to apply for the position of medical receptionist as advertised [on/in where you saw the advertisement]. My background in [the relevant field] and ability to [#1 skill] and [#2 skill] perfectly fit the advertised position's requirements. I would appreciate it if you would give serious consideration to my application for the position of medical receptionist at [facility's name].
I have a [qualification] from [institution], [location of institution], and [number] years of experience as a medical receptionist. As per the requirements for the position at [facility], you will notice in my resume that I [mention skills, competencies, or experiences that answer directly to the requirements listed in the job posting].
In my previous role as a medical receptionist at [facility], I [discuss your core responsibilities]. In [year], I [talk about a major accomplishment]. Experience has taught me to [what have you learned].
I am thrilled to be applying to [facility] because I admire your [name two or three things you know about the facility in general that you like]. I believe that my commitment to the highest standards in customer service and accountability as a medical receptionist will be of the greatest benefit to [facility].
Please find my resume attached. Feel free to contact me via email or phone call if I can be of any further service.
Thank you for taking the time to consider my application. I look forward to hearing from you.
Sincerely,
[Your Name]
How to Write a Medical Receptionist Cover Letter: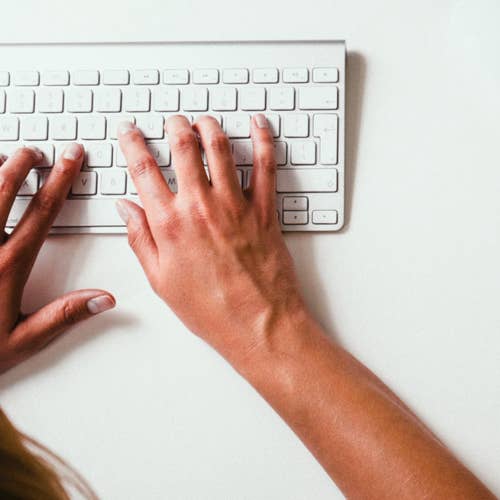 Our complete guide with informative steps on how to create a professional medical receptionist cover letter.
1.
Start your medical receptionist cover letter.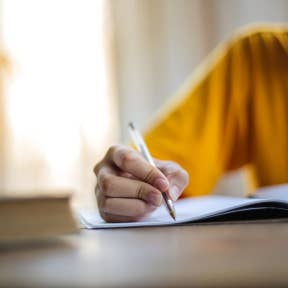 Address your letter directly to the hiring manager, recruiter, employee, or whoever the person is that put out the job posting. If a contact name is supplied or if it is possible to find out a name, avoid using a general greeting such as "To whom it may concern" or "Dear Sir/Madam." Use the relevant title before the person's last name — for example, "Dr. Mason" or "Ms. Wilson."
1.2
Start with a brief introduction.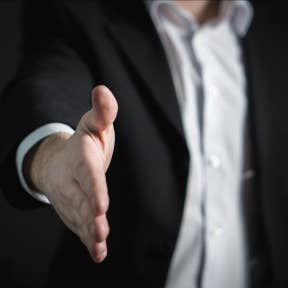 In no more than three sentences, tell the person why you are writing and what position you are applying for. Your writing should reflect the exact job title and you should briefly highlight a key job advertisement requirement that you meet, for example, a Medical Receptionist Certificate. Use one sentence to state clearly that you feel you are the best fit for the medical receptionist position.
1.3
Showcase your qualifications and experience.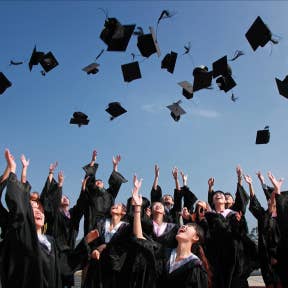 Be sure to refer back to the job advertisement and directly address the stated requirements. Write a few sentences on your qualifications and training as a medical receptionist and where you studied. Mention how many years you've worked as a medical receptionist.
Now, directly match prominently featured duties and responsibilities mentioned in the job ad with core skills and competencies from your resume. For example, if the job ad requires proficiency in ICD and CPT coding, or electronic medical records (EMR) software, mention the extent of your knowledge and experience.
1.4
Discuss your most recent role and responsibilities.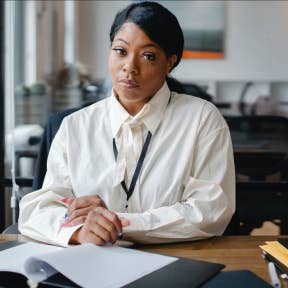 In a few sentences, talk about your most recent role and the facility you worked at. Discuss your responsibilities. Mention one or two of your biggest accomplishments there, for example, successfully introducing appointment scheduling software, reducing the running costs of the reception desk by 30%, and attaining a 99% customer satisfaction level based on feedback forms.
1.5
Celebrate the organization.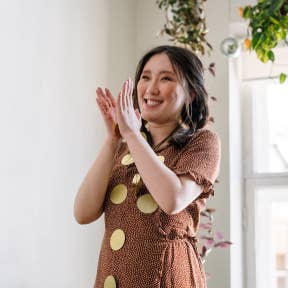 Mention two or three things you know about the facility you're applying to and why being a medical receptionist there appeals to you. This could include mention of the facility's reputation in the healthcare industry, their adoption rate of administrative software, and their competitive employee benefits. State how you will add value to the facility.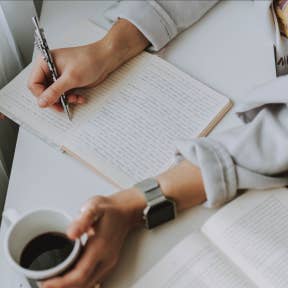 End with a call to action. State that you've attached your resume for their consideration and invite the reader to contact you via email or phone. Thank the reader for their time. Add "Sincerely" or an acceptable variation and sign off with your full name.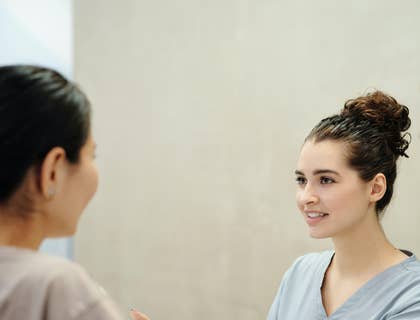 FAQs:
How long should a medical receptionist cover letter be?
A medical receptionist cover letter should ideally be no longer than a page. The letter should make the case as briefly as possible that the applicant is the best fit for the advertised position.
What goes into a medical receptionist cover letter?
Your contact information.
The addressee's name.
A few paragraphs on your qualifications, experience, and skills.
One paragraph on the responsibilities you had in your previous role.
A call to action.
How do I write a cover letter for a medical receptionist position?