Child Care Provider Resume Example:
Your Full Name
Child Care Provider
[Street Address] [City] [Zip Code]
[Contact Number] [Email Address]
[Website/LinkedIn Link]
Summary:
[Briefly write about your professional experience, skills, and qualifications.]
Competencies:
[Skill 1]

[Skill 2]

[Skill 3]
Experience:
Company Name / Job Title, Month 20XX - Present, Location
Company Name / Job Title, Month 20XX - Month 20XX, Location
Company Name / Job Title, Month 20XX - Month 20XX, Location
Education:
School Name / Degree, Month 20XX - Month 20XX, Location

School Name / Degree, Month 20XX - Month 20XX, Location
Certificates:
[Certificate 1]

[Certificate 2]
Awards: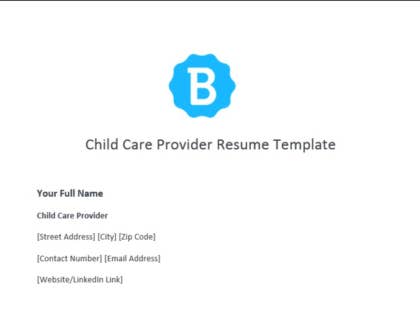 Child Care Provider Resume - Free Template
Download our child care provider resume in Word format.
Download Now
How to Write a Child Care Provider Resume:
1. Add your contact information.
Start with your full name, title, and current contact information. Your contact information should include your physical address, a professional email address, contact number, and if applicable, a social media, LinkedIn profile, and/or website link.
2. Write a summary.
Briefly write about the attributes that make you the ideal candidate by using evocative words that highlight your compassionate and caring nature. Typically 2-3 sentences long, your summary should act as a fun and intriguing introduction that motivates the screener or hiring manager to learn more. We recommend focusing on your child care experience, personality traits, and accomplishments.
3. Mention your child care skills and knowledge.
List your child care competencies in bullet format, starting with the skills that complement the job description's responsibilities and requirements. You'll want to highlight the skills that make you the best child care provider, such as excellent communication and interpersonal skills, and knowledge of child care best practices.
4. List your professional experience.
Write about the companies or clients you've worked for, and include their locations and employment duration. Talk about any childcare-related jobs, such as babysitting, tutoring, and internships. Start with your most recent job and work your way down in reverse chronological order.
The experience section is one of the most important parts of your resume due to the sensitive nature of the role. Child care providers are employed to take care of their client's children, which requires a lot of trust. Your experience section should display enough information about the tasks and roles you fulfilled to instill this sense of trust and confidence.
5. Add your educational background.
Child care providers are required to possess a high school diploma or GED. However, there are a host of child care qualifications available that could improve your chances, including a Degree in Child Care Management, Early Childhood Development, and more.
6. Include all child care certificates.
In most cases, employers will look for candidates that are Certified Childcare Professionals (CCPs). This additional education assures screeners and hiring managers that you've been trained in the best practices for child care. Other popular training certificates include CPR and first-aid.
7. Write about your greatest career achievements.
Mention notable career milestones and recognition you've received over the years. These may include awards, successful projects you've worked on, and noteworthy achievements. List this section in chronological order and only include accomplishments that relate to child care.
More Resumes:
FAQs:
What are the skills required for child care?
Good child care providers possess exceptional communication and interpersonal skills, with extensive knowledge in child care best practices.
What qualifies as child care experience?
Child care experience can include both formal and informal jobs, including early childhood development training, babysitting, and tutoring/teaching.
What is the job description of a childcare worker?
Child care providers are responsible for the supervision and care for children's basic needs. Read through our child care provider job description for a more detail description.
What should I put on my child care provider resume?