A server resume outlines your experience and skills, as well as your personal details when applying for a job in the hospitality industry.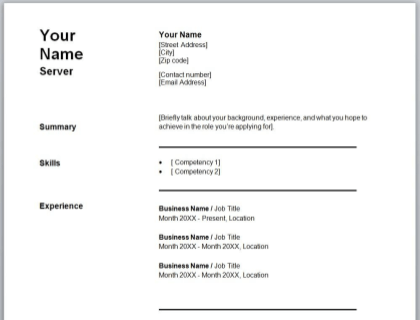 Server Resume Free Template
Download this server resume template in Microsoft Word format.
Server Resume Example:
Your Name
Server
[Street Address] [City] [Zip code]
[Contact number] [Email Address]
Summary:
[Briefly talk about your background and experience.]
Skills:
Experience:
Business Name / Job Title Month 20XX - Present, Location
Business Name / Job Title Month 20XX - Month 20XX, Location
Business Name / Job Title Month 20XX - Month 20XX, Location
Education:
School Name / Qualification Month 20XX - Month 20XX, Location
School Name / Qualification Month 20XX - Month 20XX, Location
Certificates:
Institution Name / Certificate / Month 20XX / Location
Achievements:
How to Write a Server Resume:
1. Add your contact information.
Start your resume by listing your full name, job title, and contact information. Your contact information should include your cellphone number, email address, and physical address.
2. Write a summary.
Write a paragraph where you briefly describe your background and experience as a server. The summary should highlight why you are a suitable candidate for the position you are applying to.
3. List your skills.
It is important that your competencies catch the attention of screeners. Immediately after the summary, list all of your skills in a block layout. Make a bulleted list that includes skills such as explaining the menu, assisting customers with their choices, and processing payments. Should you possess a valid driver's license, be sure to include mention thereof here, since it might be relevant to certain roles.
4. Add your experience.
This section demonstrates the extent of your experience as a server. In reverse chronological format, list all the jobs you've held by business name, date, and location. Describe the responsibilities of each role concisely in bullet format. Add all jobs you've held since they could reveal additional relevant skills.
5. Add your education.
Under the education heading, list your highest qualification first under your school/college/university name and the dates you attended. If you're currently studying toward a qualification, write "in progress" followed by the date by which you expect to complete your course, diploma, certificate, or degree.
6. List your certificates.
In this section, list details of any relevant certificates you might have obtained. An example would be a Food Service or Safety Certificate. Mention the certificate's name, the institution that issued it, and the date.
7. List your achievements.
Finally, list any noteworthy achievements throughout your career. These can include being named "Server of the Month", being promoted to a senior server role, being given additional responsibilities such as monitoring stock and supplies, and more.
Related Resumes:
FAQs:
What should be included in a server resume?
Where do you list server skills on a resume?
It should be close to the top of your resume, after your personal details and a summary of your background and experience. List your server skills spaced out in a block for easy scanning.
How many pages should a server resume be?
A server resume should be 1-2 pages long.
What are some examples of the skills needed to be a server?
Customer service-oriented.
Strong verbal communication.
Proficient in general math.
Keen attention to detail.
Team player.
Reliable.
What does competencies in a server resume mean?
Competencies in a resume refer to skills and personality traits that would enable a candidate to perform the job in an efficient or successful way.