A Dental Assistant job involves providing dentists with support. Employers look for experience in providing assistance with the treatment of patients, readying consultation rooms, and preparing patients. When applying for a job in the dental care profession, your resume should outline your experience and skills, as well as your personal details.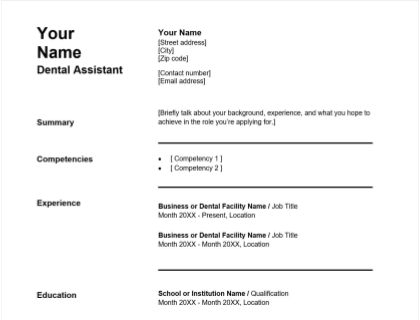 Dental Assistant Resume - Free Template Download
Download this dental assistant resume template in Microsoft Word format.
Dental Assistant Resume Example:
Your Name
Dental Assistant
[Street address] [City] [Zip code]
[Contact number] [Email address]
Summary:
[Briefly describe your background, skills, and qualifications.]
Competencies:
[Competency 1]

[Competency 2]
Experience:
Business or Medical Facility Name / Job Title Month 20XX - Present, Location
Business or Medical Facility Name / Job Title Month 20XX - Month 20XX, Location
Business or Medical Facility Name / Job Title Month 20XX - Month 20XX, Location
Education:
School Name / Qualification Month 20XX - Month 20XX, Location
School Name / Qualification Month 20XX - Month 20XX, Location
Certificates:
Notable Achievements:
[Achievement 1]

[Achievement 2]
Awards:
How to Write a Dental Assistant Resume:
1. Write a summary.
Write a paragraph briefly describing your background, your experience, and how this role aligns with your desired career path. Be sure to include your hours of availability.
2. List your competencies.
Immediately after the summary, list all of your competencies in a block layout. It's important to highlight your strengths near the top of the page to catch the attention of the screener. Make a bulleted list that includes skills like assembling instrument trays, preparing patients, managing dental supplies, updating medical records, and more.
3. Add your professional experience.
In reverse chronological format, list each job you've had by the business's or medical facility's name, your job title, dates of employment, and the location. Describe what you did in each role concisely in bullet format.
4. Add your education.
Under the education heading, list your highest qualification first under the institution's name and the dates you attended. If you're currently a student, write "in progress" followed by the date you expect to complete your qualification.
5. List your certificates.
If you are a Certified Dental Assistant (CDA), be sure to mention it in this section.
6. Describe your notable achievements.
List your proudest accomplishments throughout your career. These can include recognition for performing your duties in a highly competent manner, being assigned more responsibilities, positive feedback from dentists, co-workers, and patients, a reputation for making anxious patients feel at ease, and more. Achievements mentioned here might be verified by screeners.
7. List your awards.
Finally, if you've won any awards be sure to include them at the bottom of your resume.
Related Resumes:
Related Cover Letters:
FAQs:
What should be included in a Dental Assistant resume?
What skills do Dental Assistant employers look for?
Sterilizing and assembling instrument trays.
Assisting dentists with procedures.
Readying patients for dental treatment.
Managing dental supply inventories.
Filing records and updating patient charts.
Providing patients with oral hygiene education.
Is it worth it to become a Certified Dental Assistant (CDA)?
Besides an increase in potential income, becoming a Certified Dental Assistant (CDA) assures employers and the public that a dental assistant is fully competent. Most dental assistants who choose to become nationally certified take the Dental Assisting National Board's (DANB) Certified Dental Assistant (CDA) examination.