Data engineers are extremely analytical and possess the ability to employ machine learning techniques and implement business strategies. A successful data engineer resume outlines the necessary expertise and practical background that makes candidates ideal for the role, with a special emphasis on qualifications and proven work experience.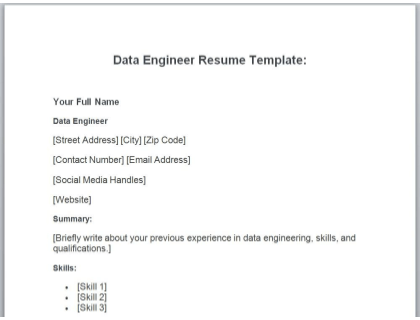 Data Engineer Resume - Free Template
Download our data engineer resume template in Word format.
Data Engineer Resume Example:
Your Full Name
Data Engineer
[Street Address]
[City]
[Zip Code]
[Contact Number]
[Email Address]
[Social Media Handles]
[Website]
Summary:
[Briefly write about your previous experience in data engineering, skills, and qualifications.]
Skills:
[Skill 1]

[Skill 2]

[Skill 3]
Experience:
Company Name / Job Title, Month 20XX - Present, Location
Company Name / Job Title, Month 20XX - Month 20XX, Location
Company Name / Job Title, Month 20XX - Month 20XX, Location
Education:
School Name / Degree, Month 20XX - Month 20XX, Location

School Name / Degree, Month 20XX - Month 20XX, Location
Certificates:
[Certificate 1]

[Certificate 2]
Awards:
How to Write a Data Engineer Resume:
1. Add your contact information.
Start your resume by adding an appropriate title, full name, and contact information. Your contact information should include your physical address, telephone number, email address, and if applicable, a website and social media link.
2. Write a summary.
Your summary should be a brief and concise paragraph that encapsulates everything that makes you the ideal candidate, such as your skills, qualifications, and data engineering background.
3. Showcase your skills.
In bullet format, list all the data engineering skills you've obtained to help catch the attention of screeners and hiring managers. This section aims to highlight the extent of your strengths and expertise, such as excellent analytics and numerical skills, distinguished knowledge of programming languages, and the ability to quickly solve problems.
4. Add your experience.
List your experience in reverse chronological order and highlight the tasks you performed at each job as this will help demonstrate your practical knowledge. Ensure that your list of proven work experience includes the date, location, and the business name of your previous employer(s) for reference purposes. Your experience section can also include volunteer work, internships, and seasonal or part-time work.
5. Include your qualifications.
By qualifications, you'll want to add your educational background to include high school, college, and/or university. We recommend listing your qualifications in bullet format with the full name of the course, institution, and date and location. As a data engineer, you are required to obtain a bachelor's degree in data engineering, big data analytics, computer engineering, or a similar field.
6. Highlight your greatest achievements.
Have you received any noteworthy awards or certificates? Add any achievements that you've received in your career, such as being awarded employer of the month, being given additional responsibilities, or managing a special project. This will help act as a formal reference to the work you've accomplished and demonstrate why you're an exceptional candidate.
FAQs:
What should a data engineer resume include?
How do you become a data engineer?
To become a data engineer, you need to demonstrate excellent analytical and numerical skills, possess a bachelor's degree in data engineering, and have at least three years' work experience.
What skills does a data engineer need?
Proficiency in Python, C++, Java, and SQL.
Solid knowledge of Hadoop or a suitable equivalent.
Exceptional analytical and problem-solving skills.
Ability to work independently and in a group.