For most jobs, communication skills are important. It's hard to work as a team if people aren't communicating well. At some jobs, like customer service or sales, communication skills are an absolute essential.
These questions are meant to help gauge a candidate's ability to communicate in all situations. Also, be sure to pay attention to their basic language comprehension.
If the position is an English speaking role, and the candidate does not know how to speak english well enough, it will be difficult for them to communicate with their colleagues and clients.
Special Offer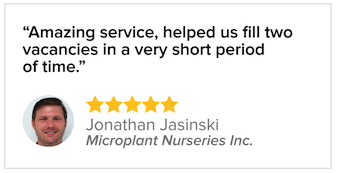 Post Jobs for FREE
Completely free trial, no card required.
Reach over 150 million candidates.
Common Communication Skills Interview Questions:
How do you prefer to build rapport with others?
How would you go about simplifying a complex issue in order to explain it to a client or colleague?
How would you go about persuading someone to see things your way at work?
How would you go about explaining a complex idea/problem to a client who was already frustrated?
What would you do if you there was a breakdown in communication at work?
Talk about a successful presentation you gave and why you think it did well.
How would you explain a complicated technical problem to a colleague with less technical understanding?
Do you prefer written or verbal communication?
Describe a time when you had to be careful talking about sensitive information. How did you do it?
What would you do if you misunderstood an important communication on the job?
Talk about a time when you made a point that you knew your colleagues would be resistant to.
Is it more important to be a good listener or a good communicator?
Tell me about a time you had to relay bad news to a client or colleague.
Rate your communication skills on a scale of 1 to 10. Give examples of experiences that demonstrate the rating is accurate.
How have you handled working under someone you felt was not good at communicating?
Next Step:
Looking for additional questions? You can find many more types of common interview questions here.
We've also got questions specific to dozens of common jobs here, including customer service interview questions for which communication skills are extremely important.