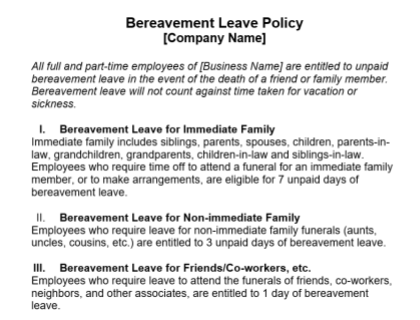 Bereavement Leave Policy Template:
Use this detailed template to quickly create your own bereavement leave policy.
Download Now
Bereavement Leave Policy Sample:
Bereavement Leave Policy
[Company Name]
All full and part-time employees of [Business Name] are entitled to unpaid bereavement leave in the event of the death of a friend or family member. Bereavement leave will not count against the time taken for vacation or sickness.
1. Bereavement Leave for Immediate Family
Immediate family includes siblings, parents, spouses, children, parents-in-law, grandchildren, grandparents, children-in-law, and siblings-in-law. Employees who require time off to attend a funeral for an immediate family member, or to make arrangements, are eligible for 7 unpaid days of bereavement leave.
2. Bereavement Leave for Non-immediate Family
Employees who require leave for non-immediate family funerals (aunts, uncles, cousins, etc.) are entitled to 3 unpaid days of bereavement leave.
3. Bereavement Leave for Friends/Co-workers, etc.
Employees who require leave to attend the funerals of friends, co-workers, neighbors, and other associates, are entitled to 1 day of bereavement leave.
4. Approval by Supervisor
Before taking bereavement leave, an employee must request the leave directly from their supervisor. Employees must state the date(s) and duration of their leave. Approval/denial will be provided in writing once the request has been reviewed.
FAQs:
How many days off do you get when someone dies?
The amount of leave that you are entitled to for bereavement depends on your employer's bereavement policy.
Does USPS have bereavement leave?
All non-bargaining unit employees at USPS are entitled to 3 days of bereavement leave to attend/plan a funeral for an immediate family member. These days can be used as either annual leave, sick leave, or unpaid leave.
What states require bereavement leave?
Bereavement leave is only required by law in Oregon. In all other states, bereavement leave is entirely up to the discretion of employers.
Can you get fired for bereavement?
Because employers in the United States are not required to provide bereavement leave, you could be fired if you take bereavement leave without approval.
Is bereavement leave paid at Walmart?
Walmart allows employees to take 3 days of paid bereavement leave in the event of the death of an immediate family member.
Are aunts and uncles considered immediate family?
It depends on the policy, but in many cases, aunts and uncles are considered to be your immediate family members.
How do you ask for a day off for a funeral?
Typically, employees must speak to their manager to request bereavement leave. Many organizations also have a form that employees can use to submit their request in writing.
Is a girlfriend immediate family?
It depends on the nature of the relationship and how the specific bereavement leave policy at your company is worded. If your girlfriend is also your common-law partner, then most policies would consider her to be an immediate family member.
Are in-laws immediate family?
Most bereavement leave policies include in-laws as immediate family members.