A receptionist resume summarizes your education and experience to prove your qualification for administrative work.
A receptionist typically receives calls, sends emails, prepares meeting rooms, and schedules meetings on behalf of executives.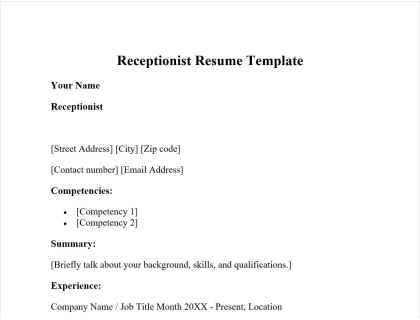 Receptionist Resume Free Template
Download this receptionist resume template in Microsoft Word format.
Receptionist Resume Example:
Your Name
Receptionist
[Street Address]
[City]
[Zip code]
[Contact number]
[Email Address]
Competencies:
[Competency 1]

[Competency 2]
Summary:
[Briefly talk about your background, skills, and qualifications.]
Experience:
Company Name / Job Title Month 20XX - Present, Location
Company Name / Job Title Month 20XX - Month 20XX, Location
Company Name / Job Title Month 20XX - Month 20XX, Location
Education:
School Name / Degree Month 20XX - Month 20XX, Location
School Name / Degree Month 20XX - Month 20XX, Location
Licensure and Certificates:
Awards:
How to Write a Receptionist Resume:
1. Add your contact details.
Make your contact details easy to find by adding it to the top of your resume. Be sure to include your phone number, email address, and links to relevant online profiles like LinkedIn. You may add your physical address as well.
2. Write a summary.
Write a short paragraph summarising your skills and experience to illustrate why you are qualified to be receptionist at the particular company you are applying to. Cite roles that had a similar level of seniority, or companies that were in the same or a similar industry.
3. List your skills.
Note the skills that are most relevant to the position, like communication, time management, and organization. Mention your proficiency with software like MS Office.
4. List your work experience.
List your experiences in reverse chronological order. Try to include roles that are most relevant to showing your qualification for the job you are applying to.
5. Describe your education.
If you did any formal training to become a receptionist, mention these courses and describe what you learned.
6. Include your certificates.
If you earned any certificates that are relevant to your role as a receptionist you should list them to show an additional level of qualification.
7. List your awards.
List any awards you have received that may be impressive to an employer, like an award for showing initiative, problem-solving, or an award achieved during your training.
FAQs:
What are skills for a receptionist?
Confidence speaking telephonically.
Proficiency in Excel.
Communication skills.
Organization skills.
Proficiency in Microsoft Office.
What is the most important skill for a receptionist?
A receptionist must be incredibly organized to manage the operations of an office.
What should be included in a receptionist resume?