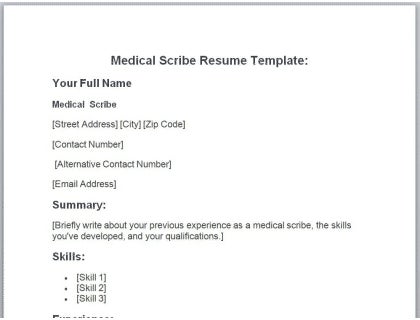 Medical Scribe Resume - Free Template:
Stay on task and download our customizable medical scribe resume in Word format.
Download Now
Medical Scribe Resume Template:
Your Full Name
Medical Scribe
[Street Address] [City] [Zip Code]
[Contact Number]
[Alternative Contact Number]
[Email Address]
Summary:
[Briefly write about your previous experience as a medical scribe, the skills you've developed, and your qualifications.]
Skills:
[Skill 1]

[Skill 2]

[Skill 3]
Experience:
Company Name / Job Title, Month 20XX - Present, Location
Company Name / Job Title, Month 20XX - Month 20XX, Location
Company Name / Job Title, Month 20XX - Month 20XX, Location
Education:
School Name / Degree, Month 20XX - Month 20XX, Location

School Name / Degree, Month 20XX - Month 20XX, Location
Certificates:
[Certificate 1]

[Certificate 2]
Awards:
How to Write a Medical Scribe Resume: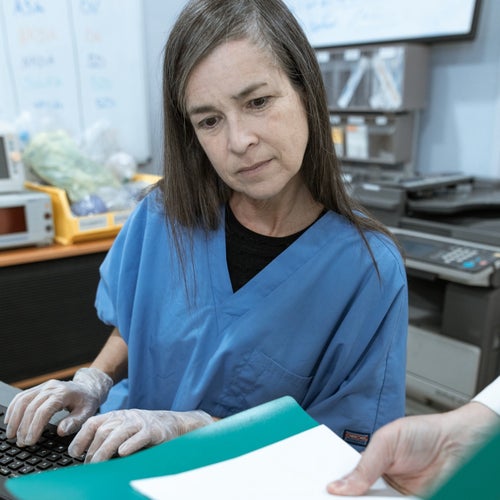 Our complete guide with informative steps on how to create a professional medical scribe resume.
1.
Start your medical scribe resume.
1.1
Add your contact information.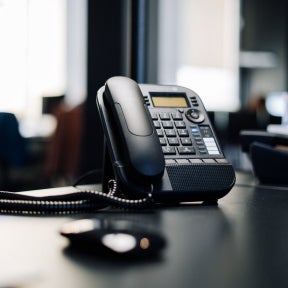 Start your resume with all the relevant contact information potential employers might search for, such as your full name, contact number, email address, and physical address. We recommend adding an alternative contact number and/or available times for instances where you might be unable to answer the phone.
1.2
Write a brief summary.
The summary should be no longer than three sentences and only encapsulate the most important details of your resume. When potential employers read your summary, they should be able to decipher exactly what makes you ideal for the position of a medical scribe. Therefore, stick to the necessary details like age, skills, experience, and qualifications.
1.3
Add your competencies.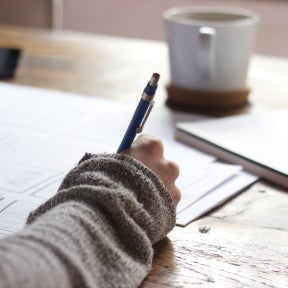 This section is your greatest opportunity to showcase the skills that make you the ideal candidate. We suggest using a bullet list format to ensure everything is clear and concise. The skills needed to be a successful medical scribe include proficiency in human anatomy, medical terminology, and popular hospital systems, paired with excellent written and verbal communication skills.
1.4
Talk about your proven experience as a medical scribe.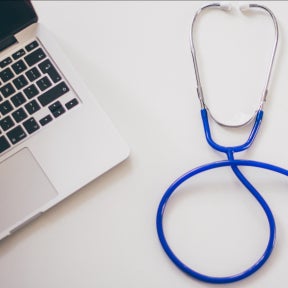 Try to focus on the work experience you obtained as a medical scribe, which is typically where candidates learn the majority of their skills. Employers will want to read about where you worked, how long you were employed, and the type of tasks you performed. This section is also great for showing off any volunteer and/or internships you've completed, as well as your knowledge of medical systems.
If you have any other unrelated work experience that could help boost your chances, add it to your experience section. For example, a medical scribe is expected to perform basic administrative duties. This is a great opportunity to showcase any clerical experience you obtained over the years.
1.5
List your qualifications.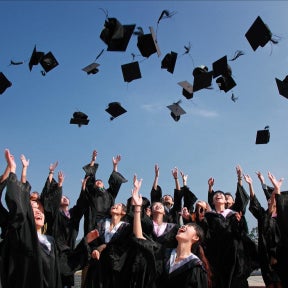 While there is no specific required qualification for a medical scribe, all candidates are expected to have a high school diploma and a bachelor's degree in a relevant field of study. List your qualifications in reverse chronological order, starting with your most recent qualification. If you're currently studying, add "in progress" next to the degree name.
1.6
Add your certificates.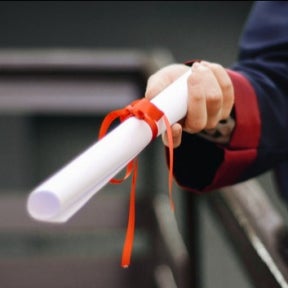 To be a successful medical scribe, you need to be proficient in medical terminology, human anatomy, and best practices. As there is no formal qualification required for this role, we recommend completing short and/or long-term certificate courses. This is a valuable addition to your resume and it shows potential employers that you're willing to go the extra mile.
1.7
Include any awards you may have received.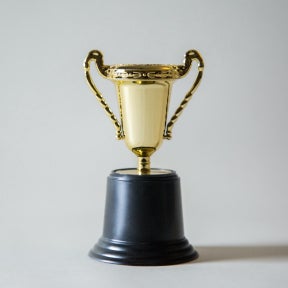 If you've obtained any notable awards over the years, such as the employer of the month or best administrative clerk, add it to your resume along with the date. As the final section in your resume, this is your last chance to convince employers that you're the best fit for the role.