A layoff letter should clearly inform the employee that they have been laid off, and explain their next steps regarding benefits, pay, company property, and the last day of work. It should also inform employees if it is only a temporary layoff.
If you are preparing to lay employees off, be sure to have an attorney review your layoff plans, as well as your letter, to avoid legal risks.
Companies with 100 or more employees will want to read up on the Warn Act before laying off.
Layoff Letter Due to COVID-19 (Coronavirus):
See our letters for COVID-19 layoffs. It includes a layoff letter, temporary layoff letter, voluntary layoff letter, and layoff warning.
Temporary Layoff Letter:
You can use a temporary layoff letter if you anticipate employees returning soon.
Furloughs for UK Workers:
The UK government has instituted a program to offer 80% pay reimbursement to furloughed workers.
What is being done for small businesses affected by the Coronavirus (COVID-19)?
Governments worldwide are working on emergency relief packages to help companies continue to operate and get through these times. Here are some resources you'll want to review.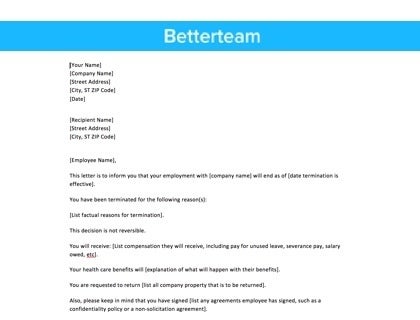 Layoff Letter Sample Template Download:
Download this layoff letter sample template in Word format and have your letter written in minutes.
Download Now
Below we have a version of the layoff letter that you can copy and paste directly into an email or word processor.
Layoff Letter Template:
Dear [Employee Name]:
I regret to inform you that you are being laid off from your position as [position name] effective [date layoff goes into effect]. This layoff should be considered permanent.
A recent [restructuring, economic downturn, buyout, etc] requires that [company name] lays off [number] employees.
These layoffs are not related to individual performance.
You will receive [amount of severance pay] and you will continue to receive [any benefits they continue to receive] until [time at which benefits end].
The following company property must be returned by [return date]:
[list company property to be returned.]
Thank you for your contributions to the company. If you have any further questions, please get in contact with [contact name].
My best wishes for success in your future endeavors.
Sincerely,
[Manager's Name]
Next Steps:
Where can I find more letters for HR?