A layoff letter is used when a company needs to terminate an employee for reasons that were not directly caused by their own action or performance. Restructuring, economic downturns, mergers, relocations, buyouts, and other outside factors are usually the cause.
A layoff letter should clearly inform the employee that they have been laid off, and explain their next steps regarding benefits, pay, company property, and the last day of work. It should also inform employees if it is only a temporary layoff.
If you are preparing to lay employees off, be sure to have an attorney review your layoff plans, as well as your letter, to avoid legal risks.
Special Offer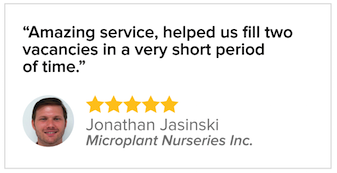 Post Jobs for FREE
Completely free trial, no card required.
Reach over 150 million candidates.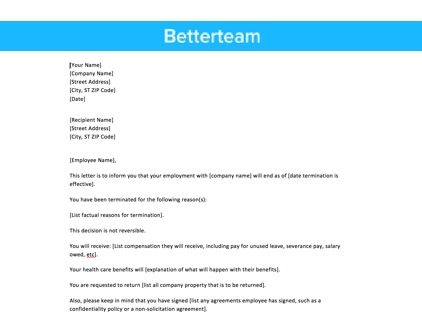 Layoff Letter Sample Template Download:
Download this layoff letter sample template in Word format and have your letter written in minutes.
Below we've got a version of the layoff letter that you can copy and paste directly into an email or word processor.
Lay Off Letter Template.
Dear [Employee Name]:
I regret to inform you that you are being laid off from your position as [position name] effective [date layoff goes into effect]. This layoff should be considered permanent.
A recent [restructuring, economic downturn, buyout, etc] requires that [company name] lays off [number] employees.
These layoffs are not related to individual performance.
You will receive [amount of severance pay] and you will continue to receive [any benefits they continue to receive] until [time at which benefits end].
The following company property must be returned by [return date]:
[list company property to be returned.]
Thank you for your contributions to the company. If you have any further questions, please get in contact with [contact name].
My best wishes for success in your future endeavors.
Sincerely,
[Manager's Name]
FAQs:
Are employers required to give notice of layoff?
In terms of the Fair Labor Standards Act, employers are not required to give an employee notice prior to termination, irrespective of the reason.
Learn more about Layoff Letters.
How do I write a layoff letter?
Add the employee name, ID number, position, and department.
Add the name of manager or supervisor handling the layoff.
Include any severance, benefits, and compensation the employee is entitled to.
Detail any company property employee is expected to return.
Highlight any legal agreements including non-disclosure, non-compete, etc. the employee has signed.
Have your legal counsel check the letter before you send it.
Read more about Layoff Letters.
What is considered a layoff?
A layoff is when a person's employment is terminated or suspended, with or without notice, by management or their employer. A permanent layoff is referred to as redundancy.
Find more information on Layoff Letters.
What triggers the WARN Act?
The Worker Adjustment and Retraining Notification Act of 1988 (WARN Act) requires employers with 100 or more employees to provide a 60 calendar-day advance notification prior to mass layoffs of employees.
The advanced notice is intended to:
Allow transition time to adjust to the prospective loss of employment.
Seek and to obtain other employment.
Enter skills training or retraining programs.
Get more details about Layoff Letters.