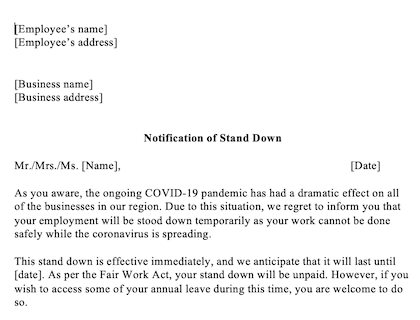 Stand Down Letter due to COVID-19:
Use this template in Microsoft Word to create your own coronavirus stand down letter for employees.
Download Now
Sample Stand Down Letter Due to COVID-19:
[Employee's name] [Employee's address]
[Business name] [Business address]
Notification of Stand Down
Mr./Mrs./Ms. [Name], [Date]
As you aware, the ongoing COVID-19 pandemic has had a dramatic effect on all of the businesses in our region. Due to this situation, we regret to inform you that your employment will be stood down temporarily as your work cannot be done safely while the coronavirus is spreading.
This stand down is effective immediately, and we anticipate that it will last until [date]. As per the Fair Work Act, your stand down will be unpaid. However, if you wish to access some of your annual leave during this time, you are welcome to do so.
I want to emphasize that this stand down is temporary and that, while it is unfortunate, we look forward to your return when we are able to resume business.
Please sign and return this letter as soon as possible. A copy can be made for your records, if you wish.
Sincerely,
---
Employer Signature
---
Employee Signature
COVID-19 Resources for Australia:
FAQs:
What resources are there for employees stood down due to COVID-19?
The Australian federal and state governments are working on several programs, including bi-weekly pay supplements. See our full list of resources for Australian workers.
Can I stand down employees due to COVID-19 shutdowns?
Yes, if your business is deemed non-essential, and cannot operate, you may stand down workers during this period.
What Australian businesses are non-essential during the COVID-19 pandemic?
Casinos.
Cinemas.
Entertainment venues.
Gyms.
Hotels (excluding accommodation).
Indoor sporting venues.
Pubs.
Registered and licensed clubs (except bottle shops attached to these venues).
Religious gatherings, places of worship or funerals.
Restaurants and cafes (excluding takeaway and home delivery).
Night clubs.