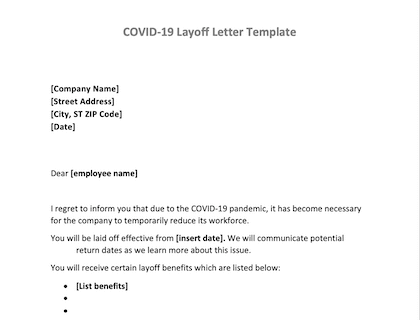 COVID-19 Layoff Letter Template Download:
Download this temporary layoff letter in MS Word format, change it to suit your needs, and use it right away.
Download Now
COVID-19 Layoff Letter Sample Template: (Text Version)
[Company Name]
[Street Address]
[City, ST ZIP Code]
[Date]
Dear [employee name]
I regret to inform you that due to the COVID-19 (Coronavirus) pandemic, it has become necessary for the company to temporarily reduce its workforce. You will be laid off effective from [insert date]. We will communicate potential return dates as we learn more about this issue. You will receive certain layoff benefits which are listed below:
Thank you for your continued contributions to the company. If you have any further questions about your rights and layoff benefits, please get in contact with [contact name and details].
Sincerely,
[Your Name] [Title]
Temporary Layoff Letter:
In some circumstances, employers may want to reduce their workforce temporarily. The outbreak of COVID-19 (coronavirus) forced many companies to shut down offices temporarily while employees were in self-quarantine. In those cases, laying off staff temporarily was helpful in maintaining the financial stability of the company.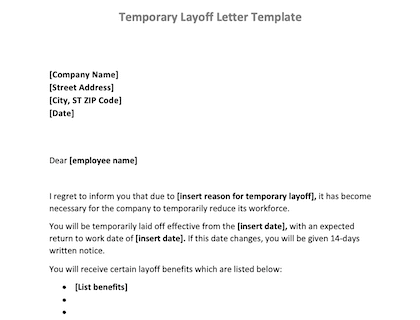 Temporary Layoff Letter Sample Template Download:
Download this temporary layoff letter in MS Word format and start using it straight away.
Download Now
Layoff Warnings & Voluntary Layoffs:
Given the financial uncertainty that has come since COVID-19, some businesses may want to take a proactive approach and provide their employees with a layoff warning. A layoff warning is not an official notice to an employee that they have been laid off. Rather, the purpose of the warning is to help employees anticipate layoffs and provide them with a timeline.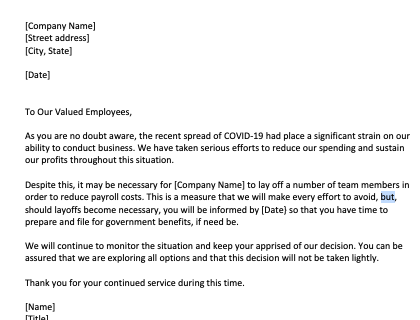 Layoff Warning Letter due to Coronavirus:
Use this free template to warn your employees about upcoming layoffs.
Download Now
Voluntary layoffs are initiated by employees. An employee may voluntarily remove themselves from their position in recognition of the company's financial difficulties. In most cases, companies will issue a letter stating that they will accept voluntary layoffs.
Typically, some sort of severance or other financial benefit is offered in order to encourage employees to volunteer. As the coronavirus slowed down the demand for many goods and services, some businesses issued voluntary layoff calls in the hopes that they can reduce their workforce.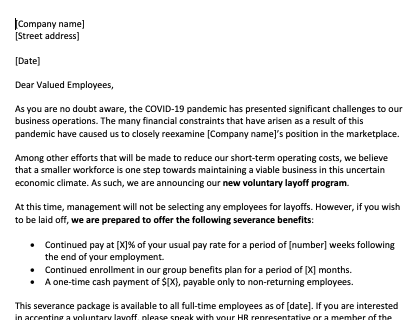 Voluntary Layoff Letter due to Coronavirus:
Download this Word template and customize it to issue your own call for voluntary layoffs.
Download Now
Are your employees considered "essential?"
Some jobs/employees are considered essential by governments and are expected to continue working, even during times of crisis. For additional information, we've compiled a list of confirmed essential businesses for each state.
FAQs:
Are there government programs to prevent layoffs due to coronavirus?
Yes, there are several. Most importantly, the Paycheck Protection Program, which offers forgivable loans to businesses that continue to pay employees.
Are employees laid off due to coronavirus eligible for unemployment?
It may depend on the circumstances and the state in each case, but most likely they are eligible.
Am I required to give notice to employees laid off due to COVID-19?
Most likely companies are not required to give notice, as it was considered to be an unforeseeable event. You'll want to check laws in your state and pertaining to your business to be sure.