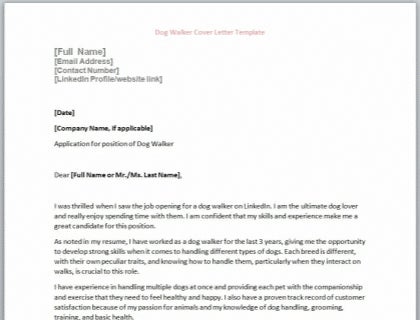 Dog Walker Cover Letter Template
Use our free template in Microsoft Word format to quickly create an appealing dog walker cover letter.
Download Now
Dog Walker Cover Letter Template:
[Your Name]
[Your Email Address]
[Your Contact Number]
[Your LinkedIn Profile or Blog Page]
[Date]
[Name of Company You're Applying To]
Application for the position of Dog Walker
Dear [Name],
I was thrilled when I saw the job opening for a dog walker [on/in Location]. I am the ultimate dog lover and really enjoy spending time with them. I am confident that my skills and experience make me a great candidate for this position.
As noted in my resume, I have worked as a dog walker for several years, giving me the opportunity to develop strong skills when it comes to handling different types of dogs. Each breed is different, with its own peculiar traits, and knowing how to handle them, particularly when they interact on walks, is crucial to this role.
I have experience in handling multiple dogs at once and providing each pet with the companionship and exercise that they need to feel healthy and happy. I also have a proven track record of customer satisfaction because of my passion for animals and my knowledge of dog handling, grooming, training, and basic health.
My attached resume will give you more insight into my love for dogs and my experience in working with them. I look forward to hearing from you to discuss this position in more detail.
Thank you for your time and consideration.
Sincerely,
[Your Name]
How to Write a Cover Letter For a Dog Walker: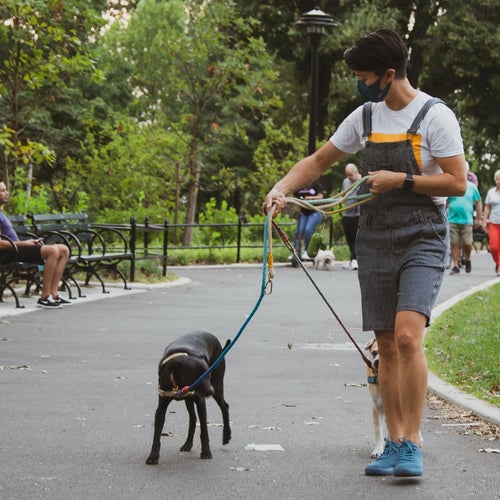 A complete guide that highlights the steps you need to take to build a professional dog walker cover letter.
1.1
Address your letter directly to the hiring manager or recruiter.
These days, addressing a letter with "To whom it may concern" is actually frowned upon. For a great start to your cover letter, try to find the name of the hiring manager or the person who put out the job opening and address them directly. You can either use Mr. or Ms. and their last name (e.g., Mr. Smith), or their full name (e.g., John Smith).
2.
Start with your letter's body.
2.1
Start with a short introduction.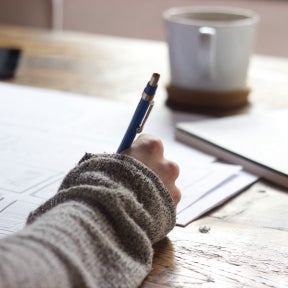 Start off your letter with a brief explanation of why you are contacting the person, what position you are applying for, and where you saw the job advertisement. If you are asking about available work, be sure to clearly state that you are looking for work as a dog walker.
2.2
Write a paragraph about why you are a good candidate.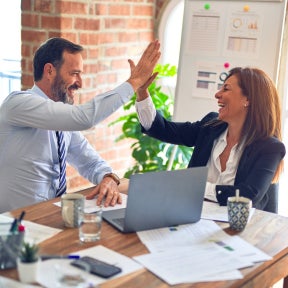 Promote yourself as a good candidate by writing a paragraph on your skills, work experience, qualifications, and any other information that makes you a great dog walker. If you are applying to a job advertisement, make sure to match your skills and experience to those the recruiter asked for. If you are asking about available work, think about what kind of skills and experience would be expected from a dog walker.
In general, you will want to play up the following traits:
Love of animals.
Knowledge of how to interact with animals.
Patience.
Attention to safety issues, particularly concerning dogs.
Stamina, physical fitness, and energy.
A friendly personality.
It is important to highlight your skills and experience by using relevant examples from your resume but don't just repeat sentences or sections. Rather, use your cover letter as an opportunity to expand on the information in your resume.
2.3
Add another paragraph outlining your motivation.
If you need another paragraph to highlight your skills, go ahead and use one. Otherwise, include a brief motivation on what attracts you to the dog walker role. You can use past experiences from your resume to show that you understand the role of a dog walker and what it entails.
3.
End with a call to action.
3.1
Close your letter professionally.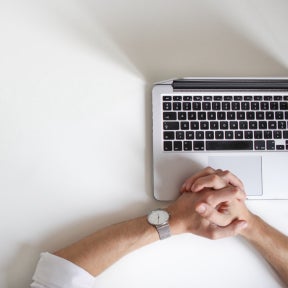 End your cover letter with a positive conclusion about your motivation and enthusiasm for the job and reiterate your value. Include a call to action by inviting the reader to contact you via email or phone call.
Close your cover letter by thanking the reader for their time. Add "sincerely" or an acceptable synonym and sign off with your full name.