When do I use a combination or hybrid CV?
Job seekers applying for positions where work experience, education, and skills carry equal weight, may want to use this format, but it also works well for inexperienced candidates as it allows you to choose which aspects of your career you want to highlight. Because it covers such a range of elements, it provides a higher degree of flexibility than the other formats.
How to Write a Combination/Hybrid CV: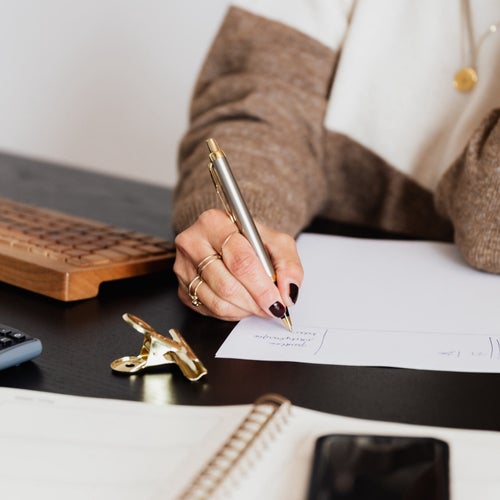 Regardless of the type of CV you choose, there are some general guidelines you'll need to follow. Take a look at our complete guide to find out how to construct each section and write an impressive CV.
1.
Guidelines for writing a Combination/Hybrid CV:
1.1
Provide your contact details.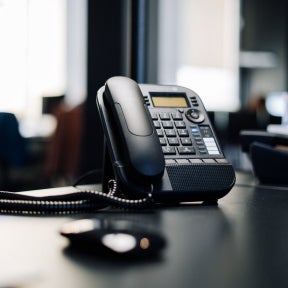 Write your full name and contact details in the header of your CV. Include a professional email address and a reliable contact number. You may also add your LinkedIn profile or your website address if it's something the hiring manager would be interested in.
1.2
Add a personal profile.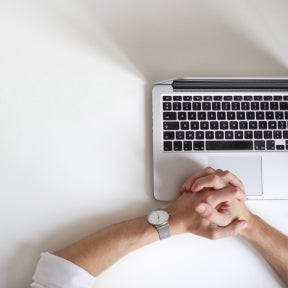 Include a personal profile beneath your contact details if you're not submitting a cover letter, or if you're applying via an online job board that does not allow you to upload one.
1.3
Highlight the skills, qualifications, and work experience.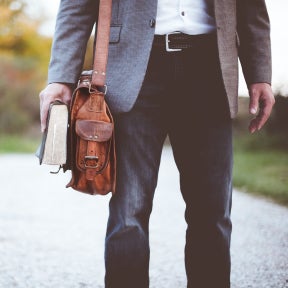 Next, you can list your skills, education, and work experience. Include these sections in order of relevance, starting with the most important one. You can be as detailed as you like, but remember to keep it relevant to the position you're applying for. Do not get carried away and include everything you have ever done in this CV.
Tips for Creating a Combination/Hybrid CV:
List your additional sections in logical order, if you decide to use them. You may also bold and increase the size of all the headings.
Choose a font like Times New Roman, Arial, or Helvetica. Use only black and font size 10-12.
Skip the color and the graphics. Double-check that they've been removed if you're using a CV builder.
Do not falsify information or try to hide gaps in your CV.
Make use of Grammarly to identify mistakes and get a trusted friend or colleague to do a final check before you submit your CV.
References are not really required on CVs anymore, but you can prepare a separate list in case the employer asks for one. Check out our resume guide to learn more.
If your CV spans two pages or more, include your name and the page number in the footer.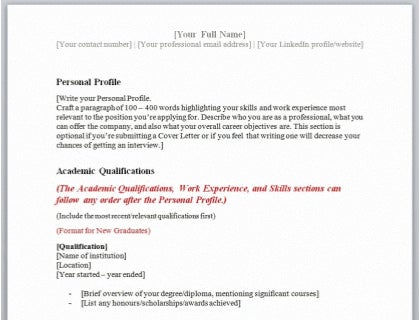 Combination/Hybrid CV in MS Word Format:
Start applying for jobs today using our Combination/Hybrid CV in MS Word Format.
Download Now
Combination/Hybrid CV Template: (Text Version)
(In the header)
[Your Full Name]
[Your contact number] | [Your professional email address] | [Your LinkedIn profile/website]
Personal Profile
[Write your Personal Profile. Craft a paragraph of 100 – 400 words highlighting your skills and work experience most relevant to the position you're applying for. Describe who you are as a professional, what you can offer the company, and also what your overall career objectives are. This section is optional if you're submitting a Cover Letter or if you feel that writing one will decrease your chances of getting an interview.]
Academic Qualifications
(The Academic Qualifications, Work Experience, and Skills sections can follow any order after the Personal Profile)
(Include the most recent/relevant qualifications first)
(Format for New Graduates)
[Qualification]
[Name of institution]
[Location]
[Year started – year ended]
[Brief overview of your degree/diploma, mentioning signification courses]
[List any honours/scholarships/awards achieved]
OR
(Format for Experienced Professionals)
[Qualification], [Name of institution], [Location]*
*graduation date not required for experienced applicants.
Work Experience
(Include the most current position first)
[Company Name]
[Link to company website]
[Position Title]
[Date of employment with year/month – year/month]
[Brief outline of key duties]
- [Bulleted list of top achievements, strengthened by using facts, statistics, and percentages.]
[Company Name]
[Link to company website]
[Position Title]
[Date of employment with year/month – year/month]
[Brief outline of key duties]
- [Bulleted list of top achievements, strengthened by using facts, statistics, and percentages.]
[Company Name]
[Link to company website]
[Position Title]
[Date of employment with year/month – year/month]
[Brief outline of key duties]
- [Bulleted list of top achievements, strengthened by using facts, statistics, and percentages.]
Skills
[List Main Skill, e.g. Leadership]
[Have one or two bullets beneath this skill where you elaborate on how you developed it, e.g. you were the vice president of the debate society in college]
[List Main Skill, e.g. Leadership]
[Have one or two bullets beneath this skill where you elaborate on how you developed it, e.g. you were the vice president of the debate society in college]
[List Main Skill, e.g. Leadership]
[Have one or two bullets beneath this skill where you elaborate on how you developed it, e.g. you were the vice president of the debate society in college]
Additional Sections
(All of these sections are optional, but experienced candidates may require them. Select those most relevant to you.)
[Books/Chapters]
(Include the titles of the books you've written or contributed to. Include the publication date, imprint, and any other relevant details. Can take the form of a bulleted list, with short explanations.)
[Journal Articles]
(Include the titles of the journal articles you've written or contributed to. Include the publication date, name of the journal the article was published in, and any other relevant details. Can take the form of a bulleted list, with short explanations.)
[Peer-Reviewed Articles]
(Include the titles of the articles you've peer-reviewed and any other relevant details.)
[Other Publications]
(Include any other notable works you've completed, with their publication dates, and other relevant details.)
[Awards, Honours, or Achievements]
(List the awards you've achieved, with brief explanations of them.)
[Additional Certifications or Licenses]
(List any relevant certificates or licenses you hold.)
[Fellowships, Grants, and Scholarships]
(List any fellowships, grants, or scholarships you've received, along with their dates, and any other relevant information.)
[Conferences Attended]
(List the conferences you've attended, their dates, and where they were held.)
[Presentations or Lectures Delivered]
(List the presentations, lectures, or seminars you've delivered, as well as the details thereof.)
[Teaching Experience]
(Mention any teaching or training experience you've had, with dates, locations, and other notable details.)
[Non-Academic Activities/Notable Interests & Hobbies]
(If they're related to the position you're applying for, include a list of non-academic activities like interests and hobbies.)
[Graduate Fieldwork]
(Include the details of your fieldwork and research.)
[Research or Lab Experience]
(Include the details of your research and lab experience.)
[Additional Languages]
(Mention any additional languages you have learned. Indicate your proficiency as a novice, intermediate, or advanced.)
[Memberships]
(Mention any active memberships relevant to your career/the position you're applying for.)
[Volunteer Work/Initiatives]
(List your volunteer work or the non-profit initiatives you've been involved in, as well as the impact you've made there.)
[Projects]
(List any projects you've initiated or been involved in, as well the details thereof.)
[References]
(Compile a separate list to go at the back of your CV.)