Pricing:
X-Team does not disclose its pricing options. You can contact them by completing their hiring form.
Review:
X-Team employs a team of top web designers, programmers, and developers and acts as a middle man to connect U.S. employers to freelance professionals situated both in the country and around the globe. Once employers have entered their project details, X-Team works to match the company's needs with the most suitable developers.
While X-Team does not ask for any fees upfront, they don't advertise their pricing, making it difficult to compare them to other U.S. competitors. In addition, X-Team contracts its developers on a full-time basis for a minimum of three months, and employers will need to negotiate with the company for part-time or short-term contracts.
Highlights:
The platform provides access to highly trained, skilled developers who work full-time and are scalable.
X-Team specializes in a wide range of development and programming languages.
Offers an easy application process.
The platform works with companies of all sizes.
X-Team does not charge any upfront fees.
The platform boasts an in-house radio show and a growing YouTube channel.
Compared to local competitor Toptal, X-Team stands out as the more affordable option, thanks to its no deposit policy.
Shortcomings:
The pricing is not transparent and is only provided at the contract stage.
X-Team rarely contracts for part-time and short-term projects.
There's a minimum contract period of three months.
The developers' skills are limited to computer sciences.
X-Team's customer support is not available via telephone.
Reputation:
We were unable to find reviews of X-Team. That said, X-Team does have an impressive social media presence, with a combination of over 83,000 followers on all major platforms.
How to Post a Project on X-Team: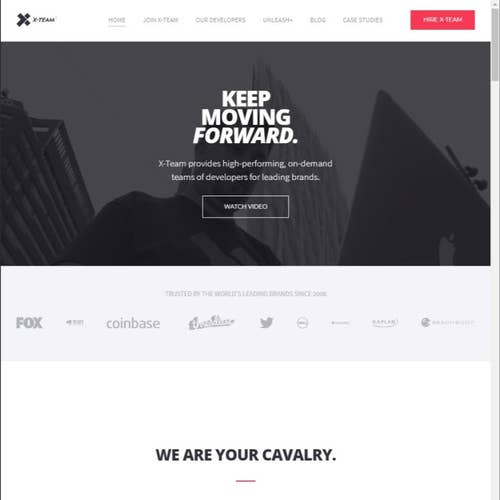 Two easy steps for posting a project on X-Team.
1.
Posting a project on X-Team.
1.1
Navigate to the X-Team home page.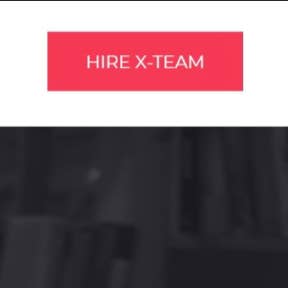 From the X-Team home page, click on "Hire X-Team" in the top-right corner of the page.
1.2
Fill in the online form.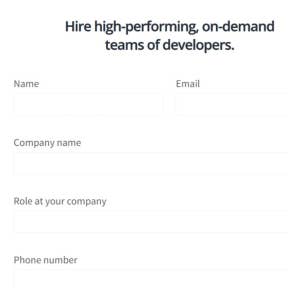 Enter your name and company details, job requirements, the duration of the job, the urgency of the job, and the specific skills you're looking for. Click on "GET STARTED" when you're done and X-Team will contact you to begin the recruitment process.
X-Team vs. Toptal:
Toptal and X-Team both match employers with top freelance developers, but Toptal requires a $500.00 deposit to get started, unlike X-Team. Another big difference between these companies is that X-Team strictly works with IT developers, while Toptal works with a wider range of designers, developers, and project managers.
X-Team vs. Indeed:
Both Indeed and X-Team are global recruitment sites, but Indeed is a general job posting site, while X-Team focuses only on connecting employers to freelance developers. Indeed offers transparent pricing options, as well as free job posting, while X-Team only provides their pricing after a contract has been drawn up.
X-Team vs. Google for Jobs:
Google for Jobs picks up job postings from company websites if the underlying HTML structure has been formatted correctly, whereas X-Team matches employers with IT developers. Google for Jobs features job vacancies from any industry, while X-Team only focuses on tech developers.
Key Information
| | |
| --- | --- |
| Legal Name | X-Team International Pty Ltd. |
| Founder | |
| Founding Date | Jan 01, 2006 |
| Address | Austin, Texas |
| Email | |
| Website | |
FAQs:
What is X-Team?
X-Team offers a platform that connects employers with freelance web designers, programmers, and developers. They provide design teams that contribute their expertise and drive scalability.
What does it cost to post a project on X-Team?
X-Team does not disclose its pricing options. You can contact them by completing their hiring form.
What are some X-Team alternatives?