Workable is a recruitment software company that offers an applicant tracking system, or ATS, and talent CRM with visualized hiring pipelines, rich candidate profiles, interview kits, and customized scorecards.
Special Offer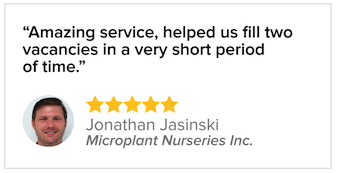 Post Jobs for FREE
Completely free trial, no card required.
Reach over 150 million candidates.
Workable Pricing:
| Plan Name | Price |
| --- | --- |
| Pay as You Go Plan | $50 per job posting |
| Starter 10 | $2,500 per year for 10 job slots |
| Starter 20 | $4,000 per year for 20 job slots |
| Pro | Contact Workable for Pro Pricing |
Workable Key Information Table:
| | |
| --- | --- |
| Founder | Nikos Moraitakis |
| Founded | 2012 |
| Headquarters | Boston, Massachusetts, United States |
| CEO | Nikos Moraitakis |
| Number of Employees | 12 (2017) |
| Number of Customers | 6,000 (2017) |
| Phone Number | (857) 990 9675 |
| Address | 33 Farnsworth Street, 4th Fl, Boston, MA 02210 |
| Website | Workable.com |
Reviews of Workable:
| Company Name | Rating | Review |
| --- | --- | --- |
| Scharffe Consulting | 4 | What I like most about Workable is that I can use assessments to help score and rank higher qualified candidates when we post requisitions for our organization. |
| Adzuna | 5 | We've been using Workable for a couple of years now and I cannot recommend it highly enough. A great tool for keep track of job applicants and conversation threads. |
| First San Francisco Partners | 3 | This is a great product and I'm very frustrated that in a very short time they have cut out the smaller companies with their pricing. I really had not planned on looking at other ATS systems but worry what else is ahead for the "legacy" users. |
| InfoArch | 3 | It integrates talent search with the hiring pipeline. When you identify a talent with "people search" you can access to his/her information from all the main social networks like Linkedin, Facebook, etc. |
| Porter Corp. | 4 | I like that they are constantly working on improvements and how easy it is to use. Although they are never the first software to develop a product offering or an idea, they seem to always add features to improve the product offering. |
| New You Dental Center | 4 | Super user-friendly software with little to no learning curve. I love that you can schedule to your Outlook calendar straight from the website. Pre-screen filters are quick to implement and highly effective. |
| Slingshot Inc | 4 | I really enjoy the ease of use. Everything is laid out in such a way, that you can navigate easily. I've trained a few people to use Workable, and they picked it up quickly. They also have many integrations that improve the value. |
| Truex Metier | 2 | Easy to set up and use, but lacks features for its price range - Workable started out well, but there are many hidden hiccups and charges. Not worth the effort for something this expensive. |
| The Haro Group | 3 | Customizable application steps, posts to indeed, multiple users allowed without additional cost, easily syncs with gmail for retrieving email replies and tagging them to the candidate, retrieves social media profiles, able to customize questions on the front end. |
| Bluzelle | 5 | Straightforward, easy to use - support was very responsive and really helped me get up to speed fast. Pay per job model is excellent for a startup like us. |
Workable FAQs:
What Workable's price range?
Workable pricing is from $50 per job posting to $4,000 per year, depending on the number job slots you need to have open. For more than 20 job slots you'll need to contact Workable for a quote.
Where can I find the Workable login for employers?
Go to the Workable homepage and click Login in the upper right of the webpage. You can also go directly to the the Workable sign in page at workable.com/signin.
Is the Workable ATS good for small businesses?
Yes, there are several reviews that say that Workable is great for small businesses. The ATS can help organize the hiring process, and the Workable recruiting features can be helpful for finding employees.
How can I get in contact with the Workable London office?
In Europe they can be reached at 44 203 826 8149. Their London address is 81 Rivington Street, Shoreditch, London. EC2A 3AY.
Am I able to use Workable job descriptions in any country?
Job descriptions provided on the Workable website appear to be good templates for posting jobs in most countries, although you want to check on local hiring laws to be sure.
How do I get in contact with Workable support?
You can email their support team at support@workable.com, or visit workable.com/contact. There did not appear to be a phone number to call specifically for support.
Is Workable the same thing as WorkableHR?
It appears that WorkableHR was an early name of Workable. So yes, if you're looking for WorkableHR, Workable is probably the same company.