Video interview software is technology that allows employers, recruiters, and hiring managers to interview candidates via live video through an internet connection. Video interview software often includes features for recording interview information and scoring interviews. It's great for doing remote interviews.
Special Offer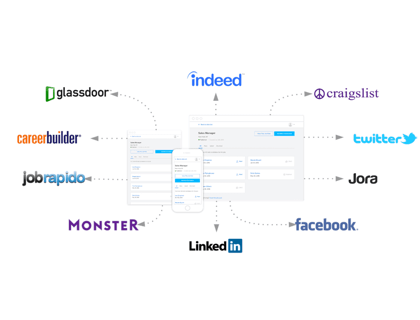 Post Jobs for FREE
Completely free trial, no card required.
Reach over 150 million candidates.
Best Video Interview Software:
| Company Name | Minimum Price | Average Rating |
| --- | --- | --- |
| | $49.00 | 5.0 |
| | $99.00 | 5.0 |
| | $99.99 | 5.0 |
| | $75.00 | 4.5 |
| | €295.00 | 5.0 |
| | n/a | 4.5 |
| | n/a | 5.0 |
| | n/a | 4.0 |
| | n/a | 4.0 |
Pros & Cons:
| Pro | Con |
| --- | --- |
| An affordable way to conduct interviews or meetings. | Internet connection issues can be disruptive. |
| Saves time by allowing candidates to interview from home. | Delays can limit a candidate's ability to respond to questions. |
| Good for screening remote candidates. | Some candidates may not be comfortable using video interview software. |
FAQs:
What is a one-way online video interview?
A one-way video interview, sometimes called an asynchronous interview, is when the candidate answers questions via recorded video without an interviewer present. This allows companies to perform more interviews quickly and helps standardize the interview process. Software applications for these interviews are also known as video screening software.
Learn more about video interview software.
Why do companies use video interviewing software?
Video interviews can save companies time and money by using asynchronous interviews (in which the interviewer is not present), or making it easy to interview people from anywhere in the world without commuting. A lot of online video interview software allows interviewers to store notes, ratings, and other info, making it easier to be organized.
Read more about video interview software.
Are there any video interviewing solutions that offer a free trial?
Yes, Vervoe offers a 14-day free trial.
Find more information on video interview software.
Is there a way to get video interview software free?
Beyond the Vervoe free trial, each video interview platform we looked at charged something for use. If you want to do video interviews for free though, you could just invite people to talk via Skype or Google Hangouts.
You could use Google Calendar to schedule interviews.
See more details about video interview software.
What are the pros and cons of video interviewing?
There are certainly advantages and disadvantages to video interviews. Advantages include being able to interview more candidates faster if you're doing one-way interviewing, or avoiding commutes and being able to interview candidates outside of your immediate area more easily.
Find out more about video interview software.
What is the most affordable video interviewing platform for a small company?
From our research, Spark Hire was the most affordable company that publicly gives pricing information. You may also want to consider Vervoe, which lets you try its video interview platform free for 14 days.
Read more about video interview software.
How do I know if video recruiting software is right for my business?
You may try testing it first by creating your own video interview service on the cheap. You can use Skype or Google Hangouts to do the interviews, and services like Google Calendar or Calendly to schedule.
If you want to do one-way interviews, you can ask candidates to record their answers to your question via their cellphone and send you the videos. This should give you an idea if video interviewing companies are a good choice for your company.
Get more details about video interview software.