Pricing:
Yeeply does not reveal pricing on their website. Yeeply pricing works strictly on a quote system. To request a personalized quote, interested users can go to yeeply.com and click "Receive price estimate" in the top right corner of the home page.
Review:
Yeeply is a recruitment service that uses AI to match employers' project requirements with talented professionals. For U.K. employers, this simple hiring process will save you time and costs.
However, unlike local competitors Worksome and PeoplePerHour, Yeeply vets all professionals on behalf of employers, which may not suit those looking to be involved in the hiring process.
Highlights:
Project management features are simple and effective.
According to Yeeply, all professionals are put through a rigorous vetting and certification process.
Yeeply guarantees transparency and direct communication with teams.
Employers can browse through profiles and previous work.
The website offers a great language translation feature.
For employers who require a fast turnaround time, Yeeply promises that their hand-picked team of professionals is also available.
All conversations are confidential and Yeeply works with NDAs.
Shortcomings:
Pricing is not revealed on the website.
Compared to local competitors, Yeeply has the poorest U.K. exposure.
Yeeply does not have an office based in the U.K.
Customer support hours are not stipulated on the website.
Yeeply's sourcing and hiring team do most of the work, which may impact employers who need more power over the hiring process.
Previous Yeeply users have complained about late projects and a lack of knowledge from its professionals.
Unlike PeoplePerHour, Yeeply lacks features like video conferencing and live chat.
Best suited for projects that can be done remotely.
Reputation:
Yeeply has received great reviews online, with Trustpilot users giving the platform an average rating of 4.6 stars. A majority of reviewers applauded Yeeply's proactive approach to projects and its efficient customer service.
However, we did find several reviews that were unhappy with Yeeply's lack of response when projects were overdue, as well as the team's supposed lack of knowledge.
How to Post a Job on Yeeply: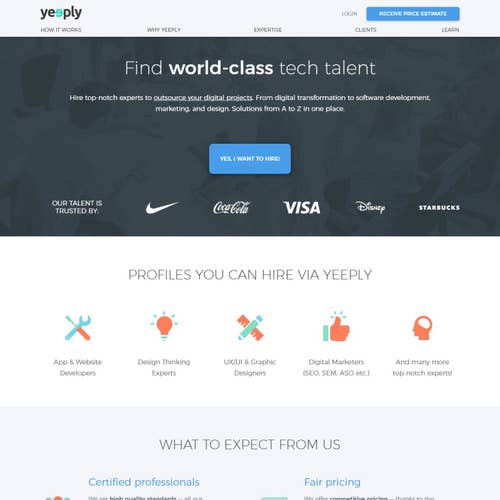 Two easy steps for posting a job on Yeeply.
1.
Posting a job on Yeeply.
1.1
Navigate to the Yeeply home page.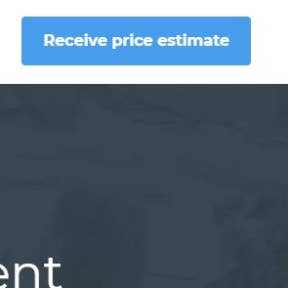 On the Yeeply website, click on "Receive price estimate" in the top right corner of the home page.
1.2
Fill in the online form.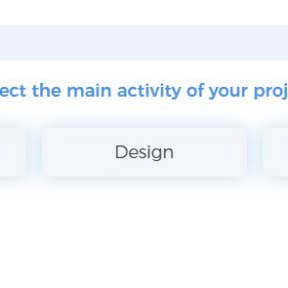 Explain your project idea and include all the information. Then, submit your project. The Yeeply team will then compile a proposal to fit your project needs and will send you a quote. If you agree with the proposal and the quote, sign the contract and start working with the team.
Yeeply vs. Worksome:
Worksome is a U.K.-based marketplace that allows employers to browse profiles and hire freelancers. Similar to Worksome, Yeeply is great for finding freelance workers. However, unlike Worksome, Yeeply uses AI to match talented professionals to projects. That said, if you're looking for U.K. exposure, Worksome is a better local option.
Yeeply vs. PeoplePerHour:
Both Yeeply and PeoplePerHour are great resources for finding freelance workers, especially if you're an employer looking to outsource the hiring process. However, while both competitors match talent to projects, PeoplePerHour allows employers to browse projects and profiles for free.
Yeeply vs. X-Team:
Yeeply and X-Team are remote-based platforms that connect employers with professional developers to help complete projects. Both teams charge per project and the platforms are very similar. However, Yeeply is more accommodating to an international market, thanks to its language-translation feature and various job categories.
Key Information
| | |
| --- | --- |
| Legal Name | Yeeply |
| Founder | |
| Founding Date | Jan 01, 2013 |
| Address | Avenida del Puerto, 49, 2nd floor, 46021 Valencia, Spain |
| Number of Employees | 27 |
| Email | |
| Telephone | |
| Website | |
FAQs:
How do I create a Yeeply account?
Go to yeeply.com and click "Receive price estimate" in the top right corner of the home page to create an account.
How can I edit a Yeeply job posting?
A Yeeply job posting can be edited whenever you log in to your account.
How can I delete a Yeeply job posting?
Users are not able to delete their Yeeply job postings. Only Yeeply has the authority to delete a job posting.
How do I find the best freelancers on Yeeply?
Once you've explained the details of your project, a Yeeply algorithm and support team will match your project with a list of the best-suited freelancers and professionals. To ensure your project receives quality feedback, explain your digital project idea thoroughly and include all relevant information.
What are some Yeeply alternatives?