Pricing:
X-Team does not disclose its pricing options. You can contact them by completing their hiring form.
Review:
X-Team provides employers with a qualified and experienced team of developers who are capable of speeding up the development process for long-term projects. Thanks to X-Team's extensive vetting process, U.K. employers can rest assured that their projects will be completed by talented developers.
Unlike local competitors Design Week Jobs and Technojobs, X-Team does not display pricing on its website and employers will have less control of the hiring and vetting process. In addition, X-Team's platform is not the best fit for freelance work or short-term projects, as most projects start at three months.
Pros:
All employers gain access to a team of highly trained, skilled developers who work full-time and are scalable.
X-Team's pre-vetted team specializes in a wide range of development and programming languages.
X-Team is a 100% remote-based platform.
The platform offers an easy application process.
X-Team's platform is compatible with companies of all sizes.
The platform boasts an in-house radio show and a growing YouTube channel.
There are no upfront fees required.
Cons:
The pricing is not transparent and is only provided at the contract stage.
X-Team automatically matches projects with suitable developers, which may impact employers who wish to partake in the hiring process.
Customer support is only available via email and response times are not listed on the website.
X-Team rarely contracts for part-time and short-term projects.
Minimum contract period of three months.
The developers' skills are limited to computer sciences.
Reputation:
We were unable to find reviews of X-Team.
How to Post a Project on X-Team: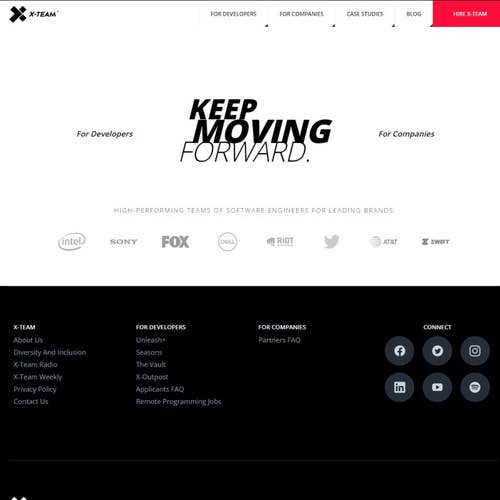 Two easy steps for posting a project on X-Team.
1.
Posting a project on X-Team.
1.1
Navigate to the X-Team home page.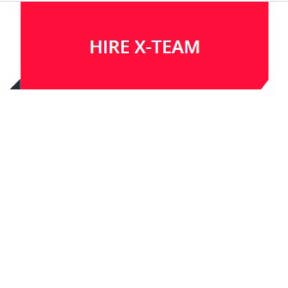 From the X-Team home page, click on "HIRE X-TEAM" in the top-right corner of the page.
1.2
Fill in the online form.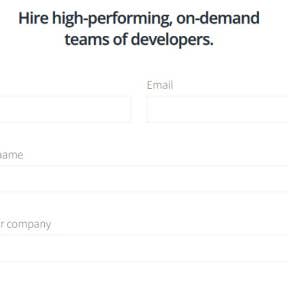 Enter your name and company details, job requirements, the duration of the job, the urgency of the job, and the specific skills you're looking for. Click on "GET STARTED" when you're done and X-Team will contact you to begin the recruitment process.
X-Team vs. CW Jobs:
CW Jobs caters to the U.K. technology job market, while X-Team focuses on connecting employers to freelance developers. With CW Jobs, pricing starts at £199.00 +VAT per posting, and employers are tasked with choosing candidates. X-Team, on the other hand, provides pricing after a contract has been drawn up and the site matches employers with candidates.
X-Team vs. Technojobs:
Technojobs advertises available tech positions across the U.K., while X-Team is a remote-based platform that matches employers with talented developers. With Technojobs, employers are given more hiring control and access to a targeted job board. However, if you're looking to hire qualified, remote-based developers, X-Team is the perfect fit.
X-Team vs. Toptal:
Toptal and X-Team both match employers with top freelance developers, but Toptal requires a US$500.00 deposit to get started, unlike X-Team. Another big difference between these companies is that X-Team strictly works with developers and designers, while Toptal works with a wider range of designers, developers, and project managers.
Key Information
| | |
| --- | --- |
| Legal Name | X-Team International Pty Ltd. |
| Founder | |
| Founding Date | Jan 01, 2006 |
| Address | Austin, Texas |
| Email | |
| Website | |
FAQs:
What does it cost to post a project on X-Team?
X-Team does not disclose its pricing options. You can contact them by completing their hiring form.
How do I find the best freelancers on X-Team?
X-Team works by scaling your team of developers from the outside. Once you hire X-Team for a project, they will provide their resources and expertise to help with your development project and with the growth of your development team.
What are some X-Team alternatives?