Pricing:
| Plan Name | Monthly Pricing |
| --- | --- |
| Starter | US$25.00 |
| Basic | US$50.00 |
| Pro | US$125.00 |
| Custom | Contact for quote. |
Review:
MyRemoteTeam is a payment platform that helps employers pay their teams of remote employees, contractors, and freelancers. The platform also allows you to hire developers, designers, accountants, mobile developers, and virtual assistants. While the site works best for hiring remote workers, employers can specify if they want to hire from a certain location.
Companies in the U.K. should consider using MyRemoteTeam because the platform dashboard is user-friendly, the job posting process is easy and convenient, and employers are assigned 'hiring experts' for support and guidance.
However, job posts are limited to the platform, and only registered professionals will see them – it is unclear how many of the candidates live in the U.K., so if you want to hire locally, the site might not be the right fit for your purposes.
Based on MyRemoteTeam's social media profiles and a complete lack of reviews or mention anywhere, the platform has a tiny presence in the remote hiring space.
Highlights:
The hiring process is easy and user-friendly.
A hiring expert works with you when you post a job.
You can manage projects, contracts, payments, and invoices from your profile dashboard.
You can hire professionals from anywhere in the world or a specific location.
Phone and email support offered.
MyRemoteTeam screens candidates before registration.
Posting a job is more affordable than WorkingNomads, reed.co.uk, and CW Jobs.
Shortcomings:
Employers can hire from a limited range of professionals only.
Job posts are only available to registered freelancers.
MyRemoteamTeam has a very small social media footprint.
reed.co.uk and CW Jobs reach more local candidates.
Reputation:
We were unable to find independent reviews of MyRemoteTeam but it has 250 followers on LinkedIn and 134 followers and 133 likes on Facebook.
How to Post a Job for a Developer on MyRemoteTeam: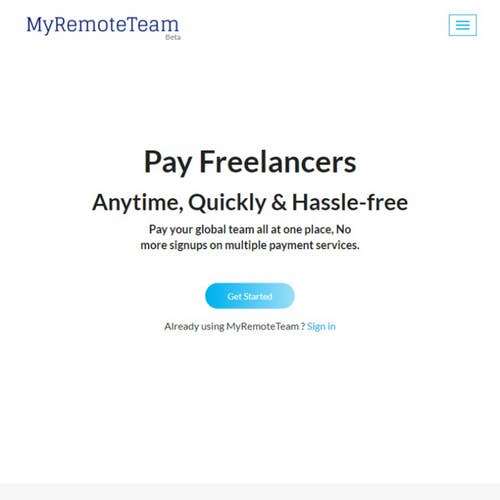 Eight easy steps for posting a job on MyRemoteTeam.
1.
Posting a job on MyRemoteTeam.
1.1
Click on "Hire Developers" on the home page.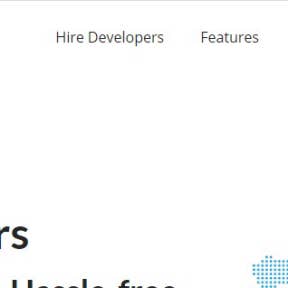 You will find this in the top banner of the MyRemoteTeam home page.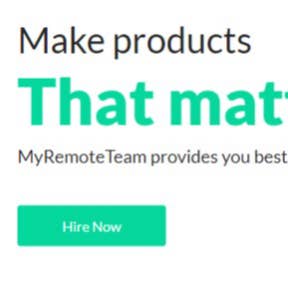 You will find this on the next page to the left.
1.3
Select the remote resource you need.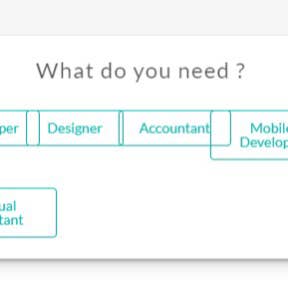 On the next page, you can choose a category from developer, designer, accountant, mobile developer, or virtual assistant.
We chose "developer" for our example.
1.4
Select the type of project you are hiring for.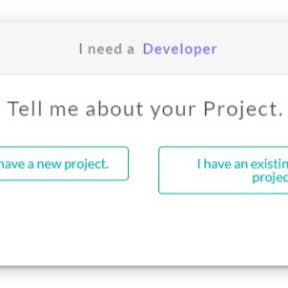 You can choose an option from "I have a new project" or "I have an existing/ongoing project".
We chose a new project for our example, but both options take you to the same next step.
1.5
Select your payment method.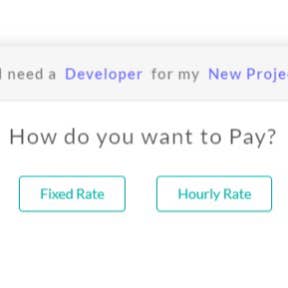 MyRemoteTeam gives you the option of paying a fixed or hourly rate. Enter the amount you are willing to pay and click "Next."
1.6
Complete the next step.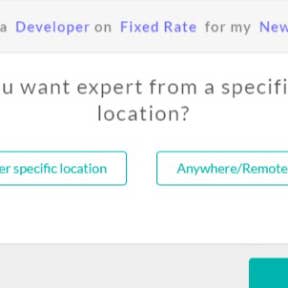 The next step differs depending on your payment option. If you chose a fixed rate, you will now need to choose whether you want a developer from a remote or specific location.
If you chose an hourly rate, you will need to specify the hours-per-week availability you need. Then you will move on to the location options.
We will continue our example using the hourly rate option and the remote working option. However, both location options will take you to the next step.
1.7
Describe the specific skills you're looking for.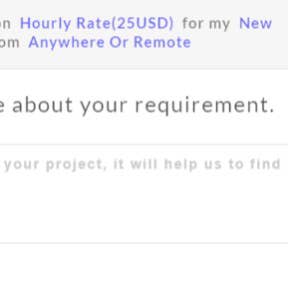 In the next step, you will need to describe your project and the specific skills you need.
1.8
Provide your details.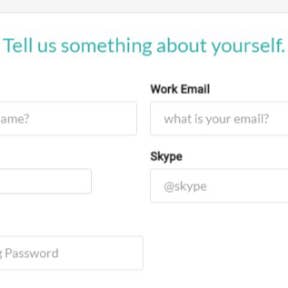 On the next page, you will need to enter your name, work email, phone number, skype handle, and a password to create an account on MyRemoteTeam. Click "Submit & Proceed" when you are done. A hiring expert will contact you to discuss your project further.
MyRemoteTeam vs. Working Nomads:
Working Nomads attracts over 120 thousand visitors every month and job posts are sent to 15,000 email subscribers, which means you are likely to reach more people through the platform. However, it can't be used for free and won't allow company branding. MyRemoteTeam will connect you to a higher quality of candidates.
MyRemoteTeam vs. reed.co.uk:
reed.co.uk receives about 160,000 job applications a day and 50,000 new candidate registrations a week. If you want to hire locally, few job boards compare. reed.co.uk is affordable, and you can deal in pounds sterling. MyRemoteTeam is more targeted, offering you a higher quality of candidates but only in five job categories.
MyRemoteTeam vs. CW Jobs:
CW Jobs is a go-to job board for employers looking for tech professionals. A job post is quite expensive, but you are guaranteed a wider audience for your job posts. Unlike MyRemoteTeam, candidates aren't pre-screened, so you'll spend time finding the good ones. If you're hiring locally, CW Jobs is the way.
Key Information
| | |
| --- | --- |
| Legal Name | MyRemoteTeam.com |
| Founder | |
| Founding Date | Jan 01, 2017 |
| Address | 340 S. Lemon Avenue, 8043, Walnut, CA, 91789 |
| Number of Employees | 30 |
| Email | |
| Telephone | |
| Website | |
FAQs:
How do I create a MyRemoteTeam account?
Go to MyRemoteTeam and click on "Sign Up" at the top right corner of the homepage, or sign up directly here.
How can I find the best freelancers on MyRemoteTeam?
You invite and add freelancers and contractors. MyRemoteTeam is a payment site that helps you pay your remote workforce from one place.
How do I contact MyRemoteTeam support?
You can email MyRemoteTeam at support@myremoteteam.com, or phone them at 1 (760) 284-3370.
What are some MyRemoteTeam alternatives?