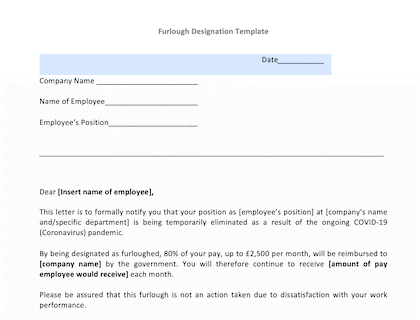 UK COVID-19 Furlough Letter Template
Download this letter designating UK employees as furloughed due to the COVID-19 pandemic.
Download Now
UK COVID-19 Furlough Sample Letter:
Date:
Company Name:
Name of Employee:
Employee's Position:
Dear [Insert name of employee],
This letter is to formally notify you that your position as [employee's position] at [company's name and/specific department] is being temporarily eliminated as a result of the ongoing COVID-19 (Coronavirus) pandemic.
By being designated as furloughed, 80% of your pay, up to £2,500 per month, will be reimbursed to [company name] by the government. You will therefore continue to receive [amount of pay employee would receive] each month.
Please be assured that this furlough is not an action taken due to dissatisfaction with your work performance.
At the time of writing, the length of the furlough period is unknown. We will keep you updated via email.
We thank you for all the contributions you have made to our company/department and hope to see you back at work soon.
If we can offer any advice or assistance, please get in touch with us.
Sincerely,
[Insert signature]
[Insert name]
[Insert company position]
[Insert email/contact details]
When employees are laid off, they may or may not be asked to return to work after a period of time, whereas a furlough is always a temporary suspension, usually with certain benefits. Layoffs occur when permanent changes happen, like if the company closes, alters its structure, or relocates. Pandemic quarantines could also result in layoffs.
FAQs:
What does it mean to be furloughed?
In the UK, the government has instituted a policy in response to the COVID-19 pandemic, reimbursing employers who continue paying employees that cannot work due to the pandemic. These employees are designated as "furloughed."
Can employees continue to work under the furlough designation?
No, guidance from the UK government instructs workers who are furloughed not to work.
Are furloughed workers still employed?
Yes, employees who have been furloughed are still considered to be employed by their employer.
Can an employer fund the difference between the reimbursement and employee pay?
Yes. The government will cover 80% of furloughed employee pay, up to £2,500 per month. Employers can voluntarily make up the rest.
Do employers have to fund the difference between regular pay and furlough pay?
No, employers are not required to fund beyond the 80% reimbursement provided by the government for employees furloughed due to the COVID-19 pandemic.