Pricing:
Toptal's pricing varies according to a freelancer's specialty, their location, and whether you need them for hourly, part-time, or full-time projects. Hourly job rates range from $60.00 to $250.00 per hour; part-time jobs from $1,000.00 to $4,000.00 per week; and full-time jobs from $2,000.00 to $8,000.00 per week.
In addition, you'll need to make an initial deposit of $500.00 that will be applied as a credit to your first invoice once you make a hire. If you decide not to move forward, your deposit will be refunded in full.
Review:
Toptal is an online recruitment platform that matches employers with elite IT developers, designers, and tech industry specialists from their global network of experts. Leading Fortune 500 brands and innovative Silicon Valley startups have benefited from their services.
Highlights:
Connect with IT developers and tech industry experts in over 100 countries, mainly across the Americas and Europe.
Candidate matching is performed by senior Toptal domain experts.
Rigorous screening of applicants via skills and proficiency assessments.
Projects are completed remotely, with options to temporarily have Toptal experts on-site.
In most cases, employers get matched with an expert within 24 hours.
The option to work with multiple candidates before deciding on a particular expert, is available.
A trial period of up to two weeks is offered to employers to ensure a perfect match.
Shortcomings:
No candidate search filters or resume database access.
Sourcing talent through Toptal is rather costly compared to other job posting sites.
Reputation:
On Trustpilot, reviews are overwhelmingly positive with a 4.6 out of 5 stars rating from 1.1K+ users. Comments mention Toptal's reactive and professional services. Sitejabber reviews also add up to a favorable Toptal consumer rating of 3.89 stars from 9 reviews.
How to Hire Freelancers on Toptal: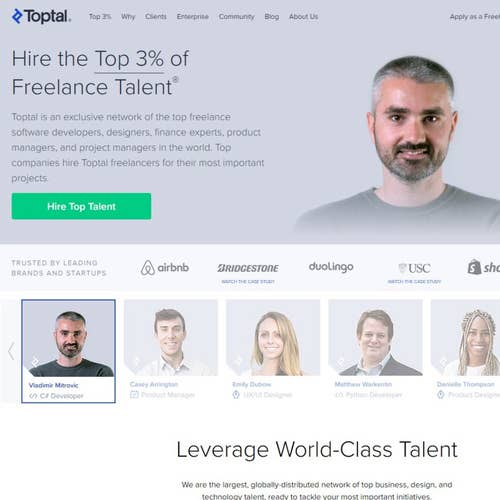 Three easy steps hiring freelancers on Toptal.
1.
Hiring freelancers on Toptal.
1.1
Navigate to the Toptal home page.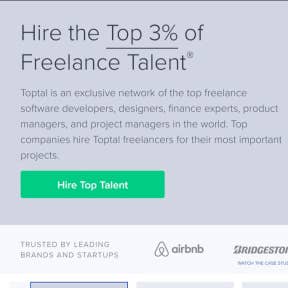 From the Toptal home page, click on the "Hire Top Talent" button at the top right or center-left of the page.
1.2
Follow the on-screen prompts.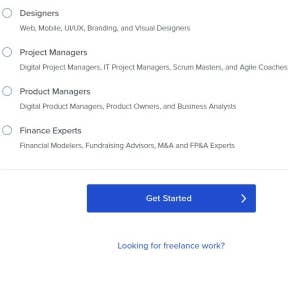 Choose the role you'd like to fill and click "Get Started." Follow a series of on-screen prompts to define the role, clicking "Next" after each question. Once complete, enter your details and click "Sign Up."
Wait while the platform searches for suitable talent within the network. You will be alerted once a viable match is made, and a Toptal domain expert will be in touch to discuss your options.
Toptal vs. Fiverr:
Both Toptal and Fiverr help employers find talented freelancers. Toptal, however, only connects elite IT experts with global employers after rigorous screening. Toptal charges a $500.00 deposit per hire, along with the experts' payment. With Fiverr, employers choose from customized service packages to connect with qualifying freelancers, so prices vary.
Toptal vs. Upwork:
Both Toptal and Upwork connect global employers with talent. With Toptal, employers pay a deposit of $500.00 per hire along with payment for projects if they are successfully matched with a rigorously screened, elite IT developer. Upwork offers free basic job posts across a variety of job sectors and paid plans that start at $49.99 per month.
Toptal vs. Freelancer:
Toptal and Freelancer both provide hiring platforms for employers to recruit tech talent. Toptal matches employers with thoroughly screened, elite IT experts, while Freelancer allows access to bidder profiles for employers to choose from. Both charge employers for the work done by freelancers, but with Toptal, a deposit of $500.00 per hire is required.
Toptal vs. Gun.io:
Toptal and Gun.io both match rigorously screened tech freelancers with global employers. Toptal performs matching, while Gun.io lets employers choose from matched candidates. In both cases, costs include payment for work completed. Toptal also charges a deposit of $500.00 per hire, whereas Gun.io charges 15% of the annual cost of a permanent hire.
Toptal vs. Arc:
Both Toptal and Arc are tech hiring platforms that connect employers with thoroughly screened elite developers. Toptal matches candidates to global employers, while Arc caters to U.S. employers who interview and choose developers. In terms of cost, both include payments to developers and they typically charge percentage-based fees related to each hire.
Toptal vs. Upstack:
Toptal and Upstack are similar in that both match global employers with thoroughly screened, elite IT developers. Both manage remote developers and the billing for completed projects on behalf of employers. Payments to developers vary depending on the scope of the work and are included in the costs. Toptal requires a deposit of $500.00 per hire.
Toptal vs. Turing:
Toptal and Turing both help global employers to recruit top global IT talent. Both rigorously screen and custom-match developers. Turing places full-time developers, while Toptal includes part-time projects. No initial costs apply with Turing, whereas Toptal requires a $500.00 deposit per hire. In both cases, costs include payment to developers.
Toptal vs. Crossover:
Toptal connects thoroughly screened tech talent with global employers on a freelance, part-time, or full-time basis. Crossover employs full-time, long term experts to join their network and outsources them to clients who seek top talent. In both cases, costs to employers vary and depend on payment for the work done by the designated tech experts.
Key Information
| | |
| --- | --- |
| Legal Name | Toptal LLC |
| Founder | |
| Founding Date | Jan 01, 2010 |
| Address | 548 Market Street, San Francisco, CA 94104 |
| Number of Employees | 3874 |
| Email | |
| Telephone | |
| Website | |
FAQs:
What is Toptal?
Global employers use Toptal's comprehensive recruitment solutions to connect with elite IT developers, designers, finance experts, and project managers.
Is Toptal legit?
Yes, Toptal is a professional recruitment company with a very positive reputation and great reviews from users.
How much does Toptal cost?
Toptal's pricing policy involves an initial deposit of $500.00 per hire, along with the designated expert hourly or weekly rates for the duration of a project.
Where is Toptal based?
Toptal has its headquarters in San Francisco, with offices in New York and Wilmington.
What makes Toptal different from other IT hiring services?
Employers are matched with elite talent, since Toptal rigorously assesses and screens each applicant wanting to join the Toptal network. Only the top 3% of thousands of applicants are accepted as Toptal experts.