Pricing:
| Plan | Price |
| --- | --- |
| One Job Listing | $249.00 |
| Two Job Listings | $599.00 |
| Five Job Listings | $899.00 |
| Ten Job Listings | $1,699.00 |
| 30 Day Resume Access + One Job Listing | $399.00 |
Job Posting Enhancement Features:
| Add-on | Price |
| --- | --- |
| Boldface Your Postings | $15.00 |
| Highlight Your Postings | $25.00 |
| Company Logo Displayed in Search Results | $30.00 |
| Sponsored Job | $100.00 |
Review:
TalentZoo is an excellent job board that advertises positions in many different industries. It enjoys immense user satisfaction, with employers citing the high price as commensurate with the quality service.
Highlights:
Offers customized advice to registered employers.
Boasts a candidate database of 150,000 professionals.
Advertises job posts from a wide range of professions.
Good candidate management features.
Job posts last for 45 days instead of 30.
Offers custom pricing packages.
Offers detailed employee profiles so employers have a good idea of who the candidate is.
Shortcomings:
The website is not secure which means your information may be visible to others on the site.
The cheapest job posting option is $249.00.
Clunky, outdated interface that makes the website seem "spammy" and lacking security.
Popup ads appear when navigating the website.
No reliable reviews can be found for the company.
Reputation:
No customer reviews can be found for TalentZoo.
How to Post a Job on TalentZoo: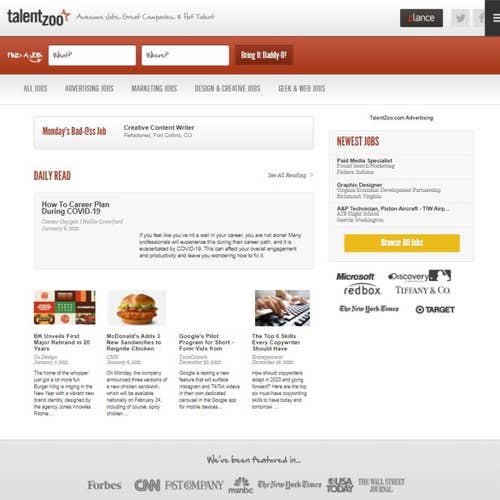 Seven easy steps for posting a job on TalentZoo.
1.
Post a job on TalentZoo.
1.1
Navigate to the TalentZoo homepage.

From the TalentZoo homepage, click "I'm Hiring" in the top bar. On the next page, select "Create Free Account."
1.2
Sign in or create your account.

Sign in if you already have an account, otherwise, fill in the registration form and click "Submit Information" at the bottom left of the page.
1.3
Create your job post.

From your dashboard, click on "Post New Job" next to the "Job Postings" tab.
1.4
Fill in your job post details.
Enter the job post information into the relevant fields. You can preview your job post by clicking "View Job Description" at the bottom of the page. When you're happy with the job post, click "Save and proceed."
1.5
Review your job display options.

Review the company details that you would like displayed with your job post. You can preview your job post by clicking "View Job Description." Once complete, click on "Save and proceed."
1.6
Review your job post enhancements.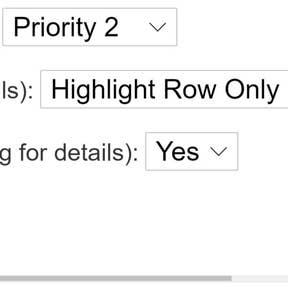 Select the additional job post enhancements that you would like to apply to your job ad. Click on the "pricing" link to view the pricing options. Once complete, click "Post this Job."

Your job post will be processed and appear in the TalentZoo search results once approved.
TalentZoo vs. Indeed:
Indeed has a far greater audience than TalentZoo and has free posting options. If you want to promote your post, it will cost you $5.00 a day. TalentZoo's starting price is $249.00 for 45 days. Sponsoring a post for 45 days on Indeed will cost you $225.00, so Indeed is both cheaper and affords greater reach.
TalentZoo vs. LinkedIn:
LinkedIn affords employers access to a much larger candidate pool than TalentZoo. LinkedIn works on a pay-per-click system, so what you pay is entirely dependent on your budget, while TalentZoo charges $249.00 per job post. If you want to send your job post to as many people as possible and you have the budget to do so, then go with LinkedIn.
Talent Zoo vs. Google for Jobs:
Google for Jobs is a free way of advertising your job on Google's job posting platform. You can advertise a job on your website and index it on Google for Jobs without advertising anywhere else, but if you want to pay to reach more suitable candidates then using Talent Zoo is a good option.
Key Information
| | |
| --- | --- |
| Legal Name | Talent Zoo, Inc |
| Founder | |
| Founding Date | Jan 01, 1996 |
| Address | 1040 W Marietta St. NW, Atlanta, GA 30318 |
| Email | |
| Telephone | |
| Website | |
FAQs:
How much does it cost to post a job on TalentZoo?
Pricing at TalentZoo ranges from $249.00 to $1,699.00 and depends on the number of job posts you wish to publish.
How can I edit a TalentZoo job posting?
To edit your TalentZoo job postings, log into your account and open the posting(s) you would like to modify. You can change any or all of the information, and then save the changes before you exit.
How long does my job post stay on the TalentZoo website?
Your job post will be listed for 45 days from the day of publication, after which it will expire.
How can I delete a TalentZoo job posting?
To delete one of your postings, select it from your list of active jobs and click the "delete" icon.
Does TalentZoo have a resume database available?
Yes, you can access TalentZoo's resume database here.
Does TalentZoo offer assistance in promoting my job posts?
Yes, all jobs that are posted on TalentZoo are automatically promoted on Indeed, SimplyHired, Twitter and Facebook, among others.
How do I create a TalentZoo account?
To create an account where you manage TalentZoo job postings, click I'm Hiring > Create a Free Account, and then fill out all of the required fields and follow the steps to confirm your registration.
Does TalentZoo assist employers with interviewing candidates?
Yes, TalentZoo has information available that will give employers some guidance on interviewing candidates and recruitment processes.
What are some TalentZoo alternatives?