PCRecruiter is cloud-based software for staffing, HR, and recruiting. It offers applicant tracking software, recruitment CRM, and more. PCRecruiter is developed by Main Sequence Technology, Inc.
Special Offer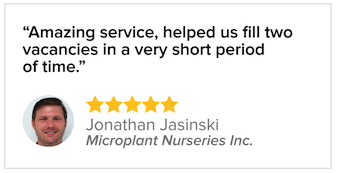 Post Jobs for FREE
Completely free trial, no credit card required.
Reach over 150 million candidates.
PCRecruiter Pricing:
PCRecruiter prices start at $85 per user per month for a basic two-year contract.
PCRecruiter Key Information Table
| | |
| --- | --- |
| Founder | William Kubicek |
| Founded | 1998 |
| Headquarters | Willoughby, OH |
| President | Martin Snyder |
| Number of Customers | 3,000 |
| Phone Number | (440) 946-5214 |
| Address | 4420 Sherwin Rd # 3, Willoughby, OH 44094 |
| Website | pcrecruiter.net |
Reviews of PCRecruiter:
| Company Name | Rating | Review |
| --- | --- | --- |
| West Bay Group | 5 | You can customize the software pretty easily. For instance I have a field where I can tag someone a "walking placement". Then I can search a city for all of those that I tagged with that term. There is so much you can do. |
| Maitland Search Group, LLC | 5 | PCRecruiter has more useful features, such as the LinkedIn parsing feature with pics, than enterprise versions of large ATS products like Taleo. You can keep all your business in one place, including contractors. Interfaces with Quickbooks, but not the online version. |
| Magellan Aerospace Limited | 5 | Very intuitive software which our internal HR team has easily adopted. Reliability. No downtime in my experience. Customer Service. Best customer service interactions I have experienced on so many levels. |
| Leap Solutions Group | 4 | This software is quite dynamic and has a lot of features that exponentially facilitate recruitment processes. All in all, this program is easy to utilize and manage. |
| KVR Consultant | 5 | This is one of the easiest ATS system I have used before. I like how it is easy to upload candidates and companies. |
| Human Capital Pursuit | 5 | PCR can be customized to do just about anything you might need. It integrates well with LinkedIn through PCR Capture. |
| Bailey Search & Associates | 5 | Tie in's to LinkedIn, Ring Central, Resume Inhaler. I've found it very hard to delete Industry Codes that were automatically part of the PCRecruiter Default without doing it one by one. |
| Precision Executive Search | 5 | Both the desktop app and mobile apps are outstanding, they are constantly updating and adding new features, and their customer service is TOP NOTCH! |
| hireneXus | 4 | The recent update has addressed prior issues with duplicate entries and the software is a great asset if you're trying to build out your database. |
| Quantum Professional Search | 4 | Rich and deep in functionality that allows the user to use the product on their terms. Frequent updates and very stable since the product has longevity. Outlook and social integration good. |
PCRecruiter FAQs:
Where can I find the PCRecruiter login for support?
Go to PCRecruiter.com homepage, scroll to the bottom and click PCR User Support Login under PCRecruiter Support. Or you can go to help.pcrecruiter.com/support/home to get PCRecruiter help.
What is the latest version of the PCRecruiter software?
PCRecruiter 9 is the latest version. You can learn about previous versions and addons on the PCRecruiter downloads page at pcrecruiter.net/support/downloads/.
How much does PCRecruiter cost for a small business?
To get an exact PCRecruiter cost you'll need to get in touch with them.
Is there a PCRecruiter api?
Yes. You can find documentation for it at pcrecruiter.net/apidocs_v2.
Is there a PCRecruiter WordPress plugin?
Yes, there's a plugin for WordPress called PCRecruiter Extensions that generates iframe embed code for PCRecruiter Web Extensions.
Is there a PCRecruiter Outlook plugin?
Yes. You can find all the info you need about it at pcrecruiter.net/solutions/outlook/. Basically, it allows you to work with PCRecruiter from an Outlook pane.
How would you compare PCRecruiter vs Bullhorn?
Prices are pretty similar, with the base price coming in just $10 lower per month with PCRecruiter. Both PCRecruiter and Bullhorn have a large number of features that sometimes overlap, sometimes don't. You'll want to have a look at them and decide which ones your business truly needs to make the right decision.