Fill your vacant positions with help from our list of the best 10 job portals in Nevada. Nevada has a combination of local sites that target the Nevada job market and world-renowned job sites that do well in this market.
Special Offer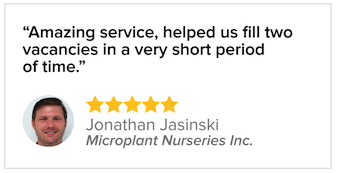 Post Jobs for FREE
Completely free trial, no card required.
Reach over 150 million candidates.
Top 10 Nevada Job Posting Sites:
| Our Rank | Website Name | Posting Options |
| --- | --- | --- |
| 1. | | Free. |
| 2. | | Free and Paid. |
| 3. | Uncommon | Paid. |
| 4. | | Free. |
| 5. | Employ Nevada | Paid. |
| 6. | | Free. |
| 7. | Simply Hired | Free. |
| 8. | | Paid. |
| 9. | Hey Jobs | Paid. |
| 10. | | Free and Paid. |
Las Vegas Job Posting Sites:
| Our Rank | Website Name | Posting Options |
| --- | --- | --- |
| 1. | | Free. |
| 2. | | Free and Paid. |
| 3. | | Paid, starting at $89.00. |
| 4. | | Free. |
| 5. | | Free. |
| 6. | Las Vegas Jobs | Paid. |
| 7. | | Paid, starting at $219.00. |
| 8. | | Paid, starting at $319.00. |
| 9. | | Free and Paid. |
| 10. | | Free and Paid. |
Henderson Job Posting Sites:
| Our Rank | Website Name | Posting Options |
| --- | --- | --- |
| 1. | | Free and Paid. |
| 2. | Snag | Paid, starting at $89.00. |
| 3. | | Paid, starting at $319.00. |
| 4. | | Free. |
| 5. | | Paid, starting at $219.00. |
| 6. | | Free. |
| 7. | Employ Nevada | Paid. |
| 8. | | Free and Paid. |
| 9. | | Paid. |
| 10. | | Free and Paid. |
Reno Job Posting Sites:
| Our Rank | Website Name | Posting Options |
| --- | --- | --- |
| 1. | | Free. |
| 2. | Snag | Paid, starting at $89.00. |
| 3. | | Free and Paid. |
| 4. | | Paid, starting at $319.00. |
| 5. | Simply Hired | Free. |
| 6. | | Free and Paid. |
| 7. | | Paid, starting at $219.00. |
| 8. | | Free. |
| 9. | | Free and Paid. |
| 10. | | Paid. |