Pricing:
| Plan | Pricing |
| --- | --- |
| Free account | $0.00 |
Review:
MightyRecruiter is a job posting site and applicant tracking system that enables employers to manage the hiring process efficiently. The feature-rich platform is intuitive and easy-to-use, offering a wide range of features, such as applicant tracking, candidate ranking and matching, resume searches, and employee referral management, amongst many others.
MightyRecruiter's resume database uses Boolean search and various filters to narrow down candidates and review the best matches for your role. In addition, reports and analytics allow you to monitor the number of views and conversions your job postings receive and help you keep track of your advertising spend.
Highlights:
Post jobs to up to 29 different job boards in one location.
Uses proprietary AI technology to rank the most relevant candidates, saving you time.
Enables employers to search a database of over 23+ million job seekers.
Enables employers to send custom, automated emails to candidates.
Ability to integrate with your existing ATS and social media channels.
Offers Boolean search to search, filter, and contact relevant candidates.
Offers 200+ customizable job description templates.
Offers screening questions for candidates.
Offers reporting and analytics to measure the success of recruitment campaigns.
Offers EEO data and OFCCP Compliance in case of an audit.
Enables employers to create their own branded career site.
Log in from anywhere with mobile cloud access.
Shortcomings:
Job postings take 24–48 hours to be approved, presenting a challenge for urgent positions.
Job seekers cannot search for jobs on MightyRecruiter, as job listings are distributed to other job boards.
Reputation:
MightyRecruiter has mixed reviews from customers. The platform received negative reviews from employers on Reddit and a positive review on Twitter.
How to Find Employees on MightyRecruiter:
Easy-to-follow steps for posting a job and searching resumes on MightyRecruiter.
1.
Posting a job on MightyRecruiter.
1.1
Click "Free Account" on the home page.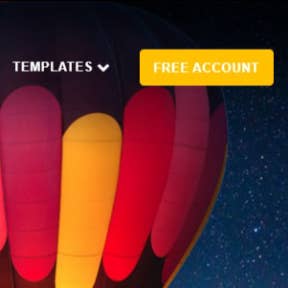 Navigate to the MightyRecruiter home page and click "Free Account" in the top right corner of the page.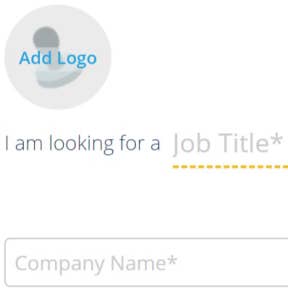 Enter details about the job, including a job description and information about the company. You can also upload your company logo. When you're finished, click "Continue."
1.3
Select your preferred job boards.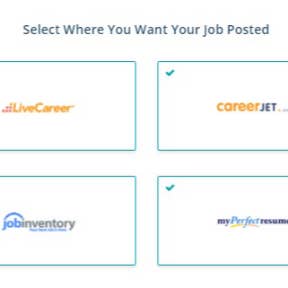 Next, you can select where you want to post your job. Note that MightyRecruiter does not guarantee that your job will be posted on the job boards you select here. You can also skip this step by selecting "Skip" or make a selection and click "Save & Continue."
1.4
Add screening questions.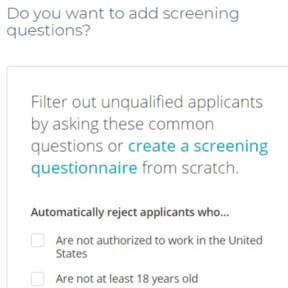 You can add screening questions to your job post to filter out unqualified candidates. Select your preferred screening questions or create a screening questionnaire, then click "Continue."
Enter your details and click "Sign Up" to create an account. You can also sign up with LinkedIn or Google.
Sign up with your email address.
Open the confirmation email sent by MightyRecruiter and click the "Create Account" button.
Create a password and click "Create Account."
1.6
Manage your job post.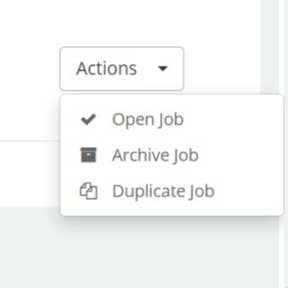 Once you've logged in to your account, click on "My Jobs" in the menu bar to view and manage your job ads. Your job ad is now live. To close or archive your job ad, open the drop-down menu under "Actions" and change the status from "Open" to "Closed" or "Archived" by selecting the relevant action.
2.
Searching Resumes on MightyRecruiter.
2.1
Log in to your MightyRecruiter account.
Go to the MightyRecruiter home page and click "Login" in the top right corner of the page to sign in to your account.
If you don't have an account yet, click "Get Free Account" to sign up for one. You can sign up with your email or social login.
2.2
Open the resume database.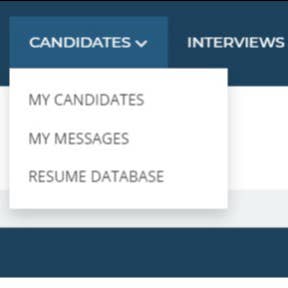 Once you've logged in to your account, open the drop-down menu under "Candidates" in the menu bar and select "Resume Database."
2.3
Enter search criteria.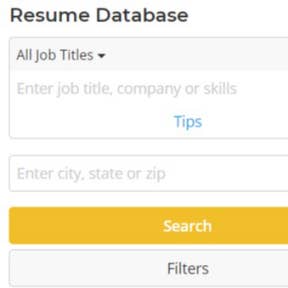 You can search for resumes by job title, company, or skills, and refine your search results by entering a city, state, or zip and setting additional filters, such as total work experience, minimum education, and commute distance. Then, click "Search."
2.4
Review your search results.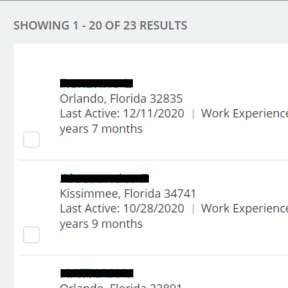 If there are any matches to your search, the results will be displayed immediately. You can preview a resume by clicking the "Preview" button or select an action in the drop-down menu under "Actions." Here, you can invite candidates to apply for the job and download the resume.
MightyRecruiter vs. Jobvertise:
Jobvertise is a free job posting site that allows employers to view resumes and contact candidates through the site. MightyRecruiter is also free and offers greater functionality and the ability to streamline the hiring process, whereas Jobvertise does not.
MightyRecruiter vs. AngelList:
AngelList allows you to post unlimited jobs for free, view limited candidate profiles, and process inbound applicants. The platform, however, caters exclusively to the tech startup community, whereas MightyRecruiter caters to all industries.
MightyRecruiter vs. Ladders:
Ladders is a job posting site that enables employers to connect with highly qualified candidates looking for jobs in the $100k and over salary range. In contrast, MightyRecruiter caters to job seekers with various experience and education levels. While Ladders charges $199.00 /mo. for 50 job postings, MightyRecruiter allows for free job postings.
Key Information
| | |
| --- | --- |
| Legal Name | Bold Limited |
| Founder | |
| Founding Date | Jun 01, 2015 |
| Email | |
| Telephone | |
| Website | |
FAQs:
Is MightyRecruiter really free?
Yes, MightyRecruiter allows for free unlimited open jobs, unlimited resume searching, and unlimited user accounts.
What does it cost to post a job on MightyRecruiter?
MightyRecruiter allows for free job postings.
What is the MightyRecruiter ATS?
MightyRecruiter is a job posting site and applicant tracking system for employers and recruiters.
Where can I find a MightyRecruiter review?
Check out our review on MightyRecruiter.
How do I create an account on MightyRecruiter?
Go to the homepage and click the orange "Get Free Account" button.
Create a job description.
Save a draft and click "Continue."
Enter your personal and company details.
Click "Submit."
Verify your email address and log in to your free account.
How do I delete a job post on MightyRecruiter?
On your dashboard, click "My Jobs" in the menu bar.
Select the job you would like to delete.
Click "Archive."
What types of jobs can I advertise on MightyRecruiter?
Can I do a MightyRecruiter resume search for free?
Yes, you can search and review resumes for free on MightyRecruiter.
What are some alternatives to MightyRecruiter?